Osu Dog Festival in Osu-myeon, Imsil-gun, North Jeolla Province
IFC Korea, International Friendship Club Korea, will lead an international delegation to Osu Dog Festival. The festival will take place in Osu-myeon, Imsil-gun, located in North Jeolla Province. The delegation will leave Seoul on the morning of April 28, 2007 and will come back at Sunday April 29, 2007. On the schedule is the participation in the Osu Dog Festival opening ceremony, an autographing event with the world's ambassadors and a special reception party with the governor, the president of the festival as well as other VIPs.On the trip, the guests will be provided with various programs besides Osu Dog Festival such as visiting the first Korean cheese village which was made by a Belgium priest, Barry wine experience, Nongak (Korean Traditional Drums) and much more.Osu Dog Festival has an interesting legend, thousands of years ago. It's about a dog which was very loyal to his master and died to save his master's life. This festival has started to remember the dog's loyalty to his master.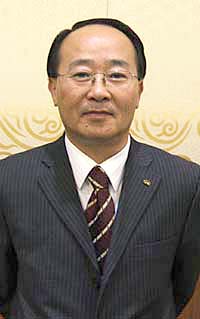 IFC Chairman Kim Seog-Soo
Imsil-gun has many historical places from hundreds of years ago and is also known as the place, which has the purest natural sites. It is famous for its natural monument 'San Gaenari' (a kind of wild lily), 'Saseon-dae' (a touring site), Mt. Seong-su, Lake Okjeong and its beautiful environment as well.The following is the complete schedule of the Osu Dog Festival to be held in Imsil-gun, North Jeolla Province on April 28-29, 2007.
Saturday April, 28th
09:40~10:00 Departure in front of Brownstone Seoul
10:00~12:00 Stop at the hwy resting area (10mn)
12:00~12:40 Lunch at the hwy resting area
12:40~14:10 Move to the Hotel
14:10~14:40 Check in and prepare for the event
14:40~15:00 Arrive at the festival place
15:00~15:40 Look around Osu Dog Festival
15:40~16:40 Autographing with ambassadors
16:40~16:50 Move to the opening ceremony place
16:50~18:00 Osu Dog Festival Opening Ceremony 18:00~18:15 Move to reception area
18:15~19:45 Reception party
with governor, president of festival, and VIPs19:45~20:00 Move to event area
20:00~21:00 Celebration music concert
21:00~21:20 Firework display
21:20~21:40 Come back to the hotel & free time
Sunday April. 29th
07:00~07:10 Check out & move
07:20~08:00 Breakfast (Korean style)
08:00~09:30 Cheese Village & make cheese
09:30~11:30 See the sights of Imsil
11:30~12:30 Special wine experience
12:50~13:30 Lunch
13:30~13:50 Move to Osu Dog Festival
13:50~15:00 Autographing with ambassadors
15:00~ Departure for Seoul
For details or inquiries contact IFC at 02-312-7766 or leave Email at ifcworld@hanmail.net