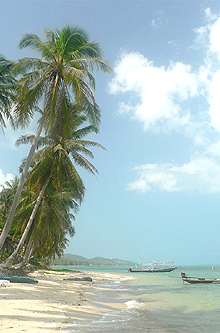 Chaweng Beach in Thailand
Tourism offices of such countries as Thailand, UK, Singapore, and Western Australia, offers their respective event of the May including Spa Expo of Thailand, Treasure Hunting Tour of England, Spring of Singapore Festival on Nami Island, and Tour to Australian by Experts.
Samui-Surat Spa Expo on the Chaweng Beach
First, Tourism Authority of Thailand will host Samui-Surat Spa Exposition on the Chaweng Beach for five days from May 10 to May 14, 2007. In Thailand May is the Month of Spa.During the Spa Expo a variety of health-related products, cosmetics, herbs, and nutritional items will be shown on the beach. Saui Island is the typical beach resort with lots of palm trees. For details call Tourism Authority of Thailand at 02-779-5417-8 or visit its website www.visitthailand.or.kr
Treasure Hunting Tour of England
Treasure Hunting Tour of England (www.bomultour.com) will be jointly organized by its promoter and Tourism Office of UK in Seoul or Visit Britain (http://www.visitbritain.com/VB3-ko-KR/corporate/corporate.aspx ).Ticket purchasers for tour to England will be invited a live concert where famous singers will perform. Among the ticket buyers 50 couples or 100 customers will be invited to the Olympic Gymnastic Stadium for the live concert on May 30, 2007.The venues of the nine-day trip to England program includes Stonehenge, Bath, Oxford, Stratford-Upon-Avon (birthplace of William Shakespeare), Lack District, Manchester United soccer team, Lock Ness, Glasgow, and Edinburgh.Another program "Free Six-Day Trip" includes staying in Design Hotel in London's shopping district and is designed for visiting other shopping areas. The prices are 1590,000 won.
Fusion Dishes Shown in "Taste of Singapore"
Singapore Tourism Board in Seoul is hosting "Spring of Singapore Festival" at Lotte Hotel, Lotte Department, and Nami Island in Chuncheon from May 5 to May 15, 2007 on the occasion of May, "the Month of Family."The festival consists of "Taste of Singapore," a food festival introducing fusion-type dishes of Singapore, and a photo exhibition of Singapore to be held on the exhibition area of Lotte Department Store. The Singapore food festival will be held at buffet restaurant "La Seine" of its three hotels of Lotte Hotel in Sogong-dong, Lotte Hotel in Jamshil, and Lotte Hotel in Busan. A total of 25 different dishes including chilli crab and pork rib soup will be shown during the festival.For details call Singapore Tourism Board at 02-339-5570 or visit its website www.visitsingapore.or.kr
Tourism Western Australia's ASP Program
Tourism Western Australia (http://www.kr.westernaustralia.com ) recently conducted ASP (Aussie Specialist Program) in which seven local travel agents visited tourist spots of western Australia including Perth, Pinacles, Swan Valley Winery District, and Tottnest Island. ASP is an annual tourism program for those who want to specialize in Australia. Graduates of ASP program will be given a chance to visit Australia. For details call Tourism Western Australia at 02-722-1217 or visit its website at www.kr.westernaustralia.com