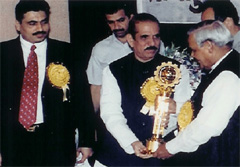 The rapid phase of globalization during the past 10 years led to two concurrent developments in international trade. One is that global competition placed an unprecedented pressure on businesses to reduce costs to remain competitive, while the other is that globalization made it much easier for businesses to outsource by easily crossing national boundaries for production activities.Unlike China that established itself as a global player through production based on low wages, India is establishing itself by providing many different services to global companies that outsource their operations.In the view of Mr. Chandrakant Salunkhe, Hon. President of India International Trade Centre, one major reason why India has emerged as the most appealing country for outsourcing is production and labor costs are low in India on top of business-friendly factors such as ``the number and quality of skilled workers, maturity of the outsource market, government support, the legal system, political stability, location and accessibility, education, time differential, technological modernity and English language skills.""I'm quite confident that more Korean businesses, particularly small and medium-sized enterprises can take advantage of such business friendly factors which are not available in China," he said.Mr. Salunkhe flew into Seoul on May 8, 2004 to participate in the 9th KOREA PACK Exhibition scheduled to be held on May 11-14, 2004 at COEX (Convention & Exhibition Center) in Seoul. More than 350 companies from 25 countries including India will attend the exhibition.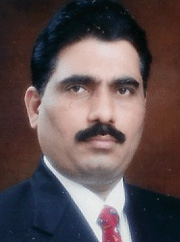 Mr. Chandrakant Salunkhe
Mr. Salunkhe, concurrently executive president of Jagatic Marathi Chamber of Commerce and Industries and chairman and managing director of Salunkhe Packaging Pvt. Ltd, told The Seoul Times that chances are very good for Korean packaging industries, in particular, to join hands with their Indian business partners to tap international markets jointly for mutual advantage."If and when Korean packaging industries team up with Indian business partners for production of packaging materials and components as well as most fields of packaging machines, it would be an ideal business match- making, he said."Among other Indian business establishments under his management are Global Marketing Corp., Salunkhe Exports Pvt. Ltd., and MACRO Corporate Services Pvt. Ltd.Pointing out that India exports software to 95 countries around the world and 82 percent of U.S. companies ranked India as their first choice for software outsourcing, he also said more Indian companies affiliated with his chamber are willing to establish ties with Korean IT companies.Introducing India International Trade Centre (IITC) for which he serves as president, as Export-Import promotion organization with network worldwide, he pointed out that the competition within the country and overseas has become fierce in the era of globalization."India has moved towards the development of knowledge based economy, readjusting its industrial structure and through developing services in education, healthcare, financial sectors. Assembly lines have been redesigned for efficient production and high value addition," he said.He went on to say that this improvement has now to percolate to the much larger number of small- and medium-sized enterprises (SMEs) and his organization focuses on making them internationally competitive."Indian SMEs are facing many difficulties to export / import independently due to lack of information, resources, trade finance, quality standards, knowledge and technology," he said.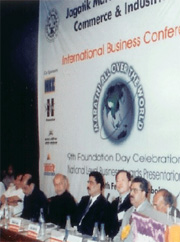 Pointing out that India has the capacity to spearhead the global outsourcing movement in favor of SME sector with its flexible manufacturing, high quality human resources and now availability of developed capital market, he said that IITC has the large task of improving the quality of SME products by sourcing capital goods from overseas, competitive components and materials from overseas to make exports attractive and profitable."We are keen in joining hands with Korean SMEs to take advantage of opportunities available in the era of globalization," he said speaking very highly of Korean technology in the areas of IT, automobile and packaging industry in particular.According to Mr. Salunkhe, Global Korea Co., headed by Kah Jae-Mo, former vice president of Korea Telecom (KT Corp.), has been named as Korea representative for IITC. Mr. Salunkhe is to leave here for Taipei on May 14 on the second leg of his Asian tour before returning home.