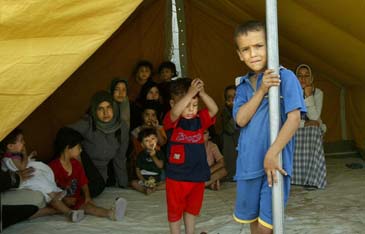 Thousands of Palestinians were housed in tents when the Rafah crossing is closed. Photo Courtesy of Reuters
Mr. Ambassador/ Diplomats
The Embassy of Egypt
Dear, Sir/Madam
We are writing to express our deep concern about the deteriorating conditions of over six thousands Palestinians who are stuck at the Egyptian side of Rafah crossing, among them a considerable number returning from medical treatment in Egyptian hospitals, and Palestinian students in Egyptian universities. They have been stranded at the border, waiting, sleeping, and living in the streets under the hot sun. Your government has closed the border under an Israeli and American pressure, making it impossible for these Palestinians to return home.
Your government's conduct serves the encirclement and siege of Gaza, shortsightedly and cruelly decreed by the government of (Israel). However, while your government gives the government of (Israel) a complete discretion to decide whether the crossing will be open or closed, it remains strictly liable for all consequences arising from its own conduct.
We are deeply troubled by this ongoing crisis, and we and the people of Egypt can no longer remain silent while continuing to watch this catastrophic situation..!!
These Palestinians must wait no longer. The economic and military siege on Gaza must end now.. !!
Please convey our concerns and demands to your government and try to work with them to resolve this compelling humanitarian issue before it is too late.
Finally,
We appreciate your valuable time.
alaa mk
Email: lo2lo2a82@gmail.com