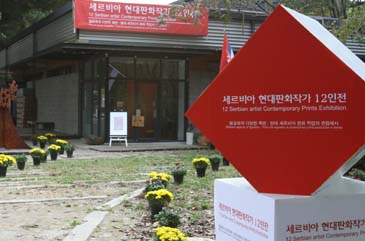 Exhibition of Serbian Printmaking Arts on S. Korea's Nami Island
Embassy of the Republic of Serbia ends its culture weeks with exhibition of 12 Serbian printmaking artists from Association "Graficki kolektiv" at Anderson Hal Gallery on Nami island. ExhIbition will be displayed until Dec. 15, 2007.Various culture events from Republic of Serbia were introduced to Korean public last two weeks. Serbian culture week started on Sept. 29, 2007 with performance of ethno-dance group Teodulia at Seoul Plaza square in Seoul.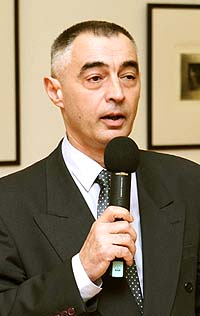 Serbian Ambassador to Seoul Zoran Veljic
On October 1st, opening ceremony for the exhibition "My Lucky Star" by Serbian artist Branko Pavic was held at gallery Moon. Art critic and director of Belgrade printmaking association "Graficki kolektiv" Ljiljana Cinkul gave the lecture about contemporary Serbian painting at Sookmyung Women's University on October 2nd .Famous Serbian ethno-band "Sanja Ilic & Balkanika" performed at Ulsan city on October 4th and 5th at Cheoyong Cultural Festival – World Music festival following by exhibitions of famous Serbian photographer Dragoljub Zamurovic and Serbian traditional clothing. On October 4th ethno-dance band "Teodulia" participated on World masters festival in Seoul.