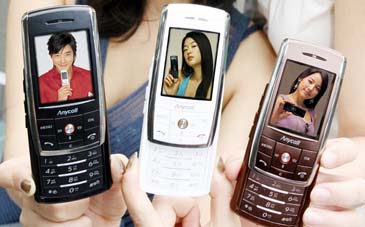 Samsung's Anycall products
CNN turns its eye onto your future as the network visits South Korea, the world's technology hub, in a dedicated week of programming, EYE ON SOUTH KOREA. Linked by high-speed broadband lines and blanketed by advanced wireless signals capable of sending high definition TV to tiny cell phones, South Korea is the world's most wired - and wireless - country.It's a giant incubator for futuristic technology that can, and will, change lives. CNN's in-depth look at how South Korea is leading the rest of the world into the future is to air to more than 220 million households.The week of special coverage includes Kristie Lu Stout anchoring the network's award-winning primetime Asia morning program CNN TODAY live from locations around the country, while EYE ON SOUTH KOREA special reports feature on CNN International throughout the week. A special section of CNN.com at www.cnn.com/southkorea features exclusive stories, reports and interviews and will include interactive multimedia elements showcasing the country and detailing how the country has become an incubator for technology.Additional highlights include poll questions and blogs from CNN journalists as well as streaming of video packages that air throughout the week.Reporters including Seoul correspondent Sohn Jie-Ae and Asia business correspondent Eunice Yoon contribute reports looking at contemporary South Korean society and the impact of technology on culture.Highlights include a look at the technology already available in South Korea and the coming push to develop intelligent service robots for the home, as well as some of the social perils of living in the world's most wired society.CNN also speaks with Lim Yo-Hwan, one of South Korea's greatest online game players who boasts a huge fan club and is greeted like a rock star wherever he goes. With unprecedented live filming from sites around the capital, A-list interviews, in-depth reports and an online special, CNN's EYE ON SOUTH KOREA brings global viewers unique insights into the country and its people.
CNN TODAY
October 15th - 19th from 0700 - 0900
Kristie Lu Stout anchors CNN TODAY live from sites around the country.
WORLD NEWS ASIA
October 15th - 19th from 1900
Special reports air throughout the week.
TALK ASIA
Hosted by Anjali Rao, CNN's in-depth interview program TALK ASIA hears from a remarkable line up of South Korean names throughout the week.
The above article is from CNN.