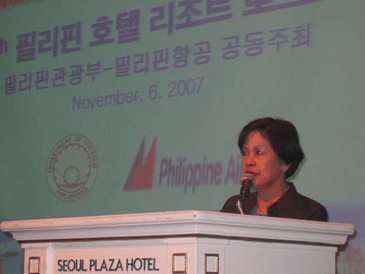 Philippine Ambassador to Korea Susan Castrence addresses the Philippine Travel Mart on Nov. 6 at Seoul Plaza Hotel.
Philippine Travel Mart jointly organized by Department of Tourism (DoT) and Philippine Airlines(PAL) was held on Nov. 6 , 2007 at Seoul Plaza Hotel with major destinations and suppliers from the Philippines attending."We believe that this annual event is the ultimate contracting and networking show for travel products in the Philippines, the world's most dynamic region," said Ms Maricon Basco-Ebron, tourism attaché at the Embassy of the Philippines in Korea.For the roadshow in Seoul and another one in Busan slated for Nov. 9, a high-powered sales mission from the Philippines flew into Seoul on Nov. 4 under joint sponsorship of DoT and PAL.The mission is promoting Philippine tourism destinations to Korean travel wholesalers in the two major cities in Korea which account for the bulk of Korea's 12 million outbound market.Invited to join the mission are tourism property operators servicing PAL wholesalers as well as newly established resorts and DoT accredited properties that have undergone major renovation.Among those joining the road show in Seoul and Busan are Crowne Plaza / Holiday Inn Galleria Manila,Diamond Hotel), Edsa Shangri-La Manila, Hyatt Hotel & Casino Manila, Microtel Inns & Suites,Hotel Philippine Plaza and Traders Hotel Manila.From Cebu are Badian Island Resort & Spa, Hilton Cebu Resort and Spa, Maribago /Sumilon Bluewater Island Resort,Marco Polo Plaza, Shangri-La's Island Resort & Spa and Costabella Tropical Beach Resort.Bohol Beach Club, Eskaya Beach Resort & Spa from Bohol as well as Boracay Regency Beach Resort and Convention Center, Patio Pacific Boracay and Discovery Shores Boracay are joining the road show along Dos Palmas Arreceffi Island Resort and El Nido Resorts.Besides, Pearl Farm Beach Resort,The Marco Polo Davao and Seair andBahura Resort & Spa are participating in the road show.Philippine Ambassador to Korea Susan Castrence was on hand at the roadshow to congratulate the organizers of the wonderful roadshow.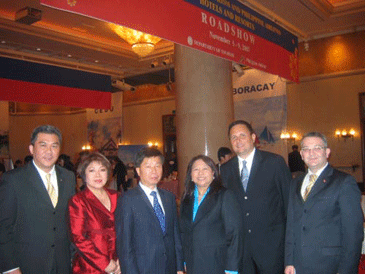 Members of Philippine tourism sales mission pose for camera with Ms Maricon Basco-Ebron (fourth from left) and Kim Ki-tae of PAL(third from left).
"The unprecedented breakthrough in our tourism arrivals, particularly the yearly increase in Korean inbound traffic, is proof of the strengthening ties between our two countries since the establishment of diplomatic relations more than 50 years ago," Amb. Castrence said praising what she described as "energetic leadership" of her tourism attache Ms. Maricon Ebron.The Philippine mission delegation truly reflects the powerhouse of Philippine industry leaders and with this "I'm sure their efforts have provided our Korean guests the finest opportunity to conduct business," she said.Pointing out that the number of Korean tourist arrivals in the Philippines last year is equivalent to 20.1 percent of the total of 2,843,345, Amb. Castrence said:" South Korea is an acknowledged buyers and leader in this competitive 21st century tourism industry. Our strategic position in the Korean market is influenced and shaped by the negotiations and interactions among our guests gathered today. It is your enthusiasm and cooperation that have set the roadmap," she said.Such popular destinations as Cebu and Boracay, for instance, haves the elements and ingredients of a perfect tourist destination for Korean holidaymakers, said Sophia Sung, director of marketing for With International, one of the leading Korean marketing consultants.Ms. Sophia Sung with a solid track record in the travel trade profession said that there are renewed interest in other tourist destinations in the Philippines thanks to its refreshed branding image. More recently, Ms Sung worked for Tourism Malaysia and Tourism Guam as a marketing director before assuming the current position.
In the meantime, Roy B.Martin, general manager /group sales director of Microtel Inns & Suits told the Seoul Times that Microtel is an international chain of limited service hotels under the Global Hyatt Group with 300 plus properties worldwide including six in the Philippines.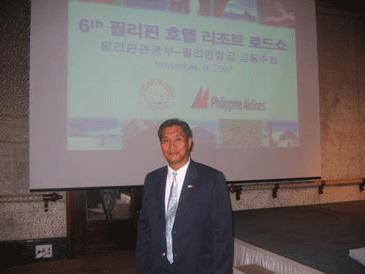 Roy B.Martin, sales manager of Microtel Inns & Suits says Microtel is an international chain of limited service hotels under the Global Hyatt Group ..
"If you are traveling all over the Philippines, check out the Microtel Inns & Suites," he said pointing out that his properties are the perfect value priced hotel with just the amenities "you really need for travel."He then stressed that Microtel is a newly built hotel, "where you can expect the same great room when you check-in at our hotels in key cities and destinations in the Philippines such as Boracay, Baguio, Tarlac, Batangas, Cavite, Davao or in any of the Microtels aboard."
The rapidly growing Microtel will also open in exciting locations like Mactan, Cebu; Cabanatuan, Nueva Ecjia; Puerto Princesa, Palawan and SM Mall of Asia, Metro Manila.
DoT Korea tourism attache Maricon Basco Ebron said there are a proportionate representation of Metro Manila,Cebu,Bohol, Boracay, Palawan and Davao resorts and hotels in the mission consisting of Crowne Plaza, Diamond Hotel, Hyatt Hotel,Sofitel Philippine Plaza, Traders Hotel,Badian Island Resort & Spa, Hilton Cebu Resort & Spa, Maribago Bluewater,To ensure maximum business returns, the travel mart hours were extended and group sales activities expanded, she said.The central theme of this year]s presentation is the Philippines' improving investment climate and the government initiatives in tourism infrastructure development and promotions.Last year, the number of visiting Koreans reached 572,133 to top country's foreign arrivals, which totaled 2.84 million.For this year, the target is 650,000 and we are confident of achieving that, Ms.Ebron pointed out citing DoT's significant progress in building the Philippine brand image as a multi-dimensional tropical destination of 7,107 islands and experience.,In the meantime, Ms. Maricon Basco-Ebron quoted Philippine Tourism Secretary Joseph Ace Durano as having stated recently that: ``This will be a milestone year for the tourism industry,'" with the upbeat and sustained momentum of visitor influx into the country, we are looking at breaching, for the first time, the three million mark by year end.'"Among other participants who joined the Philippine mission also include Ms. Patria Aurora Roa, Director, DOT Region VII,Ms. Pamela Raquel Samaniego, Head Team Korea and Ms. Gwendolyn Batoon,Division Chief of PCVC.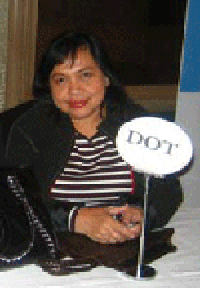 Ms. Joylyn Gador of MegaReach. which is a full-service public relations firm formed in 1995 to provide optimum market-specific, result-oriented and objective-focused PR services in the Philippines and/or overseas, also joined the mission."MegaReach has a proven track record in effective public relations and marketing communications thanks to its extensive professional experience in these fields," said Ms Gador.
She used to work for a TV network in Manila as a broadcaster before joining the PR company.