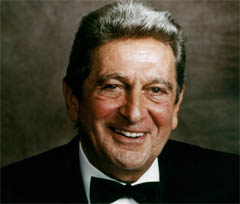 Amb. Tom Foglietta
Thomas M. Foglietta — whose public service career extends nearly 50 years through a variety of prestigious offices — has been appointed Honorary U.S. Consul to South Korea by President Roh Moo-Hyun of the Republic of Korea.Effective March 26, 2004 the prestigious appointment establishes Foglietta as an authorized diplomatic representative of the South Korean government to the Eastern United States and the Korean-American community in the Delaware Valley, estimated to be upwards of 100,000."I have been fortunate to enjoy many honors throughout my career, but this ranks with the greatest," Foglietta said. "It is extremely unusual for a consulate to not be a native of the country he represents, which magnifies for me the trust that the South Korean government has placed in me to represent its interests and people locally. I accept this appointment with the utmost humility."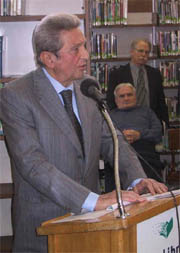 Former Amb. Thomas Foglietta speaks in a recent gathering.
Currently serving as a senior counsel to the law firm of Mattioni, Ltd., Philadelphia, Foglietta will execute his consular duties from the firm's offices at 399 Market St. In addition to providing various services to the local Korean community, his primary responsibilities will be the development of South Korean business interests in the United States, and, conversely, U.S. interests in South Korea.The honorary consulate appointment continues a longstanding relationship Foglietta has maintained with the leadership and people of South Korea. In 1984 he befriended former South Korean President Kim Dae-Jung, who had been jailed, tortured and exiled by the corrupt government of Chun Doo-Hwan.Kim shared with Foglietta his dream of returning to his native country, but was certain that doing so would result in his execution. A Foglietta-led American delegation — complete with U.S. television news crews — arrived at Kimpo International Airport in Seoul on Feb. 8, 1985.Kim and his wife, Lee Hee-Ho, were systematically arrested, and, along with Foglietta, beaten by the South Korean secret police. However, thanks to the presence of Foglietta and the U.S. envoy, Chun Doo-Hwan spared Kim's life and instead placed him under house arrest.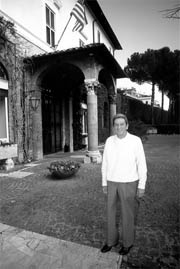 Tom Foglietta as the United States ambassador to Italy
in 1998.
After many years of fighting for democratic rule in South Korea, Kim Dae-jung was successful and assumed the country's presidency in 1997, with Foglietta's counsel and assistance. He was sworn in on Feb. 25, 1998 before 100,000 cheering South Koreans with his wife standing at his left and Foglietta at his right. In 1999 Foglietta was instrumental in honoring Kim with the Philadelphia Liberty Medal. Kim was awarded the prestigious award on July 4. Many of its recipients were also winners of the Novel Peace Prize. Previous Liberty Medal honorees included Nelson Mandela, former president of South Africa, former Czech President Vaclav Havel, foremr Polish President Lech Walesa, former US President Jimmy Carter, and Medecins Sans Frontieres International.Ex-President Kim Dae-Jung currently serves as honorary co-chairman on of the Philadelphia Liberty Medal selection committee and South Korea's former Foreign Minister Ham Seung-Joo also sits on the selection committee as co-chairman along with other world leaders.A graduate of St. Joseph's University, Temple Law School and the Fels Institute of the University of Pennsylvania, Foglietta maintained a general law practice in Philadelphia from 1953 to 1980.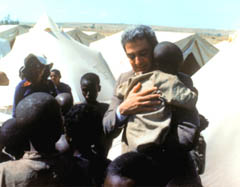 Goodwill ambassador Foglietta holds an Ethiopian child dying of hunger in his arms while on a congressional fact finding mission to Africa in 1985.
In 1955, at the age of 26, he became the youngest person ever elected to Philadelphia City Council. In 1976 he was appointed by President Gerald Ford to the post of Regional Director of the Department of Labor for Region III, headquartered in Philadelphia.In 1980 Foglietta was elected to the United States Congress — the only person elected as an Independent candidate that year and, to this day, the only Independent ever elected to Congress from Pennsylvania.After joining the Democratic Party in 1981, Foglietta was subsequently re-elected to seven consecutive terms. During his Congressional career, he served on the Armed Services, Foreign Affairs and Merchant Marine Committees, as well as the Select Committee on Hunger.In 1991 he helped found and later chaired the Urban Caucus and in 1992 was appointed to the Appropriations Committee where he later served on the Military Construction, Transportation and Foreign Operations Subcommittees.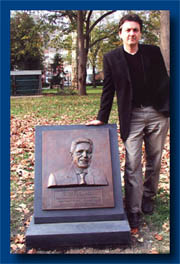 Thomas Foglietta, US Ambassador to Italy, in Washington Square, Philadelphia
In 1997, Foglietta was appointed by President William Clinton as U.S. Ambassador to the Republic of Italy, a position he held until 2001. During his tenure he was key in resolving the crisis generated when a low-flying American fighter jet clipped a cable car, resulting in the loss of several skiers in the Alpine town of Cavalese. He also worked closely with the government and military officials — particularly former NATO Commander Gen. Wesley Clark — to ease crises in Kosovo, Serbia, and Yugoslavia.Since leaving his ambassadorial post, Foglietta has been extensively involved in international consulting; advising governments and businesses alike on development and investment issues. He also remains deeply committed to humanitarian work, particularly in his ancestral homeland of southern Italy, Haiti, the Republic of Korea, Africa and Central America.