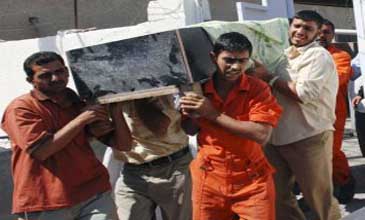 Relatives and morgue workers carry the coffin of slain journalist Jawad Sa'adoun Al Dami outside the morgue at Al Yarmouk hospital in Baghdad in September(AP)
For the fifth year in a row, Iraq was the most dangerous place in the world to be a journalist. The New York-based Committee to Protect Journalists reported this week that 31 journalists have died in 2007, one fewer than a year ago. The media watchdog group said that 173 have died since 2003, including 49 media support workers - the drivers, translators, and guards who work for media companies and help report the news. The vast majority of those killed are Iraqis - who have not only been targeted by insurgent groups but who also appear to be facing a growing campaign of harassment, kidnapping, and assault at the hands of government officials and Iraqi politicians.
Those working for print, television, radio, and other outlets say they are sometimes bribed to relay the views and pronouncements of the organisation that funds their operations or paid off by politicians who want positive coverage. Others say they face ongoing pressure from the US military, as illustrated by the case of award-winning Associated Press photographer Bilal Hussain, who was accused by the US of being linked to terrorists, a charge that his employer denies. "We thought the fall of [Saddam Hussain] would usher in a new era of press freedom, but now all of that has been quashed by religious institutions and the government itself. We all practice self-censorship for one reason or another," says one Iraqi journalist, who asked not to be named. The numerous cases of intimidation that Iraqi journalists describe reveal a country still coming to terms with a free press, but also highlight the extreme risks many here are willing to take in hopes that their country will eventually embrace this fundamental aspect of democracy. Cameraman Adnan Haseeb says he still doesn't know why he was arrested and imprisoned for almost nine months. He blames secret agents working for Prime Minister Nouri Al Maliki for his kidnapping and eventual torture. Haseeb says he was on assignment in the Green Zone on March 8 with Al Hurriya television when he was escorted by two armed men in civilian clothes to Al Maliki's office. He described being locked in a room for a few hours without explanation. That night, he says, he and a colleague were transported to a prison at the Muthana air base close by. The colleague, arrested at the same time, was later released and told to collect 1 million dinars ($833) from Al Maliki's office, according to the station. While blindfolded and handcuffed, Haseeb says he was beaten and threatened during numerous interrogations. At first, he says, he was accused of working with insurgents, then of being involved in a March bombing in Baghdad. Haseeb was released in late November without explanation. Now, he says, he fears for his life.Al Maliki's media adviser, Yassin Majid, says he knows nothing about the incident and denies anyone in the prime minister's office was involved. But Al-Hurriya's director, Fayrouz Hatem, says she brought up Haseeb's case to Al Maliki personally in the presence of Majid in May. Hatem says she believes the whole episode may have been instigated by someone within the government or close to the government who was displeased with the channel's programming. "The biggest threat for Iraqi journalists these days are the feuding political parties," says Hatem, who moved back to Iraq from Sweden more than a year ago. Like dozens of other employees, she lives at the station. The channel has had three of its reporters killed since its inception in 2004. "I went home two months ago and my neighbours told me it would be best not to come back because there are militiamen that think my line of work is immoral," says Al Hurriya news presenter Marwa Ahmad.

(Christian Science Monitor)