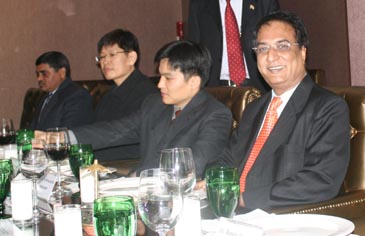 Indian Ambassador to Seoul Nagesh Rao Parthasarathi poses for The Seoul Times during a luncheon meeting with local journalists at the Taj restaurant in Seoul on Dec. 27, 2007.
Indian Ambassador to Seoul Nagesh Rao Parthasarathi recently hosted a luncheon for a group of local journalists at a Indian restaurant in Seoul on the occasion of New Year's holiday.A dozen journalists from the major newspapers attended the luncheon meeting held at Taj restaurant in Myong-dong, Jung-gu, Seoul on Dec. 27, 2007.During the luncheon the Indian envoy stressed the need for more mutual ties between South Korea and India. He also mentioned the sharp increase in the bilateral trade volume in recent years.In a recent interview with the local daily ChungAng Ilbo
he suggested that South Korea invite English-teachers from India to give a larger number of Korean students access to learn English.He pointed out the language barrier as a stumbling block for local Koreans to advance to the international market.He said that Korea could turn its youths into global leaders by educating them in English. To do this, South Korea can invite reasonably-priced English-teachers from India.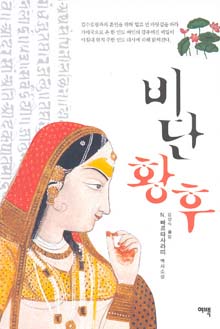 "Silk Empress"
In June, 2007 the 53-year-old Indian envoy became an author of the book "Silk Empress (ºñ´ÜȲÈÄ)," a story of Indian princess who traveled from the ancient kingdom of Ayodhya in Inida to Korea to marry King Kim Suro (ÑÑâÏÖÚèÝ: AD23-AD199), the founder and first king of Gaya Kingdom.The Indian ambassador said he wrote the novel to promote the friendship between India and South Korea.The 276-page novel deals with the whole travel process of the 16-year-old Indian princess "Suriratna" who sailed all the way across an ocean to the southern part of the Korean Peninsula from India's kingdom of Kosala nearly 2,000 years ago.She married King Kim Suro, the founding king of Gyya Kingdom (57BC-668AD) and became Queen (Empress) Heo (úÉüÕý¨). Their love story was described in a famous history book Samguk Yusa (History of Three Kingdoms) written by a monk Iryon (1206 AD-1289 AD).He graduated as an engineer in 1974, served as an executive engineer till 1980. He also holds MBA dedree in international marketing. He joined the Indian Foreign Service in 1981. Since then, he served as a diplomat in different capacities in Belgium, Senegal, Pakistan, England, and Syria. During his tenures in Delhi, he served as Joint Secretary (Gulf Division) and Joint Secretary (Administration). He worked at the Finance Ministry's Department of Economic Affairs. The Indian envoy has shown great interest to the local people and culture since he arrived in Seoul on Sept. 22, 2005. His hobbies include writing, golf, and bridge. In particular, he spends much of his free time writing stories. in January, 2005 his fictional thriller "The Reluctant Assassin" was was published.
For details or inquiries please contact the Embassy of India, Seoul.Contact:
Kim Bo-min
Press&Culture Assistant
Tel : (02) 798-4257 (Ext.125)
Fax : (02) 798-4267
E-mail : indiaculture11@gmail.com
Website : www.indembassy.or.kr