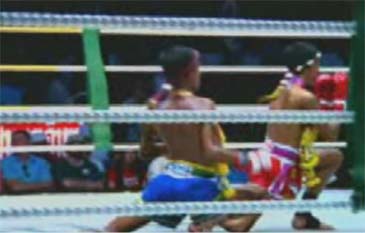 TAT's amazing Experience Video Contest's Thai boxing
Tourism Authority of Thailand (TAT) has launched two digital activities to encourage tourists around the world to participate in the "Amazing Thailand" campaign, and to attract more visitors to the Kingdom. Tourists can win 200,000 baht of prizes by uploading video clips of their most amazing experiences in Thailand in TAT's amazing Experience Video Contest,
http://amazingexperience.tourismthailand.org. The aim is to inspire other travelers to visit Thailand. Thailand Portfolio Project features uploaded photographs and stories from journalists focused on the Amazing Thailand theme. Contributions are ranked by the site's visitors to generate a list of the most popular posts. This seeks to encourage more users to upload their experiences.Mr. Suraphon Svetasreni, Deputy Governor for Marketing Communications, Tourism Authority of Thailand, says, "It is now very popular for tourists to share their holiday experiences by uploading their travel pictures and videos on the internet and on social media networking sites, such as YouTube.com and Flickr.com. Many of these photos and video clips are really amazing and they help to inspire other people to visit those destinations. TAT has realized the massive potential that this channel provides for e-marketing, so it has developed these two schemes to build stronger relationships with the web-communities.""Thailand Portfolio project encourages tourists to upload photos, video clips and travel articles through these online communities by cooperating with domestic and international photographers and tourism journalists. Within just one month of TAT uploading the work of these experts to several social media networking sites, many of the http://amazingthailand.tourismthailand.org/eNews/3/images were voted as the most popular." TAT has also organized the amazing Experience Video Contest, an online activity to encourage domestic and international tourists to submit their video clips (the length not exceeding three minutes) at http://amazingExperience.Tourismthailand.org. There are 200,000 baht of prizes to be won, including a Sony Handycam: HDR-SR1, DCR-SR82, DCR-SR40, Sony Ericsson Mobile Phone: K850i, iPod Nano 8 GB, two-night package at The Rock Hua Hin Beach Resort & Spa and Baan Krating Resort & Spa. Plus IMAX movie tickets from Krungsri IMAX. Video submission period is from 1st May 2008 - 30th June 2008 and voting period is from 1st May 2008 - 31st July 2008.TAT will upload all submitted video clips on to social media networking sites such as www.youtube.com, www.crackle.com in order to create an inspiration for the online tourists around the world to visit Thailand.TAT believes that Thailand Portfolio project and the amazing Experience Video Contest will provide excellent first-hand tourism information to social networking site users.TAT expect that within one year these clips will be viewed by more than 100 million visitors, which will help promote tourism in Thailand and will let people world wide have a better understanding of Thailand.Furthermore, tourists' comments posted on the online social media networking sites will help TAT to analyze and plan further e-marketing strategies and introduce new products and services regarding tourism in Thailand accordingly.
For further information about these campaigns:
Information Technology Department
Tourism Authority of Thailand
Email: amazingexperience@tat.or.th
Tel: (+662) 250 5500 Ext. 2832 - 38