Adventure tourism is rapidly growing in popularity as tourists seek different kinds of vacations.
Tourism Philippines under leadership of Tourism Secretary Joseph Ace Durano is set to embark on a nationwide campaign to increase awareness and promote the country's adventure and ecotourism destinations and activities.Adventure travel is a type of tourism involving exploration or travel to remote, exotic and possibly hostile areas, where the traveler should "expect the unexpected."Ms Maricon Basco-Ebron, tourism director and attaché at the Philippine Embassy in Seoul told reporters on May 10 that Secretary Durano intends to absorb a bigger slice of the adventure and experiential travel market and consequently position the country as an adventure destination in Asia.Adventure tourism is rapidly growing in popularity as tourists seek different kinds of vacations, she explained adding that adventure tourism gains much of its excitement by allowing its participants to step outside of their comfort zone. Dubbed Adventure Philippines Campaign, the program aims to create positive awareness for the Philippines as an exciting outdoor travel destination, to educate the industry stakeholders such as tour operators/travel agents, guides, suppliers, outdoor recreational clubs or societies on adventure travel and its potentials, and to foster or strengthen networking capacity and working relationship between travel service providers and suppliers, she explained.To provide tourism stakeholders and major players an overview of the outdoor-recreation industry and its potential for job generation and social and economic benefits, the tourism department is set to conduct a seminar on the fundamentals of Adventure Tourism 101 slated from June 3 to 5 at Hotel Stotsenberg, Clark Free-port Zone, Pampanga.The conference is organized by the Philippine Convention & Visitors Corp., in cooperation with the Recreational Outdoor Exchange Partnering with the DOT are the Adventure Travel Trade Association and Philippine Airlines, according to Mrs.Ebron.Participants to the seminar are set to hold actual adventure travel to the wilds and rainforests of Subic Bay Freeport in Zambales on June 5, where they are bound to try the famous jungle safari, canopy ride and slide for life amid thick vegetation and wildlife sanctuary. Administrator Armand Arreza of the Subic Bay Metropolitan Authority will sponsor the one-day safari.
ROX teams up with DOT for Adventure RP
Brace yourselves. Adventure Philippines is coming to pump a healthy dose of adrenalin into local travel and tourism. A breakthrough project by the Department of Tourism and R.O.X., Southeast Asia's biggest Outdoor Superstore, Adventure Philippines offers the public adventure packages that will put the thrill back into travel.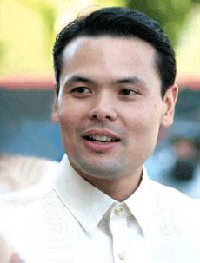 Tourism Secretary Joseph Ace Durano
From scuba-diving to surfing and even bird-watching, Adventure Philippines is bound to get every traveler's blood pumping—without compromising their safety or convenience."We know that there are plenty of adventures everywhere. But we have to make sure that these have the necessary tourist services for the convenience and safety of the tourists," says DOT Secretary Joseph Ace Durano. And with over 7,100 islands, the wealth of adventures on offer in the country sometimes overwhelmed travelers. "We saw that packaged adventure activities are really all over the country. But these just needed to be put together in one program and promoted."Since his appointment as DOT secretary in 2004, Sec. Durano's relentless efforts have done wonders for the Philippine tourism industry. From 2.29 million arrivals in 2004, last year's figures broke the records with 3.09 million arrivals. This outstanding performance has prompted the United Nation Tourism Organization to recognize the Philippine tourism industry as the best-improved and –performing in Asia.The idea behind Adventure Philippines was the result of a survey DOT conducted in Europe. The results proved that off-the-beaten-track type experiences are one of the biggest attractions of the country. Unfortunately, most travel agents did not have packages for these kinds of activities. The DOT needed a group that would serve as a linkage with outdoors groups. Then they received a letter from R.O.X. CEO and President Jimmy Thai proposing a team-up. R.O.X is Southeast Asia's first and biggest outdoor sporting and recreation hub. Located in Bonifacio High Street, it has 1,800 sqm retail area and 3 floors of top-of-the-line outdoor sporting brands across all categories. Some of the brands it carries are The North Face, LaFuma, Pacific Outdoor, Millet, Aigle, Life is Good, and Snowpeak. More than just a store, R.O.X positions itself as a leading provider of outdoor experiences. "The Philippines has the destinations. It also has the outdoors community. But they are so fragmented. Since we are in the outdoors apparel and hardware retailing business, we thought we could be a catalyst in gathering these communities to serve one purpose,"discloses Thai. Such a grandiose project usually takes years to organize. But Adventure Philippines was a product of two similar endeavours that took no time to set up. Both parties met in January 2008. And now, in less than two months, Adventure Philippines is ready for an international debut. "I think we worked so fast because we were decisive in what we wanted. And the passion was very evident,"stresses Thai. Committed to building and nurturing the community, DOT and R.O.X. also see Adventure Philippines as a way to push tourism traffic to marginalized areas. New activities mean new locations. Bird-watching, surfing, snorkeling, and trekking will surely give economic opportunities to unestablished destinations. "This happened in Donsol, Sorsogon where the fishermen now earn more as boat operators and as Whale Shark Interaction Officers. We want to replicate Donsol all over the country," enthuses Sec. Durano. The Department of Tourism thru Philippine Convention and Visitors Corporation will be hosting invitational fam trips for overseas adventure/outdoor/recreational associations and societies from April to end of December 2008. The Adventure Travel Summit slated in June 2008, Davao City and the production of a Bird watching Manual will be the highlights of the yearlong promo.