Arts & Living
Wives of foreign envoys team up for
4th Annual "Parade of Nations" Charity Event
To Be Held at Seoul's Hyatt Hotel on May 22, 2008
By Ted Gim
Staff Reporter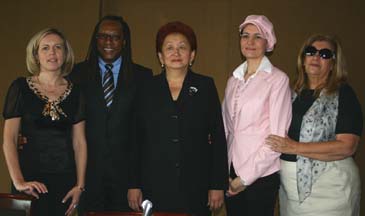 Mrs. Aida Al-Maaina (second from right), wife of UAE Amb. Abdulla Mohammed Al-Maainah, poses for the camera with Mrs. Lyudmila Fen (center), wife of Uzbekistan Amb. Vitali V. Fen; Mrs. Tatiana Rusetskaya (far left), wife of Belarus Amb. Aleksandr E. Guryanov; Mr. Tim Strong (second from left), husband of the New Zealand Amb. Jane Coombs; and Mrs. Magdalena Tedin Uriburu, wife of Argentina Amb. Alfredo Alcorta, at The Parade of Nations press conference held at the Hyatt Hotel on May 8, 2008. The Parade of Nations event will be held at the Grand Ballroom of the hotel on May 22, 2008.
The spouses of heads of missions in South Korea are hosting the Fourth Annual "Parade of Nations." The event will be held at the Hyatt Hotel's Grand Ballroom in Hannam-dong on May 22 (Thursday), 2008 at 6 p.m. Formal attire is required as this is a black tie event, and tickets are 150,000 won each."This is a way for the ambassadors to come together to contribute to Korean society," said Tim Strong, husband of the New Zealand ambassador and performer. The Parade of Nations benefits various charities such as the 100-Won-A-Day Movement, the Migrant Workers Hospital, the Korean Association For Children with Leukemia and Cancer, Yongdo Charity for People with Disabilities among other organizations. Emceed by CNN Seoul Bureau Chief Sohn Jie-Ae, the event will feature performances by Dadawa, a new age singer and wife of the Canadian ambassador Ted Lipman. Other performers include Argentine tango dancers who were also featured in the 2008 Spring HiSeoul Festival; Korean pop artist Minnie Park-Hubbard; Peruvian flautists; Mr. Tim Strong, husband of the New Zealand ambassador and popular singer; and US Amb. Alexander Vershbow who is a drummer.Various items will be auctioned off such as a fur coat from Canada, airline tickets from a major foreign airliner and a hotel stay at the Hyatt in Dubai.For details or inquiries please contact the UAE Embassy in Seoul at 02-790-3235/7.

Related Articles
Spouses of Foreign Envoys to Host Gala Event
Envoys' Wives Raise Funds for Local Charities
"Parade of Nations 2007" to Kick Off on May 15
"Parade of Nations 2007" Slated for May 15
Foreign Envoys & Wives Touch Minds of Locals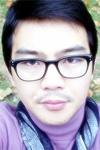 Ted Gim serves as staff reporter of The Seoul Times. He studied tourism management at a S. Korean university. He spent three years in England and Ireland, studying and living there. He studied tourism at a English college for two years. He covers tourism industry as well as diplomatic community in Seoul.