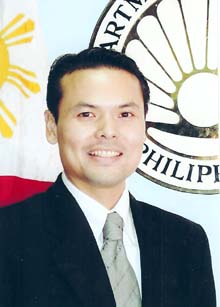 Philippine Tourism Secretary
Ace Durano
Tourism Secretary Ace Durano of the Philippines, who has been appointed general manager of the Philippine Tourism Authority in concurrent capacity, is implementing a masterplan for Boracay that involves decongestion of the crowded White Beach and improving water services on the island.
"As far as Boracay is concerned, the priority of PTA is to complete the infrastructure needed by the island to decongest the White Beach and support the growth of tourist arrivals and investments on the island," Durano said on June 1. Durano has earlier called for a moratorium of construction on the resort island until a new land use plan is completed to guide new resorts development. Last year, more than 600,000 foreign and domestic tourists visited Boracay, which was beset by problems such as flooding and lack of wastewater treatment facilities. Last month, President Gloria Macapagal Arroyo appointed Durano to the PTA in place of Robert Dean Barbers. It is the agency that has jurisdiction over Boracay. Durano said PTA has signed a contract with Manila Water to leverage on the company's management expertise and experience to improve and expand operations of Boracay Water. He said another project was the completion of the Boracay circumferential road to improve traffic flow and encourage investments in less developed areas of the island.