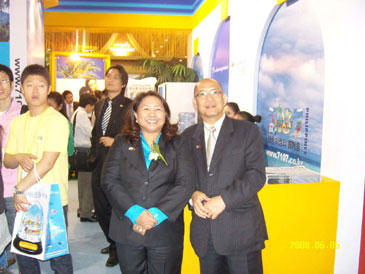 Philippine Amb. Luis Cruz (right) poses for camera with his tourism attache Maricon Bsco-Ebron at RP booth at KOTFA.
Korea World Travel Fair (KOTFA) hosted by Korea Tourism Association opened on June 5 for a four-days run at COEX in downtown Seoul.More than 3,000 exhibitors from 60 countries are participating in the 21st edition of the international travel fairs, the largest in Korea with the expected attendance of over 100,000 travel industry professionals, buyers and specialists and travel consumers.The Philippine booths strategically located near the main entrance accommodated Philippine exhibitors showcasing their unique tourist attractions with fresh branding efforts."We are taking a more assertive role in pushing our new tourism attractions to the Korean travelers," Philippine Amb. Luis Cruz said.Known for dense marine biodiversity, Philippine waters are expected to offer rewarding diving experiences for forthcoming summer holidaymakers in Korea. Top five sites in the country include the Tubbataha Reef, a UNESCO World Heritage Site.Among the other new tourist attraction and "must enjoy"in the Philippines as recommended by Ms Ebron include BUTTERFLY SANCTUARY BOHOL, according to Ms.Maricon Basco-Ebron, tourism director and attaché at the Embassy of the Philippines.Today, the butterfly center is a popular stop for tourists and plays an important role in educating people about the butterflies and the environment.All the visitors of the center have a guided educational tour. Korean pamphlet guides are available to give Korean visitors more information about the butterfly sanctuary.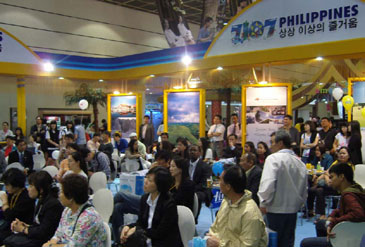 Philippine booth is packed with hundreds of Korean audience for cultural performance at the opening day of KOTFA.
The place started with almost no butterflies in the area, with only about 6 or so common species. Now, various species are seen visiting in the open garden, and over 110 butterfly species have been recorded to date. The sanctuary now breeds about 20-25 species from inside the education enclosure. The conservation center was set up to help save the butterfly population and habitat in Bilar, and to look after the Troides Magellanus, the biggest butterfly in the Philippines that is uniquely found in Bilar all-year round. Another important part of the project is working with the local people to develop livelihood programs so that they will not be dependent on the forest for their income and daily needs.Initiated by Ms. Cristy Burlace, the project started in 2001 and was opened to the public in 2007. Bilar was chosen to create the butterfly conservation project because of the importance of the butterflies found in the area. The conservation center is found along the highway route going to the famous Chocolate Hills, making it a must-see destination before proceeding to the hills. In the meantime, Cebu Pacific now flies to Boracay via Caticlan with their brand new set of ATR 72-500 aircrafts.Before, Cebu Pacific passengers who want to visit the beautiful island of Boracay usually have to take a flight to Kalibo, Aklan, which is almost two hours away from the port of Caticlan, the gateway to Boracay.
To cut travel time and to give passengers a more convenient way to get to their destination, Cebu Pacific now has flights to Boracay via Caticlan. The Manila-Caticlan Cebu Pacific route opened last February 29 with air fares as low as Php 688.00 (US$ 15.70). With their newest route (Manila-Caticlan), Cebu Pacific offers their passengers a whole new experience in the sun-kissed island of Boracay with their low fares. As the leading domestic aircraft carrier in the country and as a commitment to tourism, Cebu Pacific would like to encourage more people, especially the incoming tourists, to travel around the Philippines and see its wondrous sites. Cebu Pacific Airlines also has domestic flights to Puerto Princesa (Palawan), Tagbilaran (Bohol), Dumaguete, Davao and many other exotic destinations. They also have international flights to Seoul (Korea), Jakarta (Indonesia) and Ho Chi Minh (Vietnam).Economy hotel chain of Microtel Inns & Suites is attracting growing attention from Korean tourists, particularly FITs for its customer satisfaction.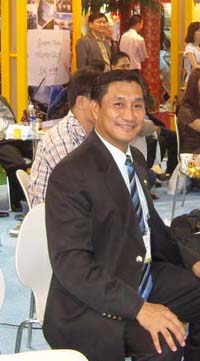 Roy B. Martin, sales manager of Microtel Inns & Suites

"Of the close to 40 new hotel openings planned for 2008, at least 30 new hotels will open by the end of the year showcasing the Microtel brand's award-winning new prototype design with a contemporary and streamlined, yet practical environment, and unexpected enhancements that guests would not ordinarily expect to find in an economy hotel, Roy B. Martin, sales manager of Microtel Inns & Suites said.For the sixth consecutive years, Microtel has been ranked highest in guest satisfaction among economy hotel chains in the J.D. Power and Associates 2007 North America Hotel Guest Satisfaction Index StudySM. Hotels offer single, double and suite accommodations, all with free local and free long distance phone calls anywhere within the continental U.S. and free WiFi in all guestrooms, and complimentary daily continental breakfast. All the hotels provide a meeting room, and many offer a fitness center, business center, swimming pool and guest laundry, according to Mr.Martin.There are currently 328 Microtel hotels open and under construction worldwide. Microtel is a sponsor of The Society for Accessible Travel & Hospitality (SATH) and is known as the preferred hotel chain for travelers with disabilities. Microtel Inn & Suites are located in six places of the Philippines. They are Baguio . Tarlac . Cavite . Batangas . Boracay and. Davao.Opening in 2008 are Cabanatuan, Mactan, Palawan, SM Mall of Asia, Argentina, Canada, USA, Honduras and Mexico.The Philippines is shifting to higher gear to sustain momentum in its bid to corner a sizeable chunk of Korean upscale market. With new marketing scheme, DoT seeks to position the Philippines as a top tourist destination for Korean tourists in Southeast Asia. A 30-man top-caliber delegation representing the Philippines travel trade industry is here for KOTFA.The Philippine booths occupying 180 sq.m. at the Atlantic Hall of COEX feature diverse Philippine tour products. Highlights include major tourist destinations from Boracay, Cebu and Bohol boasting awe-inspiring natural vistas, rich historical and cultural traditions, and the warmth and hospitality of the people.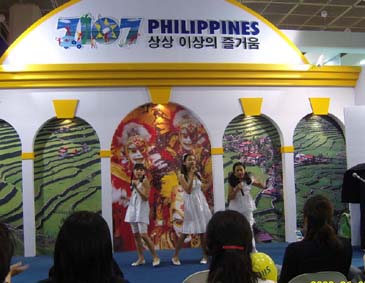 Musical performance at RP booth attracts hundreds of Korean audience.
Top-class singing, dance and performance troupes have started to fascinate audience in the fair with their fantastic cultural performances from the outset of the fair.Meeting with reporters right after the opening ceremony of KOTFA on June 5 at COEX in downtown Seoul, Mrs.Maricon Basco-Ebron said the Philippines is set to launch a sustained campaign to draw more Korean travelers to the Philippines with focus on such emerging market segments as adventure, medical and ESL tourism, to name just a few.Touching on ESL, in particular, Ms.Ebron said that a total of 111,000 students from South Korea came to the Philippines last year for English classes and other study tours, accounting for 17 percent of the 653,320 Korean arrivals."The Korean overseas learning sector accounts for around five million people, including those who want to acquire skills that will help them participate in the global economy," she said.She went on to say that most Korean students of English preferred schools in the cities of Baguio, Manila, Iloilo and Cebu and in the northern region of Cagayan Valley.Some enroll in two-month ESL programs that coincide with their summer or winter breaks; others enter the regular course offerings of international schools and universities in the Philippines; and some want to learn English for use in particular fields, such as medicine and nursing.There are also packages in which ESL is applied in golf, diving and other areas of interest for more specialized Korean groups.Philippine Tourism Secretary Durano earlier said that the tourism and education sectors needed to further improve their facilities and services, such as discouraging fly-by-night operations and ensuring the safety of visitors.The Philippines' ESL Program is basically that a combination of instruction, sharing, and training that are reflected in listening, speaking, reading, and writing exercises. It is really a tourist activity where the English classes are part of a structured tour package.Education does not stop within the confines of the classroom. Students are thrust into real life situation where they get to visit the Philippines' spectacular tourist spots and interact with the famed Filipino hospitality. Seeing that majority of Filipinos can communicate in English, studying it becomes more exciting and dynamic to truly define what learning is. Studying ESL in the Philippines is really a winning situation where students not only gain knowledge; they get to practice it while experiencing another culture.English language education is the primary reason Koreans send their children to the Philippines. It is not hard to see why, as the Philippines offers quality, affordable English courses, an English speaking population, a significantly lower cost of living, and a manageable 4-hour flight from Korea.