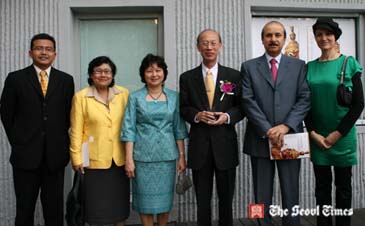 Thai Ambassador to Seoul Vasin Teeravechyan (3rd from right) and his wife Daowimol Teeravechyan (to his left), pose for camera with Mrs. Sasi-apha Sukontarat (2nd from left), director of the Tourism Authority of Thailand Seoul (TAT), Mrs. Aida Al-Maaina (right), wife of UAE Ambassador to Seoul and Abdulla Mohammed Al Maainah (2nd from right), and Mr. Mohd Amirul Rizal, newly appointed director of Malaysia Tourism Promotion Board (MTPB) Korea.
Thai Ambassador to Seoul Vasin Teeravechyan held an event "Amazing Thailand" at a Seoul theater on June 19, 2008 on the occasion of the 50th anniversary of the diplomatic ties between Thailand and South Korea.The Thai cultural event — traditional Thai dance and music with puppet performance — was co-sponsored by Thai Department of Culture and Korea's Ministry of Culture, Sports, and Tourism.It was held at National Theater of Korea in Jangchung-dong at 7:30 p.m. on the day and at the same time on the following day. A number of foreign envoys serving in Seoul were invited to the cultural event.Prior to the performance Ms. Shin Sun-Hi, director of the National Theater, delivered a speech in which she emphasized the growing bilateral ties."Amazing Thailand" was composed of two parts. The first part dealt with the internationally-acclaimed traditional Thai puppet performance by Joe Louis Theatre Company. Traditional Thai music and dance were staged by members of Bunditpatanasilpa Institute, a government-run education institute set up in 1998 to promote traditional and culture of Thailand.During the performance, the Thai puppet dancer received accolades several times for their interaction with the audience.The event was part of the numerous cultural events planned to be held in both countries. Various cultural groups will be exchanged between both nations in commemoration of the 50th anniversary of diplomatic ties.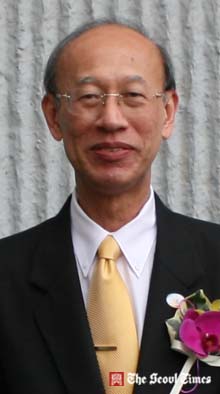 Thai Ambassador to Seoul Vasin Teeravechyan
Before the event, on June 7, 2008, Amb. Vasin Teeravechyan held a press conference at Korea's Ministry of Foreign Affairs and Trade (MOFAT) in commemoration of the 50th anniversary of the diplomatic ties. MOFAT's Vice Minister Kwon Jong-Rak was the co-host of the conference.
A variety of cultural and human exchanges will be traded between the two countries on the occasion of the diplomatic anniversary.President Lee Myung-Bak will attend the ASEAN Plus Three meeting scheduled at year's end in Thailand."Thailand is the largest trading partner amongst the 10 ASEAN members," Vice Minister Kwon was quoted as saying. "Bilateral trade volume reached 8.3 billion US dollars in 2007."South Korea ties with ASEAN members will be further developed as Thailand will become the chair country of ASEAN in the latter half of this year, according to the vice minister.Thai food festivals will be held in Seoul and Korean music groups will go to Thailand. Commemorative stamps will be issued in both nations while the two will exchange port calls by each nation's naval fleet.In July 2008, members of the National Center for Korean Traditional Performing Arts will visit such Thai cities as Chiang Mai and Phuket in July 2008. On Oct. 1, 2008, Thai Royal Symphony Orchestra will perform at the National Theater of Korea.The bilateral relations harks back to 600 years ago. Thailand first started diplomatic contacts with Korea by sing diplomatic groups to King Gongmin of Goryo Dynast (918-1392) of Korea. The contacts were severed due to the rampant piracy on seas.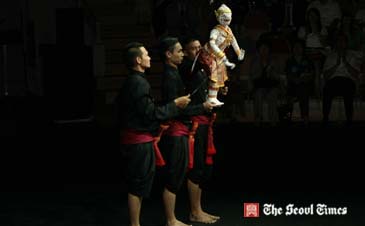 Thai traditional puppet performance in a Seoul theater
Even before the diplomatic ties were opened on Oct. 1, 1958, Thailand became a great help to the fledgling Republic of Korea at its crisis.During the Korean War (1950-53) Thailand send as many as close 13,000 of its soldiers to aide South Korea from the Communist North Korea. It was the fifth largest troops after the US, England, Canada, and Turkey among the 16 nations who fought under UN flag during the Korean conflict.The ties have developed a lot since the diplomatic establishment. In particular, human exchanges in travel area have been on the steep increase in recent years. Thailand has now become the 10th largest trading partner of Korea."In 2007, over 1 million Koreans visited Thailand and 150,000 Thai people came to Korea," Amb. Vasin Teeravechyan said.He said that there are now 10 Thai universities which teach Korean language under the influence of Korean wave since Korean TV dramas began to air in Thailand. "Many more Thai people are studying Korean language individually," the Thai envy added.