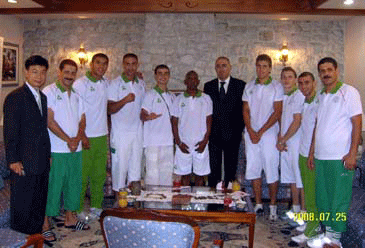 Amb.Hadid(fifth from right) poses with Algerian boxers and judokas who are here for adaptive training.
Algerian Ambassador to Korea Rabah Hadid hosted a welcoming reception at his residence in Sungbuk-dong in Seoul on July 25 for 20 plus Algerian national team members wishing their outstanding performance during the forthcoming Beijing Olympiad. They included Algerian boxers and judokas who are here for adaptive training programs geared up for Beijing Olympics. "I'm very happy to find you are in top shape thanks to successful training programs here. I'm also glad to see that quality sports infrastructure and favorable weather conditions here are optimal for Algerian athletes to adapt to new environments in Beijing," Amb. Hadid said.With less than a couple of weeks to go before opening of Beijing Olympics, most members of Algerian national team have successfully completed their local adjustment training in Korea and are ready to depart for Beijing this week. Seoul is just two-hours by plane from Beijing and the weather is also quite similar and Korea is considered an optimal place for foreign athletes to adapt to new environments.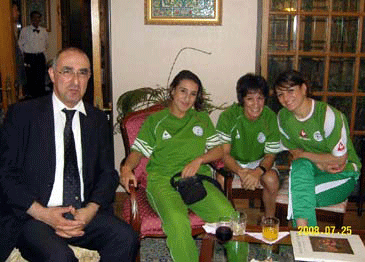 Algerian female judokas pose for camera with Algerian Amb. Hadid.
In the case of judo, Algerian judokas will compete in the classes of Men's -60kg, -66kg, -73kg, -90kg and -100kg and Women's -48kg, -52kg, -57kg, -63kg, -70kg.Judo is a traditionally strong sport of Algeria and the sport is widely followed by the Algerian public. Algerian Olympic qualifiers in five sports, including Judo, Boxing and Table Tennis, are in Seoul for adaptive training to prepare for the Beijing Olympic Games. In the meantime, Mustapha Berraf, president of the Algerian Olympic Committee is scheduled to arrive in Seoul on July 31 on his way to Beijing.Amb. Hadid will host a welcoming reception in his honor at the Algerian Embassy in downtown Seoul on Aug. 1, 2008. Jeon, Byung-ho, senior manager of Olympic Parktel in Seoul said that members of Algerian national team have checked in his hotel along with members of three other national teams from Australia, Puerto Rico and Virgin Islands"It is my understanding that more than 2,500 athletes from 46 countries including Algeria have so far visited Korea for adaptive training program ahead of the forthcoming Beijing Olympic Games,"he said.To better serve members of Algerian national team as well as other countries, the hotel management is taking special care in making foods and beverage fit for Muslims in particular, he added.One major reason why foreign sports teams choose Korea as their training camp is they could find the best sparring partners , he said."A clean environment is another important factor why Korea is favored by foreign athletes,"said Souani Nasser, coach of Algerian boxing team.In the meantime, Jeju-do, the southern resort island of Korea, is the most popular place where foreign endurance athletes prepare for the Olympics. Well-known for its navy blue sea and scenery, Jeju has hosted some 150 athletes from 10 countries so far. For athletes' convenience, the local government is also planning to launch chartered flights between the island and Beijing. Suwon City, which is located some 40 km south of Seoul, has attracted , members of the national Olympic team of Algeria. More than 40 Algerian athletes in judo and other sports are now undergoing training programs there.The first batch of Algerian national team will head for Beijing on Aug. 1 after completing its training program here. Provincial governments of Korea including Kyonggi-Do Province have embarked on ambitious projects to host foreign national teams preparing for the 2008 Olympics since last year.After having experienced international sports competitions such as the Asian Games in 1986 and 2002, the Seoul Olympiad in 1988 and the 2002 Korea-Japan World Cup, most big cities and provincial governments have sufficient infrastructure and resources. Korea has more than 1,600 stadiums and arenas across the country.
For details or inquiries call the Algerian Embassy in Seoul at 02-794-5034.