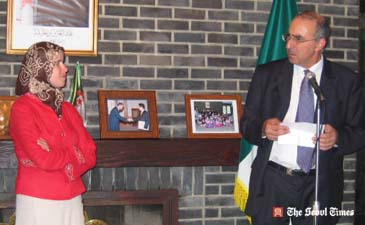 Amb. Hadid makes a welcome speech for the 42-member Algerian Paralympics delegation led by Mrs. Amir Eps Tadjer Nassima on Aug. 28, 2008.
Algerian Ambassador to Korea Rabah Hadid hosted a morale boosting reception on Aug. 28 at his chancery in honor of the country's visiting Paralympics athletes who are now here for an extensive adaptive training program in preparation for Beijing Paralympics.The Beijing Olympic Games has wrapped up last week and the Chinese capital is ready for its next challenge - the Beijing Paralympics. scheduled for Sept. 6-17. "More than 4,200 athletes from 148 countries and regions will take part in the games. The 42-member Algerian delegation led by Mrs. Amir
Eps Tadjer Nassima flew into Seoul last week for a warm-up in Seoul. Algerian athletes include several world champions in track and field as well as judokas including Mr. Kerfas Nacer Eddine who won in 10,000 meter distance..Extending his warm welcome to Algerian athletes, Amb.Hadid thanked for Korean sports authorities concerned for their generous help and support for the successful training of Algerian Paralympics team members in Seoul."My special thanks should go to Principal Lim Sung-Man of Seoul Physical Education School, Jeon Byung-Ho, sales & PR/service manager of Olympic Park Hotel in particular who have spared no efforts to help support Algerian athletes for their successful adaptive training course not only for Paralympics team member this time but also Algerian judokas and other athletes when they came here in July for an adaptive training program in Seoul and Suwon, some 40 km south of Seoul for Beijing Olympics which were wrapped up last week on a successful note," Amb. Hadid said.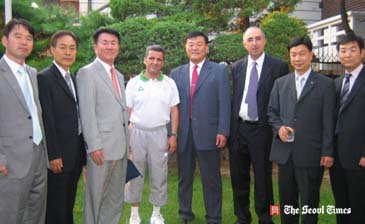 Amb. Hadid (third from right) poses for camera with Principal Lim Sung-Man of Seoul Physical Education School (third from left) and others who extended generous support to Algerian athletes for their successful adaptive training in Seoul.
On behalf of Algerian athletes and coaches, Mrs. Amir Eps Tadjer Nassima congratulated Korea for its outstanding performance during the Beijing Olympic Games with 13 gold medals and expressed her hope that bilateral relations between Korea and Algerian will be further strengthened in the years to come.As to the outlook for the Algerian team, she said:" Prospects are quite bright as we do have several athletes holding world records." She went on to say that Algerian athletes have found some showing remarkable progress since staying at the Seoul camp for training and they are quite confident in showing off what they've got."In the meantime, Shin Heon-Cheol, president of Korea-Algeria Friendship Association said that Koreans are moved to see all of Algerian athletes are striving to become stronger and training very hard through adaptive training here with the help of Korean sports officials concerned wishing all of them good lucks during the forthcoming Beijing Paralympics. Shin, who is concurrently vice chairman of SK Energy Co., wished them to demonstrate fully their abilities in Beijing to bring glory for their motherland.Mr. Shin also expressed hope that all countries in the world will take more measures to improve the living conditions to let the entire handicapped have a happy life in their respective country on the occasion of Beijing Paralympics. Beijing has made five world class sports venues, including the National Stadium, in terms of barrier-free facilities. Operational procedures for special services for disabled athletes are in place. The city has set up its first barrier-free taxi team. And tourist attractions such as the Great Wall and the Forbidden City have installed barrier-free facilities. Vancouver Mayor Sam Sullivan is on his way to Beijing to carry the torch at the Paralympics Opening Ceremonies.
For details or inquiries call the Algerian Embassy to Seoul at 02-794-5034.