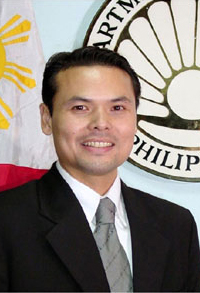 Secretary Joseph Ace Durano of Philippine Tourism Department.
South Koreans made up the bulk of foreign visitors in the Philippines for the first seven months of the year accounting for 19.8 percent of all foreign visitors,Philippine Tourism Secretary Joseph "Ace" Durano said on Sept. 8 during the House budget briefing of the DOT's proposed budget for 2009 in Manila.This translates to 380,619 Korean visitors, with a growth rate of 1.5 percent.Visitors from the United States came in second with 366,662 or 19.1 percent of the total, while Japan completed the top three with 216,114 Japanese visitors or 11.3 percent. Unlike US visits whose number grew by 1 percent, however, visits from Japan declined by 6.5 percent, said Durano.The rest of the top 11 markets for the country's tourism industry for the first seven months are mostly from Asia:
* China, with 102,653 visitors or 5.3 percent of the total foreign visitors; * Taiwan, with 72,946 or 3.8 percent;* Hong Kong, with 68,496 visitors or 3.6 percent;* Australia, with 67,436 visitors or 3.5 percent; * Canada, with 60,667 visitors of 3.2 percent;* Singapore, with 57,332 or 3 percent;* United Kingdom, with 52,939 visitors or 2.9 percent; and* Malaysia, with 39,518 visitors or 2.1 percentDurano said the visits from these countries have grown substantially, with visitors from Canada and China increasing by as much as 18.3 percent.
Citing data from their quarterly exit surveys in airports, Durano said nearly half or 47.3 percent of the foreign arrivals are in the Philippines for vacations, particularly in beaches, while one-fourth or 25 percent go to the country to visit friends or relatives.Thirteen percent of foreign visitors are business travelers; 1.2 percent are in the country for conventions; and 11 percent are in the country for various reasons, including English-language learning, added Durano.Durano said they based the tourist arrival figures on the United Nations' definition of tourists."We are using the definition of the UN World Tourism Organization of what a tourist is: a foreign national or foreign passport holder staying in another country for a night," said Durano, adding that some countries don't follow the UN definition, like Macau which counts even those who do not stay overnight.Based on arrival and departure cards and sea manifests, more than 250,000 foreign visitors arrived at the country each month, with January, March, and July having the highest visitor volume, said the DOT in its presentation before the House panel. The DOT said the 6.1 percent growth in total foreign arrivals in the country for the first seven months surpassed records in the past three years.The 2009 budget proposal allots P1.74 billion to the DOT, an increase from 2008's P1.66 billion. - Secretary Durano said that because of the budget given to the agency, they decided to limit their activities to 20 countries.Durano was present during the House briefing regarding the proposed P1.74 billion DOT budget for 2009.Durano said they will be focusing on neighboring countries like Singapore, Malaysia, Vietnam, and Australia to help build up Philippine tourism.Key markets like the United Kingdom, Spain, France, and Italy will also be targeted, said Durano.At the same time, the DOT is working on developing ties with emerging markets like Russia, he added. Durano said Russia was not on the DOT's radar in 2005, saying the "stumbling block" was that Russians were considered "restricted nationals."The deployment of a delegation to Russia, however, opened up negotiations that led to the adoption of a less strict visa policy, said Durano.The DOT has likewise convinced Russian travel agents to offer Philippine tourism packages, he said.Durano said they have engaged in talks with various airlines as there were no direct flights from Russia to the Philippines, adding that they are also working on consumer awareness about travel fare and such.Durano said his department used up all of its budget for the year, which was P1.66 billion for 2008."We have more than 100 percent absorption of the budget. A lot of our spending is abroad…reality is, I know we cannot be given more,"he said.The DOT plans to spend P774 million on international tourism promotion next year, and is hoping to sustain the growth of foreign arrivals in the Philippines, said Durano."We would want to sustain the 8 to 10 percent growth until 2010. But it's becoming more challenging with the slowdown of key markets like US and Japan,"he said.