| | |
| --- | --- |
| | The Callanish Standing Stones, older than Stonehenge, are on Lewis, the northeastern side of the island of Lewis and Harris. |
For years, I heard the name of the Outer Hebrides, a chain of islands 40 miles off the northwest coast of Scotland, as a siren's call. Once, as a young reader, I had briefly confused it with the Hesperides, a mythical garden at the edge of the world famous for its golden apples. Ever since, I had thought of those Scottish islands as magical places. Last September, my husband, James, and I finally yielded to that call and spent eight days exploring Lewis and Harris. Although it is a single island, it is considered by inhabitants as two distinctly separate realms. At first our planning seemed simple. We booked flights from London to Stornoway on Lewis, on the northeastern side of the island. Then, just as I was happily studying photographs of possible vacation rental cottages, I was shocked to discover that we could not rent a car. Since James was 78, no agency on the Outer Hebrides would take him. Though young enough at 63, I was not ready to take over the wheel on the left side of the road. Lewis and Harris, I learned, did have limited bus service. The two main towns, Stornoway and Tarbert, advertised taxis. Somehow, I decided, we could manage. Instead of our preferred kitchen-equipped cottage, I chose three well-recommended guest houses. One innkeeper suggested we might hire a member of his staff for some driving; another assured us we could easily walk to Tarbert's bus station; and the third, David Roberts of Galson Farm Guest House near the top of Lewis, volunteered, if we covered his costs, to take us from Stornoway to Galson and the next day chauffeur us to our second inn.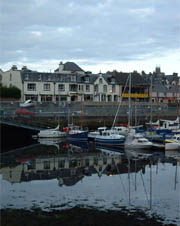 Harbour of Stornoway
We booked our first night in Stornoway, the largest town (population, 8,000) on the islands. With unpretentious stone, stucco and pebble-dash houses, Stornoway is decidedly not quaint. But the town has a modest charm, its main streets dotted with colorful small gardens and hanging baskets. Across the harbor with its moored fishing boats, Lews Castle, a 19th-century mansion sheltered in woodland (unique on these treeless islands), is encircled by walking paths. Everywhere we went in the Outer Hebrides seemed remarkably quiet. Early in the evening, we ambled along Stornoway's outer harbor, watching a large car ferry churn into port, and noticed the absolute silence of the deserted residential streets. Only two young boys, their bicycles askew on the shore, sat talking in low tones at the edge of the water. The mostly dark houses seemed to present a front of reticent dignity and determined privacy, an impression that deepened on other island roads. The next afternoon, David Roberts, friendly and informative, became our guide to the lore and history of Lewis. The Outer Hebrides are a fierce bastion of traditional Scottish rural life. Gaelic is widely spoken on the islands. During our meandering drive, he pointed out narrow strips of crofting (tenant-farmer) land and huge stacks of peat for fuel piled behind most houses. Only minutes out of Stornoway, we sensed the isolation and remoteness of this flat and, at times, gently rolling, sky-dominated landscape. A few houses were scattered here and there, others clustered into tiny villages, but their starkness was accentuated by the almost total lack of trees or visible gardens. Since these islands are among the windiest regions in the world, plantings only survive behind high stone walls.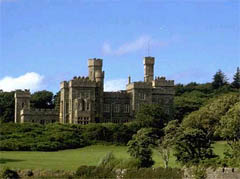 Lews Castle
Although much of interior Lewis is rolling heath and preserved peat bogs, part of its coastline resembles Cornwall, with dramatic rocky cliffs and surging surf. At the Butt of Lewis lighthouse, we were mesmerized by the sight of gannets plummeting headlong into the wind-tossed sea. Bird-watching on the islands is rich and varied. We saw lapwings rising in a small field and graylag geese nibbling at grass in a pasture, and David pointed out one of the few remaining refuges of the corncrake. When we arrived at Galson Farm Guest House, close to the sea, we were sorry we had only planned one night there. Our room was small but cozy and well-decorated, and Hazel Roberts's cooking was excellent: leek and celery soup, fresh fish cakes, beans from the garden, lime roulade with fresh cream and meringue and wine. That night, as we shared the cheerful dinner table with a couple from Aberdeen and a Welsh historian, I foresaw that an entire week of guest-house meals would be dauntingly sociable. They were. All our meals were communal.Before we left Galson the next morning, we walked down a short lane to an old cemetery overlooking the sea. Each gravestone was etched with the location of the family croft — 31 Borve, for example. Some stones had names — Morrison, Graham, Murray — but others, only numbers. A few stones, half-sunk into the turf, had no engraving at all. David later said, "Those people had no money or time for markers. They would simply know where their people were."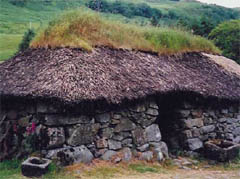 Blackhouse
At midday, David loaded our suitcases into his car for an afternoon's tour of western Lewis. Resolutely ignoring several tempting craft shops, art galleries and purveyors of the best-known island export, Harris tweed, we also had to forgo walks to the surfing beaches. (Surprisingly, with ocean currents that warm the water temperature, Lewis has successfully played host to international surfing meets.) Instead we stopped at Blackhouse No. 42 in Arnol, a restored traditional stone dwelling whose low, rounded shape was once common all over the islands. These thatched homes conserved energy and provided hunkered-down protection from the constant winds. Stepping into the windowless main room, I was almost overcome with the pungent smoke from a peat fire. Once animals in an adjoining room would have added their own warmth (and odors). Heading southwest, we paused at Braggar to see a magnificent whalebone arch, a harpoon still piercing its jaw. At Shawbost, a half-mile walk by loch and tumbling burn led to a restored Viking watermill, and farther on, we stopped at a little lake, or lochan, next to Dalbeg Beach, where we had just missed the midsummer flowering of white waterlilies. Later, Dun Carloway Broch, a round-sided stone tower over 2,000 years old, gave us a hilltop panorama over the ocean to more islands.
| | |
| --- | --- |
| | Standing Stones of Callanish erected between 2000 and 3000 B.C. |
Last, we walked in awed silence around the Callanish Standing Stones, the most important prehistoric monument in the Hebrides. This ceremonial site, a cruciform of some 50 stones, with a circle of 13 around a central monolith, is older than Stonehenge. Unspoiled, uncrowded and set on a rise over a sea loch, this monument was a fitting end to a memorable day. In late afternoon, David delivered us to Baile-na-Cille, a large guest-house complex at Timsgarry. Baile-na-Cille, an old manse with converted stables and outbuildings, sits on the edge of miles of sandy beach. Surrounded by emerald-green and rock-studded hills, we enjoyed strolling the peaceful lanes that circle the bay. These walks were so pleasant that during our three days at Timsgarry we only once called on the staff member who was our volunteer driver, for an hour's tour of the nearby rugged Bhaltos peninsula. But we were very grateful for transportation from Timsgarry to our last stay, Leachin House, outside Tarbert, the only sizable town (population, 420) in Harris. For two hours, the road curved and dipped through the mountain sentinels that distinguish Harris from Lewis.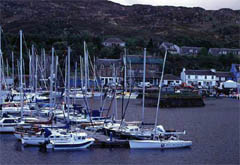 Tarbert Harbour
We settled for four nights with appreciative sighs into Leachin House, a granite Victorian home just yards from an arm of the sea. Tranquil, immaculate and warmly welcoming, Leachin House is handsomely decorated with antiques and nautical oddments like mounted shipman's knots. Our room had not only views of the sea loch beneath our window but also every possible comfort, from television to a carafe of sherry. Evening meals were superb, featuring appetizers like smoked venison salad, artfully prepared local fish, beef and lamb, and desserts like strawberry syllabub and mango pavlova, with a carafe of good house wine. We were ending our island stay in luxury. ONE morning we walked into town, boarded a local bus at 11:30, and enjoyed a ride the length of Harris to St. Clement's Church at Rodel, an impressive dark stone structure dating from the late 1400's. (That day we particularly longed for our own car so we could have lingered at the stunning beaches we passed.) At Leverburgh Pier, James and I transferred into a small van. We were its only passengers for a scheduled run up the jagged eastern edge of Harris back to Tarbert. This narrow, roller-coaster road, known as the Golden Road because it was so expensive to build, swung up, down, and up again, looping constantly around sharp curves. Occasional houses on the sea side were tucked into small bays, but landward, all was gray loneliness. Mile after mile of jagged granite outcrops, guarding tiny standing pools, and marooned small inland lochs created a sense of brooding desolation. I would not have been surprised to see Tolkien's orcs scrambling over the rocks.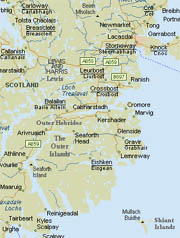 Back in Tarbert, I realized that our total cost for this stunning half-day excursion had been only about $6.50 each round trip. Other bus trips were equally inexpensive: a pound or two to cross a bridge to the small island of Scalpay or to join a homeward school-bus route toward Husinish Beach an hour away. I did not make it to Husinish. Almost at the end of the trip, seated in the rear of a smoky and very bumpy nine-seat van, I began to feel carsick. I asked the driver to let me off and pick me up on his return. That walk turned into a small adventure. Unknown to me, the van driver had to stop farther on to help two motorists dig out a stuck car. So I hiked alone for almost four miles, wonderful seascapes unfolding before my eyes, as I followed the winding road through the mountains. Although the day had been bright, a soft misty light descended over the water as the sun began to go down. I passed sheep and a few houses, but the road was almost empty. When the apologetic driver finally picked me up, he refused to let me pay for my long-delayed ride. The next day, a Tarbert taxi driver, who was a retired engineer with a fund of genial stories, took us to Stornoway airport. It was over an hour away, but I felt that morning as if we were journeying far too quickly from a slow-paced, quiet world back into the faster, noisier one I knew too well. Given a choice, I told myself, I would rather feast on the gray, green and sea-blue landscapes of Lewis and Harris than on those mythical golden apples.
Visitor InformationGetting Around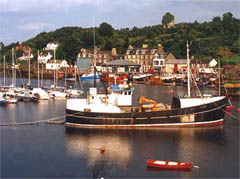 Tarbert
Although an age limit of 70 for international drivers is rigidly enforced on the islands, my husband, James, might have qualified with one of the many agencies based in Glasgow. If our air tickets had been refundable, we could then have driven to Ullapool and taken a car ferry to Stornoway. For details on island transportation, try
www.visithebrides.com
and
www.scotland-info.co.uk
. Remember that bus service is intended primarily for the use of residents; it is not planned to allow long stops at tourist sites.Neither of our local drivers was a professional chauffeur; together we all puzzled over the cost. We were happy to pay their suggested reimbursement, of $74 to $92 for a day, at the current rate of $1.85 to the pound.Taxi service for the hour's drive from Tarbert to Stornoway airport is about $100.
Where to Stay
The nine-room Park Guest House, 30 James Street, Stornoway, Lewis, phone (44) 1851-702-485, fax 1851-703-482, is convenient for shops and harbor and woodland walks. With dinner and breakfast for two, an unassuming room with private bath in a quiet, rather dark annex cost $175. The four-room Galson Farm Guest House, Galson, Lewis, phone and fax (44) 1851-850-492,
www.galsonfarm.freeserve.co.uk
, cost $130 for our small, charming double room with private bath and breakfast, with an additional $35 each for dinner. A newly opened bunkhouse sleeps up to eight. Baile-na-Cille, Timsgarry, Lewis, (44) 1851-672-242, fax (44) 1851-672-241, with nine rooms, offers dinner, breakfast and a double room with bath (ours, in an outbuilding, was plain but adequate) for $117 a person. Two rooms in an annex cost $44 to $54. Leachin House, Tarbert, Harris, phone and fax (44) 1859-502-157,
www.leachin-house.com
, with just three rooms, offers a sliding scale for longer stays. For four nights, the rate at this luxurious hostelry for a double room was $260 a night including dinner, with a carafe of wine, and breakfast; our room had a sumptuous private bathroom across the hall. One night (without dinner) is $83 a person.
SUSAN ALLEN TOTH's latest book is "Leaning Into the Wind: A Memoir of Midwest Weather" (University of Minnesota Press).The above article is from The New York Times.