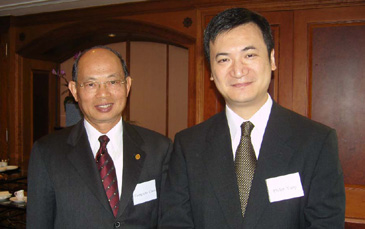 Chen Yeong-Cho, Representative of the Taipei Mission in Korea (left) with Dr. Philip Yang
Taiwan must play a greater role in regional cooperation by strengthening economic relations with its major trading partners and integrating itself in East Asia for the region's peace and prosperity, Philip Y. M. Yang, a Senior Advisor of National Security Council of Taiwan said on Oct. 23. in his presentation made during the first day session of the 17th Seoul-Taipei Forum "Opportunities for Cooperation and Development" co-hosted by the Seoul Forum for International Affairs and the Institute of International Relations, National Chengchi University of the Republic of ChinaNoting that President Ma Ying-jeou has earlier pledged in his inauguration speech that Taiwan has to be a respectable member of the global village, Dr.Yang said: "Dignity, autonomy, pragmatism and flexibility should be Taiwan's guiding principles when developing foreign relations." As a world citizen, the Republic of China will accept its responsibilities in promoting free trade, nonproliferation, anti-global warming measures, counter-terrorism, humanitarian aid, and other global commons, he said.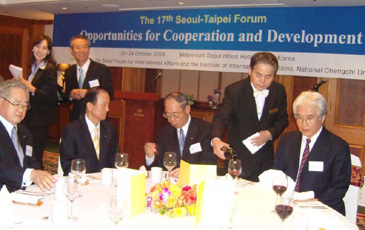 Participants join luncheon hosted by Lee Jong-Hee (second from left ), president of Korean Air on Oct.23.
In the past eight years, regarding Taiwan's external relations, the mutual trust with non-diplomatic allies has fallen, the number of diplomatic allies has decreased, participation in international activities has encountered unprecedented pressure, and Taiwan's international image worsened, he pointed out.Dr. Yang received his doctoral degree in International Law and Organization from University of Virginia in 1995 and subsequently joined the faculty of the Department of Political Science, National Taiwan University. He also held visiting positions with Keio University (2000), University of Tokyo and Hokkaido University (1999) and University of British Columbia (1998). He has published extensively in Chinese, English and Japanese on topics such as Taiwan and Asia-Pacific security issues. Dr. Yang is also the founder and administrator of the Taiwan Security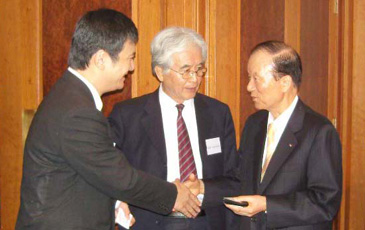 Dr. Kim Dalchoong (center) with Dr. Yang and Korean Air CEO Lee Jong-Hee (right)

"Obviously a new direction is needed for Taiwan's foreign policy to ensure that national interests can be safeguarded, that diplomatic efforts are effective, and that resources are optimally deployed," he stressed.In terms of foreign policy of the new government, the idea of "flexible diplomacy" is aimed at improving ROC's international standing and increasing the cost-effectiveness of its diplomatic budget, he said adding: "Flexible diplomacy does not require Taiwan to be at loggerheads with the mainland in each and every international encounter."There simply is no need to perpetuate a vicious cycle. Instead, it actually encourages the two sides of the Taiwan Strait to gradually engage with each other so as to create rapprochement or win-win results, thus leading to a virtuous cycle, Dr. Ma maintained.According to him, the cornerstone of this "flexible diplomacy" is a certain degree of mutual trust across the Strait, which could later be extended to the international arena.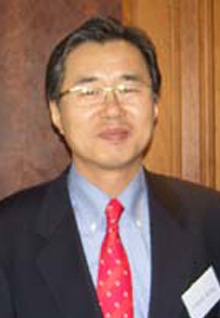 Professor Choi Kang
"Naturally, mutual trust in international arena will likely have a positive feedback on the health of cross-strait relations," he said.Currently, there are 23 countries that recognize the ROC while 171 recognize mainland China. "Flexible Diplomacy" is to pursue rapprochement and diplomatic truce with mainland China in international arena for national interest. That is, both sides should be committed to not wasting national resources in a vicious cycle to win over diplomatic allies from the other side, or conducting diplomatic activities that will hurt the feelings or interests of the other side, he explained.
"Regarding those countries that do not recognize ROC diplomatically but are major players in the world politics, we must jettison our past image of a troublemaker, refurbish our international credibility, and re-establish mutual trust with these countries especially between high-echeloned officials," he said.To these countries we must clearly voice three points. First, the improvement of cross-strait relations is aimed at transforming us into a responsible stakeholder and peacemaker. Second, our foreign aid will be based upon humanitarian need, rationality and not merely diplomatic gains. Third, by weaning itself of the troublemaker image, Taiwan can regain its soft power as a lighthouse for other countries' political development. We firmly believe that democracy contributes to world peace, he added..
As to the participation in international organizations, numerous public opinion polls showed that the majority of the people still believed Taiwan needs to participate in the UN specialized agencies, Dr.Ma maintained pointing out that these functional organizations are particularly relevant and crucial to the livelihood and welfare of the people of Taiwan. Our meaningful participation in IOs does not need to involve the question of sovereignty. As President Ma suggested in his inaugural address, both sides across the Taiwan Strait "should help and respect each other in international organizations and activities. In light of our common Chinese heritage, people on both sides should do their utmost to jointly contribute to the international community without engaging in vicious competition and the waste of resources," he said stressing that the most important asset of ROC's foreign policy is its democracy, its way of life, its willingness to maintain cross-strait stability, and our determination to fulfill its obligations to the international community in accordance with the universalistic values of the family of nations, he concluded.
The U.S. at crossroads
In dealing with the challenges ahead, the U.S. is expected to take different paths depending upon who will become the next U.S. president, according to CHOI Kang, Professor and Director-General, Department of American Studies, Institute of Foreign Affairs and National Security. (IFANS)."Whatever the path is taken by the U.S. President, it will bring about great impact upon the rest of the world,?he said expressing his much concern about the election result and its aftermath since S.Korea should coordinate and cooperate with the U.S. in dealing with threats and concerns such as North Korean nuclear issue, inter-Korean relations and global security challenges, to name just a few.He noted that significant differences between Obama and McCain can be found from foreign and security policy in general to specific issues."These differences have great implications for its allies, friends, and even foes in practice," he said.Efforts should be poured in narrowing perceptual gap between the two. And words should be followed by actions. Otherwise, it will become a source of friction. So it is very necessary for South Korea to come up its own plan for action. The next U.S. administration should try hard to establish new paradigms in various fields since the Bush administration's paradigm is found to be faulty. And also it should try hard to restore credibility and reputation as the global leader by deed, he concluded.In the meantime, Chen-shen J. Yen. Research Fellow and Chair of America-Europe Division, Institute of International Relations, noted that the U.S. is overwhelmed by its financial crisis and worried about a prolong economic recession at home and unfinished anti-terrorist campaigns in Iraq and Afghanistan as well as resurfacing Russian militarism abroad."Would the next President of the United States take note of the development in East Asia? If he did pay attention to the region, what kind of policies would he adopt? These are the questions we intend to explore and find possible directions," he said.Touching on U.S. Presidential candidate's own views, he maintained that Obama feels that the United States has lots its credibility in the international arena under Bush's watch and it's time for the renewal of American leadership. He did not provide a regional focus on Asia but illustrate how the U.S. will approach Asia in an Obama administration, he said. First of all, Obama indicates a need to rebuild relations between the United States and its allies or partners. He insists that the current government should not "belittled South Korean efforts to improve relations with the North." Obama also pledges to create a "more effective framework in Asia" that is more than just "bilateral agreements, occasional summits, and ad hoc arrangements," he said."In his view, the six-party talks on North Korea should be institutionalized. In other words, Obama would like to see a more inclusive infrastructure with the countries in East Asia," Dr. Yen added. As to Obama's view of China, he went on to say that China is neither a partner nor a competitor. Thus, he encourages the rising power to play a responsible role to help the U.S. in dealing with common problems both face. He concedes that America will compete with China in some areas and cooperate in others. In short, Obama's approach to China is neither friends nor foe, but a force to reckon with. He would like to see cooperation between the two despite the existence of competition. In East Asia in general, Obama appears poised to take the U.S. to the age of institutionalized multilateralism emphasizing the importance of partnership with traditional allies like Korea and Japan, Dr. Yen insisted.According to him, John McCain, choosing a region after region approach, specifies in the article published by Foreign Affairs, his approach to East Asia in a section called "Shaping the Asia-Pacific Century." McCain raises doubts about North Korea's truthfulness to verifiable denuclearization and a full accounting of all its nuclear materials and facilities, pre-conditions need to be met before U.S. is willing to reach any lasting diplomatic agreement with it. "He spells out three areas of concerns that needed to be included in future talks with Pyongyang: 1) the ballistic missile programs, 2) the abduction of Japanese citizens, and 3) its support for terrorism and proliferation," Dr. Yen saidIn term of South Korea, McCain proposes to rebuild America's "frayed partnershi" with this traditional ally by emphasizing economic and security cooperation and realizing the full potential of the new bilateral trade agreement, he added.John McCain supports Japan's bid to become a permanent member of the UN Security Council and welcomes the country's international leadership and emergence as a global power. In his view, Japan should be encouraged for its "value-based diplomacy." The spirit of McCain's policy towards Japan is not much a deviation from what George Bush view of Japan eight years ago when the latter considered the bilateral relationship between Washington and Tokyo more important than the one existing between Washington and Beijing. The reality of the relationship in the 21st century simply has not matched the rhetoric. Dr. Yen then observed that McCain devotes more attention to China, which should not be a surprise. He first acknowledge the economic stride made by China in the last thirty years but immediately demands China to be a responsible economic power by "developing a transparent code of conduct for its corporations, assuring the safety of its exports, adopting a market approach to currency valuation, pursuing sustainable environmental policies, and abandoning its go-it-alone approach to world energy supplies." This litany of what China should do is more or less consistent with the criticism from some members of the international community over the years.