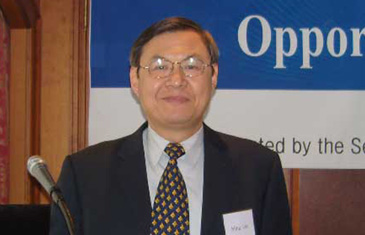 Dr. Ming Lee, Professor of Department of Diplomacy at National Chengchi University in Taiwan
South Korean President Lee Myung-bak's efforts to revive the Korea-US alliance and to construct "mature" Korea-Japan relations would put China into a disadvantageous position, thus touching off a Chinese anxiety over the Lee's future foreign policy, Dr. Ming Lee, Professor of Department of Diplomacy at National Chengchi University in Taiwan said.He noted that Beijing government tends to have its reservation about Lee's new foreign policy which is summing up as qinmei (tilting to the United States), jinrih (close to Japan), juhua (deny China), and fanchao (anti-North Korea)."Although somewhat exaggerated, it occurred disputes in interpreting the Sino-Korean history, which are now the thorny issues that may ignite the respective nationalism in both countries," he went to say adding: "It is true that China look the future China-Korea relations with alert." China and Korea are close neighbors; they know how their destiny is intertwined. In economic arena, China has been Korea's largest trade partner and Korea's largest market. Korea has also invested large amount of capital in China, he pointed out..Dr. Lee made the points during the 17th Seoul-Taipei Forum "Opportunities for Cooperation and Development" held at Millennium Seoul Hilton Hotel in downtown Seoul Oct.22-24.Co-hosted by the Seoul Forum for International Affairs and the Institute of International Relations, National Chengchi University of the Republic of China, the event is participated in by prominent intellectuals from Korea and Taiwan. The economic interdependence between China and Korea is speedily increasing, so is their competition in winning international markets for respective products, he explained.Compared with China's strengths in labor resources and colossal market, Korea has the strengths of possessing high-tech and managerial skillfulness, he noted.Both nations have ample space for future cooperation in this regard. In security affairs, Korea is in particular dependent on Beijing's goodwill both in hosting the Six-Party Talks and acquiescing an ongoing US-Korea alliance in China's neighborhood, he said pointing out that Korea and China has built a relationship of "Comprehensive Cooperation Partnership," besides the military hot lines established in 2007.Turning to Korea-Russia relations, Dr. Lee said that Russia and Korea have a common interest in assuring the denuclearization of Korean Peninsula and a status quo without a sudden collapse of North Korea.He noted that South Korea is also interested in, joining with Russia and North Korea, exploiting natural resources in Siberia. "In other words, judging from the current intensive interactions on energy, the coming Korea-Russian relations are in fact based on Korean energy-access consideration," Dr. Lee said pointing out that Lee Myung-bak's government is especially interested in participating Russian efforts of Siberian economic development for export of Korean merchandise and diversified provision of oil other than the Middle East.
Among other points he made during the Seoul-Taipei Forum are as follows:
Korea-Japan Relations
Unlike his predecessors, Lee Myung-bak begins to emphasize the importance of Japan's role in East Asian security. Japan's involvement in Korean economic development during the past decades was appreciated. Besides, tripartite cooperation among Korea, US and Japan in dealing with North Korean nuclear issue is thankfully anticipated. Korea even supports Japan's stance vis-à-vis North Korean abduction of Japanese citizens, and forsakes the Japan-bashing attitude in exchange for a better relationship with Japan.Lee Myung-bak went that far so as to demonstrate his self-restraint when he said Japan did not have to consecutively apologize for wrongdoings to the Korean people during the World War II. After Lee Myung-bak's trip to the United States, Lee flew to Tokyo for a visit in April. Lee's summit with Prime Minister Fukuda paved the way for a better reconciliation with Japan. The only thing one has to be concerned is whether if Japan and Korea could reach agreement on the Tokdo (Takejima in Japanese) issue.
Korea-EU Relations
European Union has become the largest economic bloc in the world and will be very crucial in absorbing the Korean products. As the Korean gross trade volume declines, the lion's share of Korean export will be hinged on China and the European Union. Korean Free Trade Agreement with the EU will be considered as the framework to beef up the Korean-EU bilateral trade. This will be also one of first priorities for Lee Myung-bak's administration. For a quick ink of the Korea-EU FTA, the ROK government has to push for further deregulations of the Korean economic sectors. Only through this, can the Korean market be more attractive to Europeans. The Korea-US FTA may encounter the same obstacles awaited to be resolved