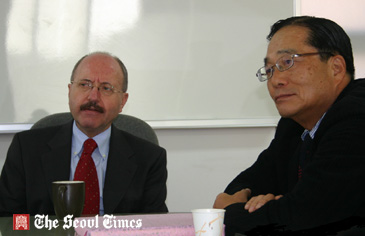 The Turkish Ambassador to Seoul Deniz Ozmen (left) poses for camera while talking with Chairman Yun Ik-Han of The Seoul Times at the office of the newspaper company in Yangjae-dong, Seocho-gu, Seoul on Nov. 10, 2008. The Turkish envoy paid a courtesy call on The Seoul Times.
"We have a part of us here" said top foreign envoy from Turkey, the fourth biggest ally during the Korean War (1950-53), as he emphasized the close ties between South Korea and Turkey.The Turkish Ambassador to Seoul Deniz Ozmen was referring to the 462 Turkish soldiers who lost their lives to save S. Korea from the Communist invaders during the Korean conflict. They currently rest in peace in the UN Memorial Cemetery in Busan.Some 1,500 Turkish soldiers were killed during the Korean War. They were part of the 15,000 Turkish soldiers sent to South Korea during the war. Turkey sent the fourth largest army only after the United States, England, and Canada.
Amb. Ozmen made the reference during his talks with Chairman Yun Ik-Han of The Seoul Times on Nov. 10, 2008. He made a courtesy call on The Seoul Times.
South Korea and Turkey have continued their brotherly relations since they established formal diplomatic ties in 1957. The Turkish ambassador pointed out some similarities between cultures of the two nations."For example," he said "Yak means medicine in both languages." "The two languages are also alike in its grammar and phonetics," he went on.The envoy is so much interested in the local Korean culture that he even recites the traditional Korean poems of "shijo" as his hobby.Amb. Ozmen also stressed the need for promoting business partnership between Istanbul and Seoul.
Turkey, home to a population of over 70 million, attracts numerous Korean businesses and tourists every year due to its unique global location and its proximity to other European markets in particular.Last year alone more than 125,000 South Koreans visited the cultural crossroad — Turkey.According to the envoy, over 130,000 Korean will be traveling to Turkey this year.Currently, South Korea's such major businesses as Hyundai Motors, KT&G, and LG are in operation, some in joint ventures with Turkish companies, said Amb. Ozmen.