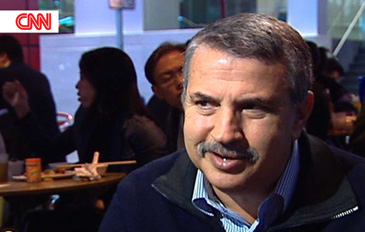 Thomas Friedman, Pulitzer Prize winning Journalist and author
Thomas Friedman, one of America's leading opinion makers on global affairs has his New York Times column syndicated in more than 100 papers around the world while his book 'The World is Flat' has sold two million copies since 2005. The three-time Pulitzer Prize winner recently made a trip to Hong and sat down with TALK ASIA to share his insights on President-elect Obama, globalization and the issues facing a planet that is increasingly "Hot, Flat and Crowded."
Friedman begins by expressing his high hopes for President-elect Obama: "I think we are very lucky to have someone with his raw material as our next president. He brings together several things that we haven't had." Yet the columnist is cautious as to the effect Obama may have on the global recession: "This is an unprecedented crisis and I think he as president is going to have to undertake radical actions in the economic spirit that will be unprecedented in American politics. Certainly nothing we have seen since the Great Depression."
His well-documented stance on the U.S. invasion of Iraq is repeated: "The truth is that I struggled with the war. In the end I did support it." Before adding: "I'm sorry that Iraqis, the first generation of politicians there, made a mess of it from their end.. But I fundamentally believe that unless and until young Arabs are given the chance to live in societies where they can determine and shape their own future, where they can aspire to and deliver on the dream of shaping their own societies with their own voice that these are always going to be frustrated societies that will never deliver on their promise for their people."
Having spent a considerable amount of time in China and India to conduct research for his latest book, Friedman describes the two emerging countries as two giant super highways: "Chinese super highway, perfectly paved, sidewalks, streetlamps, everything works and everyone is going 80 miles an hour. Just one problem. Off in the distance there's a speed bump called political reform. Now we don't know what will happen down that road." Friedman continues: "India, also six lane super highway. A lot of potholes, some of the sidewalks aren't finished and a lot of the street lamps don't work. But off in the distance it looks like it smoothes out into a perfect six-lane super highway…Is that the real deal?"
He also believes that an interesting relationship will develop between Chinese leader Hu Jintao and U.S. president-elect Barack Obama. Friedman said: "I have a feeling that these two guys are going to get to know each other really well. I hope it'll be for the benefit of both countries. I think it can be."
The environment is also at the forefront of Friedman's work and he believes the green revolution is a top-down influence: "Change your leaders not your lightbulbs." He says that only standards and regulations set by the government can achieve the most effective results for going green.
For more, please go to www.cnn.com/talkasia.