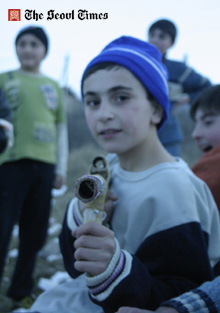 Georgia IDP [refugee] - Internal Displaced Person
Out of Iran and into Turkey… Our Idea to wrap ourselves, the contents of Won Kee, in cling film and fill the inside of the car with diesel to get home for under 20 quid (the queens English pounds) wasnt 2B... and we were told it was a bit illegal then laught at for quiet some time.
Iranian diesel is cheap (it cost the equiverlant of 1 litre in the UK to fill our 80litre tank!!!!!!!) and they like it 2B Iranian cheap diesel not any other countries cheap diesel so you cant export it…which is a shame coz if we found a petrol station to fill up our jerry cans then we could have smuggled 10litres out of the country. Going into Iran the lady at customs ask if we had any guns or carpets in the car i said no she said ok...and walked off with out looking in the car. leaving the country a man at customs said 'problem' pointing at the car i said no he said hope you enjoyed my country i said yes i did and again no one looked in our car.Entering Turkey Seoul2B witnessed another stunning drive all snowy and good, beautiful in fact. But beauty was not to last as the ugly story of Turkish history unfolded. We had previously learnt about the massacred Armenian's in 1914 in a museums in Iran which Turkey has failed to acknowledge.
And then we learnt about the 'Kurdish question' those learnings suited the bitter weather that seeped into our veins.Eastern Turkey is still a battle ground over the idea of Kurdistan* situated at the arms of Europe and Asia with little chance of a hand shake.We spent hours at military check points one lasted longer than the boarder crossing into Turkey. I won't get into the politics coz I'm clearly not qualified or capable to tell that story but I am capable of seeing the hate born from frustration that lives in the eyes of a Kurdish man we met...he spoke for hours on the oppression of the Kurdish people "we dont want a country" he said "we just want to live in the way we have a right too" ... he spoke of not being able to speak his language in public for fear of the Turkish military, he spoke of his children having to learn Turkish lies at school. We heard similar stories from other Kurds everywhere we turned. We both had no idea that there was so much anger in this part of the whole. - I'm not really sure how to word this next bit so I'll give you a list of events*Seoul2B became Seoul2-3
*Won Kee's gearbox gave up again
*3 = crowd
*We cut our guide book in half
*Rob + 1 went to Bulgaria and Chris + scabies cream (given to me by robs + 1, the cream not scabies but only time will tell, 8 weeks I'm told!) went to Georgia
*Won Kee stayed in Turkey!Now I didn't really know much about Georgia but I did know that in August Russia and its military friends came to visit and Im guess that's why at the boarder I watched two boarder guards finger their way through every page of my passport...after they had already put every page under the UV light only for them to repeat the process radioing another boarder guard to come have a look at my passport and then from what I saw they were pulling at the pages examining the bind and caressing my creases ... my only guess is they think I might have pages missing or its a fake any way I held up the bus I was on with this curious passport of mine – I think the 2 Russian visa's I had in there weren't helping.I also had no idea until I went on bit of a research mission to a small town called Gori where I sort out a UNICEF office to ask the workers there where your donated money was going ... the Georgian town I was interviewing the friendly solo UNICEF worker I found out 2B the birthplace of one Joseph Stalin!In Stalin's birthplace I stayed with a family of Stalinist and they told me how capitalism is rubbish and true communism was best, I ate their food and drank their wine and thought, fair enough.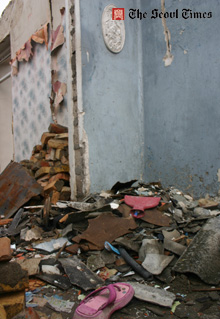 Bombed house in Georgia from the August Russia Georgia conflict
Feeling myself quiet the photo journalist I went on to photograph the bombed and burnt out houses that where a result of the Russian Georgian conflict. It was a bit tough photographing the remains of peoples lives, children's toys and shoes left a sober mood until I meet "Gia." Gia was on his way to pick up some items from his bombed out house and he wanted me to join him...in his windowless cold damp front room with no electricity and cracks so wide I could put my finger in them running down the walls of his old life he got out a 4 litre bottle of home made wine. We proceeded to toast the future and the resilience of Georgians and car less Englishmen ...the future for me after that was a bit blurring and it only being 3 p.m. I thought it best to quit being a photo journalist for the day and to see what tomorrow brings.Tomorrow brought me and my translator to one of the IDP (Internally Displace Persons) settlements. [UNICEF speak for refugee's camps] and the day after that to another.Tseronvani settlement was the first and largest settlement. It is also dubbed the showcase settlement by many Georgians opposed to the president, Mikhail Sakashvili, who feel international and all other aid money is not going direct to the places it was intended.
The Tseronvani settlement has over 27,000 units (house) there I heard the recollections of many people on how they came to be at the settlement.In the second settlement out of 4 that I knew of, near the village of Khurvaleti I spoke to Melano Babutsidze a 36 year old mother of 2 living at no.96... she said 'compared to the [1992-3] civil war we really have something...but we are not stupid we know the government has international aid, what we have its not a reflection of what they [Georgian government] have.' she told me this standing next to the damp walls of her bedroom, she then proceeded to show me the cracks that had already appeared after 2 months of the units being built...'we are farming people...we have these shells and we are grateful but my husband and I have no land to work to make this shell a home'I could go on and on to telling you the many individual stories I heard visiting the settlement and I would also like to tell you about the unrest of Georgians over their tie eating president, THE Georgian singer who has imprisoned himself on live tv till the president leaves and other amusing stories but I fear this Seoul2b entry would go on as long as it taken Won Kee 2B fixed.So that was the conflict. On the seoul2b or not 2b front...I just got an email from rob saying the car should be ready March 2nd happy days :)For more info on Seoul2B or to help with a stimulus package please please please contact the guys directs – seoultob@googlemail.comThough the 2 hopeful charity fund raisers would prefer money donated to their 3 charities, Macmillan Cancer Support, UNICEF and Dyslexia Action via their website – www.seoul2b.com/donate Kurdistan* is the name given to the nomadic lands of the Kurdish people that covers north eastern Syria, northern Iraqi, south west Armenia and eastern Turkey.