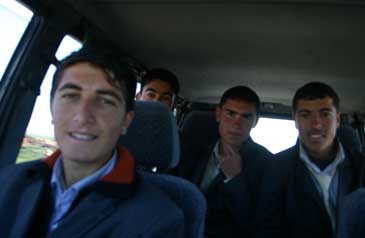 Kurdish student hitchhikers
Entering Europe with Kang Won Kee for the first time in a long while Seoul2B is back on the road.In the time it took to get a second gear box repaired with parts being flown in from Korea to Kurdistan tough times rained down on the mental state of this thing called 'Seoul2B.' What is it? What does it stand for? and what does it mean to the two guys who created it?All questions that were being asked when biting tongues and venting frustrations across the Internet at the 2/3 gearbox problem. Differing realities of what was achievable for 2 friends that worked together to get so far was the result from over 2 months of waiting for the gearbox to be fixed with Rob, Won Kee and I [Chris] in different countries from one another.Money, love and the unknown were possible elements that made for Rob's reasoning that it was the end of the road for him.Fork in the road/Seoul2B season 2- (Entry from the seoul2b.com website)
March 10th, 2009 Posted in Uncategorized | Comments Off Rob and I couldn't agree on ending our journey together largely out of practicalities resulting in a mutual look at what is best for us personally.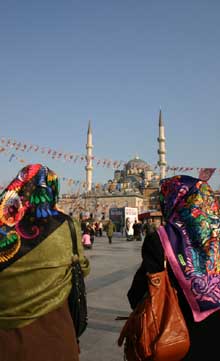 Mosque in Istanbul
Often there comes a point where the practices take over from the idea ... speaking for myself the idea and practicals for continuing are achievable.In respect to Rob the idea and practicals are not a reality.
Having discussed with Rob we came to the conclusion to continue our journeys that suit our own personal aims.I have chosen to wait with Won Kee going off emails from Turkey that tell me Won Kee is being repaired.If that proves not to be so then i will attempt a border crossing with Won Kee into Georgia where they are more experienced with the kind of car Won Kee is.I have a legal obligation to stay with the car and wish to resolve the legalities of our temporally exported car in more familiar surroundings.If back in the UK with Won Kee I'm sure both Rob and I can find a suitable and fitting way to say 'annyeong kaseyo' [Korean, goodbye] to our long time travelling buddy which has driven us to many amazing and a few not so great things.Thanks for all the support we have received take care one and all and I hope to see you soon while keeping you updated on events.ChrisTo cut and run was not for me and legally not a good idea or so simple. So what is Seoul2B for me now ... in a literal sense its one guy driving back to the Britain from Kurdistan (east Turkey) where Won Kee and arguable Seoul2B broke down. Its the will of myself to do the right thing, to do what I said I would ... to respect all those who have helped, supported, given up time, donated money for our charities and the charities themselves...and the reality for me that Seoul2B is achievable and the fact that Seoul2B is so close to being conclude makes me see no other reason to quit.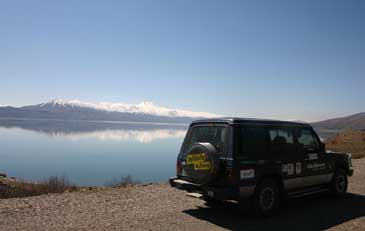 Car in Kurdistan
Currently I'm in Greece having pick up a varying mix of hitch-hikers from Kurdish Students to Canadian Backpackers. Rob's departure had the knock on effect of doubling the cost and extending the time of the journey for what is humanely possible for one person to drive a day. So I've planned a route of money saving and minimum driving while remaining with the Seoul2B intention to seek out some adventure looking at how people live in not so recognised places. Pending Won Kee's forgiveness of being left alone in a foreign country on his own for over 2months and the strange noise's coming from below the car the route will take me through Macedonia, perhaps perhaps Kosovo (without the car), Albania, Italy, France and Home hoping that Won Kee will hold together. Picking Up Won KeeHaving gone a bit loopy after 3 day living on 2 buses from Georgia, where I had been setting down roots it would seem, with a part time job and a apartment, I made it back to the place where well, it all went wrong, Diyarbakir, East Turkey.In the early morning I dragged my tired feet into the garage where Won Kee had been sat. In the garage with out speaking Turkish I answer many question from the curious mechanic's about why there was a large rock and a workman's hard hat on the back seat, a plaster on the windscreen and more than 2 licence plates.Questions done and many cups of tea later I went for a test drive. Having had experience with similar repairs on that car I wasn't so confident that all would be fine... and well as sure as I was was as sure as it turned out to be! ... 'Eh!' I said to myself then looking at the mechanic in the passenger seat with a curious and puzzled look ... The electrics had died ... the speed and rev gage where on 0 the memory of this happening in Uzbekistan and the subsequent police bribe to placed a speeding ticket for not knowing I was speeding came back to me...'ummm' I muttered loudly point this problem out to the mechanic. Will I ever get out of Turkey? I thought to myself.More than a little concerned but even more so a little bit tired than bothered I didn't stress to much. Translated phone calls from Hyundai in Istanbul told me that the garage thought the car had always been like this....'Nooooo' I replied with the blame later being put on the first garage which couldn't fix Won Kee that resulted in Rob getting frustrated day after day trying to organise Won Kee to be towed to a new garage...long story short the next day I left...and left with a smile.At the end of the old skill road and in the spirit of things I arrived from a 3 day drive through rain, snow and sun , from high in the mountains on winding windy roads. Won Kee and me made it to sea level at one time parking in an orchard by the black sea for a nights sleep. Along the way I had been a school bus for 4 Kurdish students, a taxi for 2 Turkish Security men on their way into Ankara and a generally kind bloke picking up the odd hitch hiker breaking up 9 hours of driving one day, 7 the next and 5 the day after that...finally lucking upon Istanbul to enter Europe for the first time in awhile.In Istanbul a truly beautiful city rich in all kinds of characters spinning their trade conversing in more languages that countries I have been too. I spent my time doing all that I could to get Seoul2B back in this great game ... with funds low and money being the thing that could end all that was 2 Canadian backpackers up for a bit of adventure answered one of my notes claiming to be Prince Harry looking for loyal subjects to join him on his way back to see Granny.Joel and Shaun from the Yukon, Canada all being good are joining me till Albania where they will head north into eastern Europe as I catch a ferry into western Europe ... happy days.There is still a long way to go but all in all things might just work out.For more information on the Seoul2B story please visit www.seoul2b.comwww.seoul2b.com - raising money and awareness for Macmillan Cancer Support, Dyslexia Action and UNICEF £3517.02 pounds raised so far! Thank you.Almost Home! seoultob@googlemail.comRecent news, link below;
http://cgi.ebay.co.uk/ws/eBayISAPI.dll?ViewItem&item=190294692622