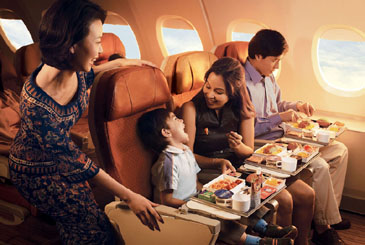 Singapore Airlines A380 Economy Class
Singapore Airlines offers great value fares to customers traveling to Singapore and selected points in Australia and Europe from 11 May to 22 May 2009, for travel from 11 May to 30 June 2009. In addition to above, customers can choose to stopover in Singapore on their way to their Australia and European destinations with our "Fabulous Singapore Stopover" package from just US$1 each for the first night stay in Singapore, based on per person on a twin-share basis.The package covers exclusive deals on hotel accommodation, airport transfers, unlimited ride in SIA Hop-On Bus and free admission to major attractions in Singapore. Singapore Airlines' ALL-IN-FARES include fuel surcharge, relevant taxes and insurance for passengers traveling to Singapore, Australia and Europe in Economy Class on selected flights from Incheon as follows:
(Unit: KRW)Destination
Total Fares
Asia
Singapore
395,500
Australia
Sydney
686,800
Perth
669,200
Melbourne
670,800
Adelaide
684,400
Europe
London
766,300
Frankfurt
701,400
Zurich
694,600
Reservation & Ticketing Period
11 May 2009 – 22 May 2009
Travelling Period
11 May 2009 – 30 June 2009
Notes: 1) The above fares is per passenger and include relevant taxes, fuel surcharge and insurance according to exchange rates on May 11th 2009. It is subject to change based on exchange rates.2) Relevant Terms and Conditions applies.
For more details, please visit our website, singaporeair.com/kr or the nearest Singapore Airlines appointed travel agency.
Singapore Airlines offers the most convenient schedule for customers going to Singapore and more than 60 destinations beyond. Enroute, enjoy KrisWorld, our inflight entertainment system, World Gourmet Cuisines and inflight service even other airlines talk about.For further information, please contact:
Singapore Airlines Korea
Hyewon Lee/Marketing Supervisor
3455-6609
Kyungim Park/Marketing Agent
3455-6616
singaporeair.com/kr