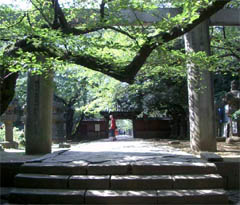 A little temple in Ueno park in Tokyo
MICHAEL LORENZ, a software systems analyst who lives in Pasadena, Calif., had a compelling reason to study Japanese. He had begun dating Asuka Fujikawa, who is Japanese, while on vacation in Australia, and he wanted to be able to speak to her family in Japan without an interpreter.After spending six months in 2000 at KCP International Language Institute in Tokyo, "I was able to talk to my future in-laws in Japanese," he said. The couple married last November.Besides romance, there are other reasons that travelers past traditional college age — Mr. Lorenz is 38 — choose to study languages abroad: work, personal enrichment, a desire to communicate while traveling. The Internet has made it easy for many to book their own programs, as I did for two trips to study Spanish at two schools in Oaxaca, Mexico, within the past year. The decision to do it yourself or to use an agency specializing in such trips depends on your time and patience for research, the ease of communicating with the school and your need for flexibility.
Using an Agency
There are probably fewer than a dozen major agencies in North America handling bookings for language schools worldwide. The terrorist attacks of 9/11 and the war in Iraq "dented but did not seriously affect" the business, according to Margot Haldenby, program director of Languages Abroad in Toronto, (800) 219-9924,
www.languagesabroad.com
. In fact, interest in the company's Arabic program in Fez, Morocco, has grown, she said.Language trips range from a week to several months, with two to four weeks typical. Agencies usually handle lodging but not flights, though they can refer clients to companies that do.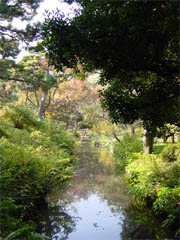 Koishikawa Korakuen Garden in Tokyo
A fellow student at Amigos del Sol in Oaxaca in March, Bebe Anderson, a lawyer in New York, also researched and booked her own three-week trip. She had used an agency, AmeriSpan in Philadelphia, for a similar vacation in Guatemala, in 1998. For her first trip, "it appealed to me that they dealt with everything," she said. For the Oaxaca trip, Ms. Anderson did research in the Lonely Planet guide and on the Web and chose Amigos del Sol. "You didn't have to commit," she said. "You could just show up on a Monday and start. I shifted my vacation a couple of weeks before I was going to go, and the school was great." Agencies have varying policies, but they typically charge $35 to $50 for changes made within two weeks of departure. Outright cancellation can cost more, up to the entire price of the program.On the other hand, many travelers appreciate the agencies' guidance. "They spent a lot of time on the phone with me helping me understand the advantages and disadvantages of various programs," said Prof. Ted Humphrey of Scottsdale, Ariz., a former dean at Arizona State University who has spent most of the past year studying Spanish in Chile, Uruguay, Peru, Ecuador and Mexico. He booked much of his study through the National Registration Center for Study Abroad, in Milwaukee; (414) 278-0631,
www.nrcsa.com
. Agencies can also help resolve problems. For instance, if a client who wants a nonsmoking host family is placed with smokers and the school balks at changing, "I'll get on the phone with the owner," said Leo Rodriguez, director of Lingua Service Worldwide in Huntington, N.Y.; (800) 394-5327, on the Web at
www.linguaserviceworldwide.com
. "I'll ask them, 'Do you really want to lose 40 clients a year over this?' "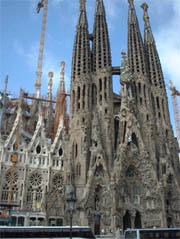 Cathedral in Barcelona
Those considering an agency should ask how it chooses the schools it represents, and how recently, if ever, a member of the staff has visited the school. Representatives of several of the larger agencies insisted that apart from a registration fee, typically $100 or less, their clients pay no more than they would if they dealt with the school directly. (The agencies also receive a commission from the schools.)But Charles Kulkarni, a lawyer in Houston who studied French in Paris for two weeks in 2002, said that he paid substantially more through an agency, French-American Exchange in Alexandria, Va., than the amount charged by the school, École France Langue. The agency currently charges $1,285 for a two-week stay at the school in Paris, including bed and breakfast in a private home and 15 hours of instruction a week. The school itself charges 782 euros, $985 at $1.26 to the euro. Jim Pondolfino, director of the French-American Exchange, said in an e-mail message, "Most of our clients are very happy to pay the higher price for the extra services we provide." Even for travelers who have not decided whether to book through agencies, their Web sites can offer helpful information. One site,
www.languagecourse.net
, maintained by a Barcelona-based agency, is particularly sophisticated. Some sites list the specific schools the agency uses, making it easier to compare prices. Cost, of course, is also a factor, particularly for Spanish, since it is taught in so many countries. Latin America is cheap, especially Guatemala, Ecuador and Peru, according to Elizabeth Gregory, vice president of AmeriSpan. A week in Guatemala with 20 hours of group classes, a home stay with private room and most meals runs $315, she said. A roughly comparable program in Granada, Spain, but with larger classes, a shared bedroom and only two meals a day, is $585.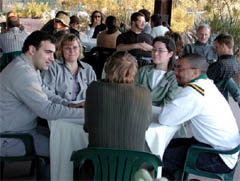 Students at Arizona State University
Most schools operate year round, though it's worth avoiding the busiest seasons; the difference in personal attention and overall quality of experience can be substantial. Travelers may want to consider the age makeup of the student population, emphasis on conversation versus written language, activities offered and computer access. Those pursuing college credit should research school affiliations carefully.
Choosing a Residence
Besides picking a school, a prospective student has to decide where to stay. The choice often includes dormitories, apartments and hotels (I stayed in all three), but many students and experts in the field think that staying with a local family is an integral part of the experience. "You want to get a taste of the whole culture and stay in the language," said Janis Benincasa, program coordinator at the Language Immersion Institute at the State University of New York at New Paltz, (845) 257-3500,
www.newpaltz.edu/lii
, which besides running its own programs sends about 125 students a year to partner schools overseas. One key factor in choosing a home stay is distance from the school; it may not be walkable. Other possible concerns, besides smoking, are whether there will be a private room or bath and the number and ages of children in the household."The standard of living is not going to be what we're necessarily accustomed to," Mark Alway of Spanish Abroad in Phoenix; (888) 722-7623,
www.spanishabroad.com
, said of home stays: "If you stay in a hotel you pretty much have absolute privacy. If you are staying with a family there are a lot of things going on around you."
The above article is from The New York Times.