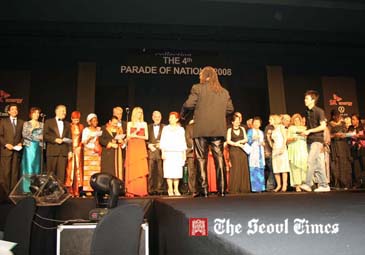 Mr. Tim Strong, husband of New Zealand Amb. Jane Coombs, leads the diplomatic corps in singing the traditional Korean song "Arirang" at the Parade of Nations charity event on May 22, 2008.
The spouses of ambassadors and heads of foreign missions accredited to the Republic of Korea will host the Fifth "Parade of Nations" — a diplomatic fund raising charity event in Seoul, to be held on Tuesday (May 26, 2009) in the Hyatt Hotel's Grand Ballroom at 6 p.m. This initiative was launched in 2005 by ambassadors' spouses as a small token of their gratitude for the generosity bestowed upon them by their host country.The Parade of Nations is a multicultural event offering entertainment while raising funds for Korean charities and showing our friendship and solidarity, as well as reciprocating the hospitality to Korean people.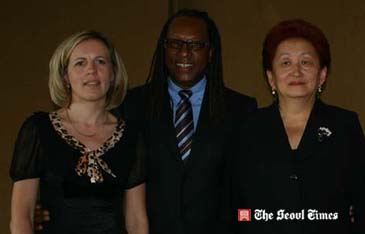 Mrs. Lyudmila Fen (right) wife of Uzbekistan Ambassador to Seoul Vitali V. Fen, poses with Mrs. Tatiana Rusetskaya, wife of Belarus Amb. Aleksandr E. Guryanov, and Mr. Tim Strong, husband of New Zealand Amb. Jane Coombs at a Seoul diplomatic event.
The event will include the Gala-dinner and the concert with the performances of: H.E. Nelson Yemil Chabén, Ambassador of Uruguay (Piano),
H.E. Pierre Dubuisson, Ambassador of Belgium (Bassoon),
H.E. Edmundo Sussumu Fujita, Ambassador of Brazil (Recorder),
H.E.Darkhan Berdaliyev Ambassador of Kazakhstan (singing),
Mrs. Zhanar Berdaliyeva, spouse of Ambassador of Kazakhstan (dance),
Chorus by Spouses of Ambassadors, Diplomats / Conducted by Mi-Sun, Lim,
- well known Korean singers Mr. Jang Sa-Ik, Ms. Kim Won Jung, Mr. Jung Se Hun and the Magician Mr. Lui.Auctions and lucky draw will also take place, among prizes are well known items from different countries. This Annual Diplomatic fund raising charity event has been growing in size and prestige every year. Marking its fifth year, it has so far amassed 217 million won.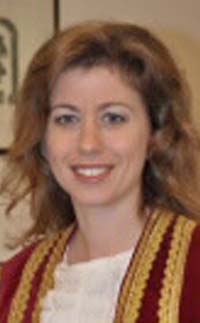 Mrs. Panagiota Konstantinopoulou, wife of Greek Amb. Petros Avierinos. She is one of the organizing committee for the event.
This year's funds to be raised will go to:100 Won a Day Movement a charity, organized by Korean MOFAT,
Asian School in Busan, a school for migrant workers' children who are not accepted in mainstream schools,
Paju Multicultural Families Center, a center where Sisters give help and shelter to migrant women in very difficult situations,
Myongdo Services for persons with disabilities, a center that offers educational and training programs for persons with learning disabilities.
In a challenging period of global economic downturn, we would like to express our heartfelt appreciation to our main sponsor, Hanwha Corporation, which has been our main sponsor twice in two years time, as well as to all our numerous sponsors: Korean Air, Hyundai Heavy Industries, Davit, KOSCA, LG Whisen, BMW Korea, etc. (see attached list). Thanks to our joint efforts we are able to offer some comfort and hope to our human fellows in need.The gala charity event is organized by the Members of the Committee for "Parade of Nations 2009."
(Spouses of ambassadors)
Mrs. Lyudmila Fen: Uzbekistan
Mrs. Brenda Cabrera de Chabén: Uruguay
Mrs. Tatiana Rusetskaya: Belarus
Mrs. Panagiota Konstantinopoulou: GreeceA ticket donation will be of KRW 200,000 per person. Further financial donations are also welcome.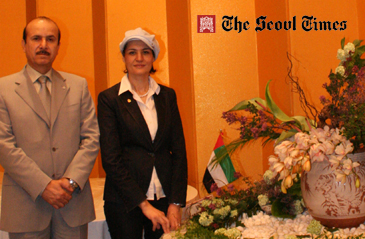 Mrs. Aida Al-Maaina (right), wife of UAE Ambassador to Seoul Abdulla Mohammed Al-Maainah, poses with her husband at a recent cultural event in Seoul. They have been active participants "Parade of Nations" annual charity event.
For reservation, tickets and inquiries, please contact Mrs. Tatiana Rusetskaya, wife of the Ambassador of Belarus, tel. (02) 2237-8171-3 or email: belarea@rambler.ru