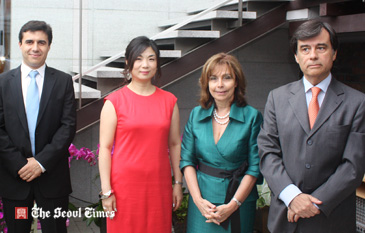 Portuguese Ambassador to Seoul Henrique Borges (right) poses with Mrs. Borges and his embassy staff at his residence in Seoul.
Portuguese Ambassador to Seoul Henrique Borges hosted a reception at his residence in Seongbuk-dong on June 10, 2009 on the occasion of Portugal's National Day.A number of guests attended the dinner reception held in celebration of "Day of Portugal," which marks the date of Luís de Camões' death in June 10, 1580 and is Portugal's National Day.Among the VIP guests were scores of top foreign envoys serving in Seoul.Portugal established the diplomatic ties with South Korea on April 15, 1961.South Korea opened its embassy in Portugal on June 11, 1975. It was in August of 1988 that Portugal opened its embassy in Seoul.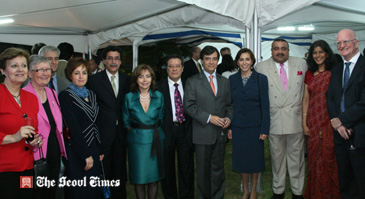 Amb. Borges (5th from right) poses with guests.
Portugal formed diplomatic relations with North Korea on February 22, 1975.Trade and investment agreement between South Korea and Portugal was signed in December of 1977.Three years later visa-free agreement was reached.It was between 1984 and 1987 that agreements for economic, industrial, technology, and cultural cooperation was signed respectively.In 1993 Portuguese President Mario Suarez visited Seoul for summit talks with President Kim Dae-Jung on Oct.15-18. He attended the Day of Portugal event at Daejeon Expo.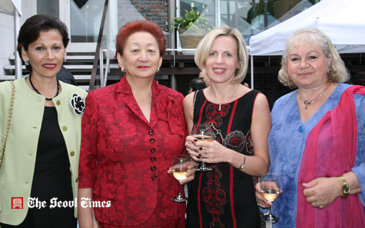 Mrs. Lyudmila Fen (2nd from left), wife of Uzbekistan Ambassador to Seoul Vitali V. Fen, poses for camera with Mrs. Irina Ivashentsova (right), wife of Russian Amb. Gleb A. Ivashentsov, and Mrs. Tatiana Rusetskaya (2nd from right), wife of Belarus Amb. Aleksandr E. Guryanov.
South Korea's main export items to Portugal include electronic goods, and steal projects.The 10th of June of each year is the most important day to all Portuguese home and abroad. This is the day Luis de Camoes died in 1580, arguably the most sublime figure in history.It's National Day or the "Day of Portugal" is observed by not only 10 million-plus Portuguese but also nearly 5 million overseas people of Portuguese descent. The 10th of June is the day Luis de Camoes died in 1580. Camoes is comparable to the ranks of William Shakespeare (1564-1616), Miguel de Cervantes (1547-1616), and Alighieri Dante (1265-1321) in the pantheons of world literature.Camoes was the very the poet who wrote about the maritime voyage of Vasco de Gama's navigation of the world, the first trip by sea ever. He traveled to the Indian sub-continent along the coast of Africa from Europe.The Portuguese people are proud of this fabulous adventure, which later encouraged the Portuguese navigators to South America, and all the way to Asia including China, Japan, and Korea.
For details or inquiries please call the Portuguese Embassy in Seoul at 3675-2251.