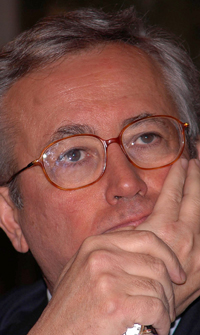 Minister Giulio Tremonti of Italian Ministry of Economy and Finance
In spite of all the optimism about the end of the recession ("There was no [financial] apocalypse" said the Italian Economy Minister Giulio Tremonti), there is reason for concern, for it is clear that if governments become protectionist, then both the global economy and international stability could be severly undermined.It has been observed by many international organizations that several developed countries are enacting protectionist measures in order to save domestic jobs and firms during the current economic crisis. However, these measures are controversial, "Protectionism is absolutely the wrong thing to do. So, our advice to OECD countries is do not go there … It does not make sense to close your market," warned the Director of OECD Trade and Agriculture, Ken Ash.In fact, the European Union, Japan, the US, and other crisis-hit countries have a huge interest in preventing incompetent (or naive) politicians from killing free-trade. Firstly, they have to remember that many important nations (such as China, Germany and Japan), owe their prosperity to exports. These countries (particularly Japan), massively fund global organisations in order to bolster their lendable resources and shorten global recession. Tokyo (whose exports dropped to 45.7% in January 2009) recently provided the IMF with an additional $100 billion, a smart move considering that the health of the Japanese economy depends on the strength of the global economy.
According to Pascal Lamy, Director-General of the WTO, "Japan is particularly vulnerable to this downturn because trade is so central to the economy." Lamy is right, as even Toyota, the wunderkind of the automaking industry, is reporting significant losses. However, as soon as Chinese and US consumers resume spending, Japanese companies will return to exporting cars and computers. Secondly, any protectionist measure enacted by a government could have a domino effect similar to that of the Great Depression. If a country repudiates free-trade, other nations might follow-suit, enacting their own protectionist measures in order to save jobs. Consequently, it may do well to remember the effects of the Smoot-Hawley Tariff Act of 1930, which raised American tariffs on a large number of goods and sparked economic nationalism in Spain, Switzerland, Canada and Italy, amongst others.Therefore, it is no surprise that the "Buy American" provision in Obama's stimulus package made two staunch American allies, the EU and Canada, nervous, "we expect the United States to adhere to its international obligation […] I can't emphasize how important it is that we do that," stressed Stephen Harper, Prime Minister of Canada. Thirdly, this is not just an economic problem, but also one of global security, as protectionism constitutes a death blow to international trade - the lifeblood for entire countries and continents.Therefore, the death of free-trade would mean increased poverty and hunger for billions of people in developing countries. In its recent report: The Financial and Economic Crisis: A Decent Work Response ?, the International Labor Organization warned that: "World markets ... face the risk of inward-looking solutions and protectionist responses. The repercussions for developing countries, which rely so heavily on world markets, would be especially acute." This is particularly true in Asia, where exports account for a third of Indonesia and China's GDP; almost half of the Philippines and South Korea's GDP; and two-thirds of Vietnam's GDP. Less exports would mean less jobs, less food on the table, and less social stability. Today, citizens of Asian countries have increased economic expectations, and current events in Thailand demonstrate that the political consequences of failing to meet them are severe. However, it is worth noting that there are current inequalities in the free trade system that need to be addressed. As stated by Kong Ji, grandson of Confucius, "the virtue embodied in the doctrine of the Mean is of the highest order. But it has long been rare among people." Aristotle was of the same opinion - that virtue is a "mean state."So although there are compelling reasons to argue for the preservation of free trade, this does not mean that one can turn a blind eye to its flaws – for instance, the fact that for decades, Western countries have used 'laissez-faire' like a club, forcing developing countries to open their markets to foreign competitors, but at the same time protecting their own markets behind high tariff walls. Therefore, it is rather disengenous to regard free trade as a panacea for all evils. Not only because free trade doesn't prevent wars (the First World War was fought by free trade countries), or because it has a huge impact on less skilled workers and the natural environment, but also because in crucial fields (such as agriculture), security is far more important than freedom. As Devinder Sharma writes, "food security cannot be left to the mercy of the market force." Sadly, it seems that over the past few years, free trade has become "freak trade," an irrational mixture of selfishness, arrogance and corruption. Yet perhaps now, it's time for fair trade.