A sidewalk cafe on Istedgade.
Teun Voeten for The New York Times
Tourists coming into Copenhagen virtually always go in the same direction. To see Tivoli or the Walking Street, the Round Tower or the Little Mermaid, from the Central Station, you head east. But for one large segment of the traveling population, that's the wrong way. The young, as always, should go west, to the neighborhood called Vesterbro.In Copenhagen, Vesterbro is no secret. Like the East Village or Chelsea neighborhoods in New York, the heart of Vesterbro — a few blocks wide and a dozen long — has no grand monuments. Its appeal comes from its urban vitality — the cafes, bars, music, and restaurants, the distinctive and hip mix of people.Fifteen years ago, Vesterbro was a trashed-out slum, the black eye marring Copenhagen's pretty face. The plaza called Halmtorvet and the central street, Istedgade, were home to prostitutes and drug addicts. You'd see needles in the gutter, if your attention wasn't distracted by a street brawl. Now one side of Halmtorvet sports a shiny row of cafes, where you can order chèvre chaud with a balsamic-vinegar reduction. On the other side is Oksnehallen, a huge weathered gray brick hall, built in 1901; until the 1960's, cattle were kept there before being slaughtered in the meat-packing buildings (Kodby, or Meat City) alongside. Now it's a graceful exhibition space for designer and fashion shows: where well-fed cattle once stood, nicely starved models prance down a catwalk.
Vesterbro: Red hot trendy spot
The old, run down area is known as Copenhagen's worker´s quarter and red light district. It has more butchers per sq. kms than anywhere else in Europe.
So Vesterbro has been reborn; gentrification has struck again. But I realize, as I walk the neighborhood, that it's not so simple or complete as that. Vesterbro has many different selves. Those meat-packing warehouses still exist; butchers in smeared aprons and white hats stroll by a candlelit café. There's working-class Vesterbro, and there are ethnicities galore.On Istedgade I pass a Turkish-Kurdish gift shop selling gilt-painted tea glasses, a Philippine food market with fruit I don't recognize, a Thai video store, halal butchers, many shawarma-pita shops. At the Ankara barbershop, a raffish assortment of combs, earrings and shaving brushes lie scattered around the front window, more dumped than displayed. Yet several high-fashion clothing stores dot the very same block. Vesterbro is doing the delicate balancing act between gentrification and cultural diversity.I sit down to brunch at Bang & Jensen, a cafe where you can have brunch till 4 p.m., with my stepdaughter, Adelaide, a choreographer in her 20's who lives right around the corner. On the wall is a long frieze depicting maidens in long dresses picking poppies that could have been painted by Puvis de Chavannes. It's a nice piece, but any view of it is blocked by bulky aluminum ducts winding like well-fed boas around the ceiling. O.K., let's eat.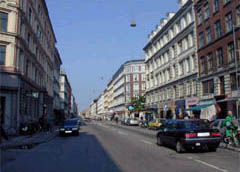 Istedgade: the central street
At Bang & Jensen you order by checking off what you want on a slip of paper, if you can find both the list and a waiter to hand it to. The menu laconically offers a choice of eggs: "So far as it's possible, we'll try to make soft, medium, or hard-boiled." That's funny, but I hope my soft-boiled egg is actually soft-boiled. "This is a trendy place, but it's funky," Adelaide says. "That's the whole idea of Vesterbro. So if you're coming from abroad looking for crisp service, then I wouldn't. But if you want to be in the young Copenhagen, here you go." I look around, and she's right. The pictures (consciously random old photos) all hang crooked on the walls, and the furniture is scruffy; but the clientele is all young, all pretty people, having a good time. At the next table is a drop-dead-beautiful young woman her T-shirt emblazoned with the words "I Don't Like Him Anyway" in English. But here comes my egg, and the yolk isn't close to soft.So Vesterbro is a great place to be young. I'm not young at the moment, and I don't even want to be. But one thing the middle-aged can always do is eat. Most ethnic restaurants in Denmark range between bad and worse, but there are very good ones in Vesterbro. Le Le, on Vesterbrogade, has good whopping bowls of Vietnamese pho, containing rice-noodles, coriander, lemongrass; Thai Esan 1, on Lille Istedgade, does great classic Thai; and O Mo Nim, on Gasvaerksvej, serves Korean barbecue.I go to O Mo Nim with my pal Julian, a law student in his early 20's. The place is run by a Korean family, and we're the only non-Koreans in the restaurant; Korean music is piped in, and the two televisions play Korean videos with the sound off.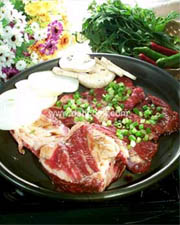 "That's a good sign," Julian says. "The videos being Korean, or the sound off?" I ask. "Both," he says. The waitress brings us plates of meat to grill on a burner on the table. We barbecue our strips of marinated chicken, beef, calf's heart and liver, dip them in garlic and ginger soy, then down they go, accompanied by red-hot kimchi and ice-cold beer. The next night my wife, Tine, and I have dinner in Cristal Palace, a restaurant just off Vesterbrogade. It exemplifies the neighborhood: it has a mixed identity. It's a French country restaurant with homey cuisine (I have a big, fat pepper-glazed duck breast) so I half expect to see a Provençal grandmother presiding over the kitchen. But the décor is bordello style, with red-and-silver velvet wallpaper, fake zebra-skin seat covers, many mirrors in gilt frames and a big green pumpkin plopped onto a marble table. These things don't fit together, except that they do. It's like Vesterbro itself: contrasting elements that somehow create an urban harmony.But if I'm going to explore Vesterbro, I'd better see what the night life is like for the next generation. Damn my age, I'll just go out to some bars, hear some music. My friends Abby and Per are as old as I am, but they're up for anything.First we try a bar on Vesterbrogade, where I immediately betray myself by asking for a dry martini. "A what?" the young bartender snorts. "Isn't that what upper-class people drank in the 1950's? Was it vodka? Rum?" I take a beer instead, and soon we go elsewhere.We stop in at Bang & Jensen's, now more crowded and up tempo. We have some Hot Shots (a shot of Galliano with a shot of hot espresso floating above it, topped by whipped cream) and feel better. Then, next door, is a great new place called Strassen. One wall is a 20-foot-long aquarium where the fish swim through an amazing little model of Istedgade. The bar is pretty, and the waitresses, too. Mettemarie, in a wool hat, painstakingly makes us a letter-prefect dry martini.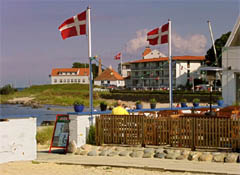 She's so sweet it doesn't bother us in the least when she suggests we have "the drink I made for my father's birthday," a caipirinha, with lime, raw sugar, and cachaça (Brazilian sugar-cane liquor). It's all the rage in Europe, but tastes like a good old gimlet. Still, I keep my mouth shut, in case a gimlet, too, is a distasteful relic.We definitely have to go to VEGA. It has two concert halls, one that holds 500 people (Lille VEGA, or Little VEGA) and one 1,500 (Store VEGA, or Big VEGA), as well as a disco nightclub. This May the entire Danish nation went into a trance when handsome Crown Prince Frederik married a beautiful Australian woman, Mary Donaldson; Fred and Mary had their prewedding party at VEGA. And it is the favorite local spot for the other Prince, the American one who sings. I imagine the place is an exercise in snobbery, but O.K., I have to go. And I couldn't be more wrong. The building itself is beautiful, "1950's International Style, with a whiff of working-class romanticism," says Per, an industrial designer. There are curving bars and free-form soft couches, mahogany floors and Deco-style tilework. Lille VEGA is packed and throbbing: an American group, Wilco, is in full flight, playing rock-and-roll that seems born in your own solar plexus. Everyone's in thrall, including the group. "I want to move to Copenhagen," the lead singer tells the audience. "Someone give me the form, and I'll fill it right out."VEGA, it turns out, is not a sleek money-making machine. In fact, no one makes a profit from it. I talk to Nicolaj, who works here. "This used to be the headquarters of the Danish labor movement," he says. "It was called the People's House. And it still has that feeling. No one decides who's cool enough to come in, there's no A-line and B-line, everyone's welcome. The coolness comes from the city, not someone deciding how people should look."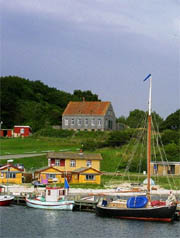 I have to admit that I love the music, and the place. But Abby, meanwhile, is talking to a gigantic Finnish guy, 6 feet 6 inches tall, with rainbow-colored dreadlocks. He's disappointed. "It's the music," he says. "Not noisy enough." He's named Olli; he plays rock. He writes down the name of his group: Sierainparisto. "It means Nostril Battery," Olli says. "We play the noisy style." And then he asks if we know of a place here where he can hear such music. No, we don't. But as he heads out into the blue Vesterbro night, I guess Olli will find exactly what he wants. For there are many Vesterbros; it's all here, including, I'm sure, one with the noisy music.
Visitor Information
Vesterbro, which means "western bridge," lies just to the west of Copenhagen's Central Station. You can walk the neighborhood's length in 15 minutes. Ethnic restaurants in Vesterbro are usually a good choice, but many of them, and in fact many stores and restaurants in Denmark, accept only Danish credit cards. And most cafes allow smoking. Restaurants serve wine and beer. If you prefer to avoid Vesterbro's earlier, raunchier self, bypass the part of Istedgade nearest the train station; it is still dotted with pornography shops. The prostitutes who once frequented Halmtorvet are now usually on Skelbaekgade, a side street.
Food and DrinkBang & Jensen,
Istedgade 130; telephone (45) 33 25 53 18. Breakfast buffet served Monday to Friday 8 a.m. to 10:30, for $8.35, at 6.24 kroner to the United States dollar. Lunch and dinner entrees are $9.15 to $10.85; the kitchen closes at 10 p.m., but cocktails, at $9.15 to $10.85, are served until closing. No reservations. Open Monday to Saturday 8 a.m. to 2 a.m.; Sunday 10 a.m. to midnight; the kitchen closes at 7:30 p.m. on Saturday.
Strassen,
Istedgade 128, (45) 33 22 32 41, open Sunday to Wednesday 10 a.m. to midnight, Thursday to Saturday 10 a.m. to 2 a.m. The kitchen closes at 10 p.m. Cocktails around $9, entrees $13 to $15. Reserve for weekend brunch.
Riccos Coffee Bar,
Istedgade 119, (45) 33 31 04 40, a tiny storefront, has excellent coffee and some of its tiny tables overlook a tiny garden. Open weekdays from 9 a.m. to 11 p.m., and weekends from 10 a.m. to 11 p.m.
Le Le,
Vesterbrogade 56, (45) 33 22 71 35 offers good Vietnamese food; crowded but fun; open Wednesday to Monday 4 to 10:30 p.m. The ample main courses are $8 to $16. No reservations.
O Mo Nim,
Gasvrksvej 21; (45) 33 31 52 20. This family-run Korean barbecue restaurant is open Wednesday to Sunday 5 to 11 p.m. Main dishes with kimchi and rice are about $23.35 to $25.
Thai Esan 1,
Lille Istedgade 7, (45) 33 24 98 54, a beloved local place that has spawned several offspring, serves classic spicy Thai food. Open Sunday to Thursday, noon to 11 p.m. Friday and Saturday noon to midnight, with main courses at $8 to $16.
Cristal Palace,
Saxogade 3, (45) 33 21 61 52, offers more upscale dining, in hearty country French style. Open Monday to Saturday, 3 p.m. to 2 a.m., with appetizers at $11.65 to $15, main dishes $22.50 to $33.35, and desserts $10 to 13.35.
MusicVEGA,
Enghavevej 40; (45) 33 25 70 11; www.vega.dk. The nightclub is open Friday and Saturday, 11 p.m. to 5 a.m., for people over 20; admission is free from 11 p.m. to 1 a.m. and $9.60 afterward.
Where to StayHotel Guldsmeden,
Vesterbrogade 66, (45) 33 22 15 00; or on the Internet at
www.hotelguldsmeden.dk
. The Guldsmeden has 64 rooms in French colonial style. A single room is $166, a double $216, including breakfast.
The above article is from The New York Times.