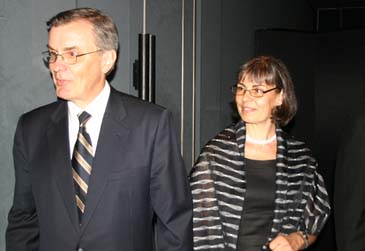 Swedish Ambassador to Seoul Lars Vargo (left) and his wife, Mrs. Eva Vargo, greet guests at the Swedish National Day reception held at Hyatt Hotel in Seoul on June 4, 2008.
Swedish Ambassador to Seoul Lars Vargo and his wife, Mrs. Eva Vargo, will host a gala dinner reception at Seoul's Grand Hyatt Hotel on August 31, 2009 on the occasion of its national day "Sweden Day 2009."The diplomatic reception will also be aimed at celebrating the Swedish presidency of the EU and 50 years of diplomatic relations between Sweden and South Korea.In actuality Swedish National Day falls on June 6 every year.The National Day of Sweden (Sveriges Nationaldag) is a national holiday. It was made into a national day by Riksdagen, the Swedish parliament, in 1983.Previously it was commemorated as "Svenska Flaggans dag," or Swedish Flag Day.Swedish Embassy in Seoul announced that as many as 900 guests from all walks of life will be invited to the reception.The reception will begin at 6 p.m. on the day at the hotel's Grand Ballroom.
Who Is Amb. Lars Vargo?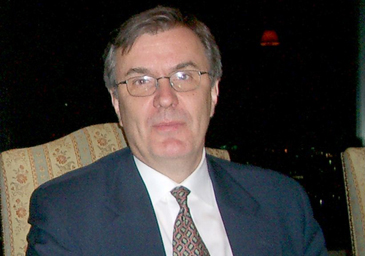 Swedish Ambassador to Seoul Lars Vargo
HE Ambassador Lars Vargo was born on October 6, 1947 in Stockholm, Sweden.Amb. Vargo received his M.A. at the University of Uppsala and received his Ph.D. in Japanese studies from the University of Stockholm.Amb. Vargo started his diplomatic career in 1978 and after serving various posts at the Ministry for Foreign Affairs in Stockholm as well as at the Swedish Embassy in Japan, Libya and USA he was Ambassador to Lithuania in 1998.From 2000, Amb. Vargo was head of the International Department, at the Swedish Parliament until he was appointed as the ambassador to South Korea in February 2006.Amb. Vargo is, by far, the authority of Japanese as well as East Asian Affairs at the Ministry and his command in Japanese language is highly respected and recognized at the Ministry. Amb. Vargo is author of many books on Japan.Amb. Vargo is married to Eva. For further questions call the Swedish Embassy in Seoul at 02-3703-3700.