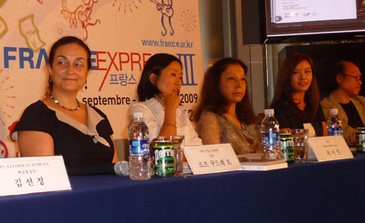 New French Amb. Elisabeth Laurin (center) poses with others.
"FranceExpress 2009" will transform South Korea's autumn into a season colored by French culture.A total of 33 cultural events in six areas of art will take place in Seoul and surrounding cities during the Fall.
The new French Ambassador Elisabeth Laurin formally announced the start of the massive French cultural festival in a press conference held at the French Cultural Center in downtown Seoul on Sept. 9th, 2009.
"The role of the participating artists and the presence of the local spectators are the key to our successful hosting of this cultural festival," Amb. Laurin said, "I hope this experience and the interest of Korean people will make this 'Third FranceExpress' very successful"
The French envoy said the festival would invite some 200 French artists to attend.Attendees of the conference included Ms. Laure Coudret-Laut, director of the French Cultural Center in Seoul, Director Lim Yeon-Cheol of the National Theater, and Mr. Kim Chul-Lee, artistic director of Seoul Performing Arts Festival. Ms. Coudret-Laut serves as cultural counselor of the French Embassy in Seoul.
| | |
| --- | --- |
| | Kim Ah-Jung (born on Oct. 6, 1982) is a well-known Korean actress, model, and singer who rose to stardom from her roles in numerous films and commercials. Most known was her role as a large girl (Han-na) who undergoes cosmetic surgery makeover to become a pop sensation in the highly successful 2006 S. Korean comedy movie 200 Pounds Beauty. For her leading role in 200 Pounds Beauty, she was awarded Best Actress in the 2007 Grand Bell Awards. |
A South Korean actress Kim A-Jung (also known as Kim A-Joong) also appeared at the conference. She was recently appointed the French cultural ambassador by the French Embassy.
A variety of cultural events in the field of design, theater, music, exhibition, movies, and street performance will take place during "FranceExpress 2009," running until December this year.
From Sept. 18th to Nov. 29th, 2009, the Daelim Contemporary Art Museum will hold an exhibition of the late French engineers and designer Jean Prouve's work. Celebrated for transferring manufacturing technology from industry to architecture without losing sight of aesthetic appeal, Prouve represents the practical and the artistic.
From Sept. 9th to Sept 12th, 2009, the National Theater and other theaters in and around Seoul will show contemporary and traditional French dramas.
On Oct. 10th, 2009, lovers of French cinema "Soiree Francaise" will congregate during the evening at PIFF (Pusan International Film Festival) in Busan. The festival will present French films in Busan and Seoul throughout the Fall.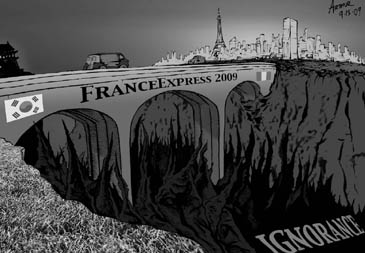 Cartoon by Gregory J. Pence, who serves as staff writer and cartoonist for The Seoul Times
Beginning Nov. 5th, 2009, Hanyang University will host L'Ensemble Orchestral Contemporain (EOC)'s performance. Five other performances will unfold throughout the festival season.
From Dec. 16th, 2009 to March 28th, 2010, FranceExpress will also present six major art exhibitions for local viewers. The Seoul Arts Center will hold an exhibit of the late French Fauvist and Expressionist George Rouault's paintings. The center will also hold five other exhibitions throughout the festival season.
Expressing excitement about the upcoming festival, Director Coudret-Laut regarded "FranceExpress 2009" as better organized than previous festivals, both in terms of quality and content.
Before the conference ended, Director Coudret-Laut thanked 17 corporations based in France and South Korea for supporting the French cultural festival.
The French Cultural Center said that some 200,000 Koreans and foreigners will enjoy various events during "FranceExpress 2009."
Who Is New French Amb. Elisabeth Laurin?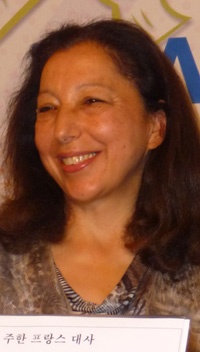 New French Amb. Elisabeth Laurin
France's new ambassador to South Korea, Elisabeth Laurin, took part in a conference today to announce FranceExpress, a program designed to promote French-Korean cultural exchange.Madame Laurin was born 7 December 1952 and received a BA in Oriental Studies (Japanese), MA in Oriental Studies (Chinese) and PhD in Economics. She served briefly as a secretary at the French embassy in Nepal before becoming an information consular in Japan.From 1988 to 1996, Madame Laurin worked at the Paris foreign ministry overseeing trade and development as part of the Europe Cooperation Bureau. Her duties expanded when she became the Deputy Director of Southeast Asian Division, ASEAN, and Asia and Oceania Division. Madame Laurin arrives during a period of strong relations between France and Korea. Trade between both nations continues to thrive and French students benefit from leading scholarship in the field Korean studies Tasked with promoting cultural exchange between Korean and France, Ambassador Laurin announced FranceExpress 2009, a festival presenting famous works of art, engineering, theater, film, and music across Korea. Before her appointment to the ambassadorship of South Korea, Madame Laurin worked as the Deputy Head of the Asia and Oceania Division in Paris. She has received numerous awards, including the Knight of the Order of the Legion of honour and and the Knight of the National Order of Merit.
For details or inquiries please contact PR Manager Maxine Lee at the French Cultural Center or contact the French Embassy at 3149-4333.