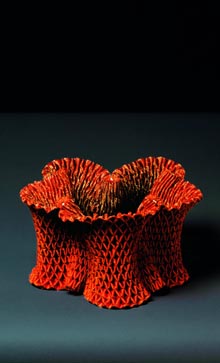 Constructions," Norwesian craft art exhibition will go on at the Korea Craft Promotion Foundation in Seoul's Insa-dong on Jan. 27-Feb. 9, 2010.
Norwesian Ambssador to Seoul Didrik Tønseth and his spouse Mrs. Bjørg Skorstad will host the opening ceremony of the Norwesian craft arts exhibition "Constructions" at the Korea Craft Promotion Foundation in Seoul's Insa-dong on Jan. 27, 2010.The opening reception will be held at 6 p.m. on the third floor of the foundation.The Royal Norwegian Embassy in Seoul has been able to bring the contemporary Norwegian arts and crafts exhibition "Constructions" to Korea. Through the support of the Norwegian Ministry of Foreign Affairs and the Norwegian Association for Arts and Crafts, this exhibition has previously been to Ireland, Russia, Spain, and Chile.With its focus on creative thinking and design through traditional techniques, it is only fitting that it should also appear before a Korean audience. The exhibition's 27 works of art by 16 different artists offer a large variety of work, style, and individuality. At the same time, common elements bind the pieces together, the most important one being that the final expression of each piece is interwoven with the technique used to construct it.The exhibition runs from Jan. 27 (Wednesday), 2010 to Feb. 9 (Tuesday) , 2010. The opening hours are from 10 a.m to 6 p.m. during the period. For exhibition details call 733-9040/2
"Constructions" – Contemporary Norwegian Arts & Crafts
The traveling exhibition's title "Construction" refers to the way something is put together, and corresponds to both building three-dimensional forms and creating patterns in surfaces, or a fusion of these two.For example, weaving and knitting show a direct link between the construction of the piece and its surface pattern. Thus, the material for a piece creates both the object, and the ornamentation of the object.