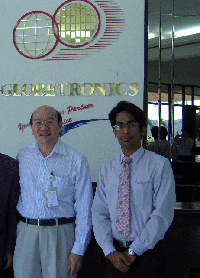 Heng Huck Lee(left), CEO of Globetronics,

With their often-touted advantages of low power consumption, long lifetime, and fast strobing capability, LED-based illumination systems are expected to dominate green building markets.One of pioneers in this area is Globetronics Technology Bhd. located in Free Industrial Zone, Penang, Malaysia Globetronics was rather an unfamiliar name in the business community until recently before the organizing committee for Beijing Olympics Games in 2008 made the illumination system of Globetronics the method of choice during the opening and closing ceremonies of the Summer Olympiad.Founded in 1991 by 2 ambitious entrepreneurs, Globetronics has grown rapidly over the last 12 years from one humble 20,000 sq.ft. rented facility to ten buildings covering more than 600,000 sq.ft., with over 2,500 employees. "LED emits more visible light at the same input power than incandescent and fluorescent lamp. Long lifetime of LED also help to minimize the waste disposal amount and maintenance cost. Since electricity power plants contribute almost half of CO2 emissions to the atmosphere annually, energy saving means that we could slow down the CO2 emission projected amount in the future,"Heng Huck Lee, President and CEO of Globetronics explained adding that unlike fluorescent lamp, LED has contained no mercury in it. The major shareholders of Globetronics include Malaysian Technology Development Corporation (MTDC) and Penang-based General Produce Agency (GPA). Globetronics was listed on the Kuala Lumpur Stock Exchange on 3 November 1997. With the vision entitled "To Be The Global Business Partner of Choice In Niche Products And Services," the company is branching out to LED illumination lamp business area in collaboration with LG Electronics of South Korea and ISO Technology Sdn Bhd. a QS 9000 registered company.In line with its concentric expansion program, its services have expanded to include both upstream and downstream operations. Its capabilities also include full turnkey assembly/test operations, optical component MEMS, telecommunication products, RF devices and computer applications. Demand for environment friendly led lamp is set to increase with construction of more green buildings in the years to come, he said. LED lamp is energy efficiency too with less than 30 % energy consumption than conventional lamp.At the same time, Globtronics has developed unique LED lamp system for use of horticulture involving fruits, vegetables and flowers.
The system was developed jointly with a Swedish business interest will eventually be making inroad to South Korean markets where Korean horticulture products such as flower, semitropical fruits and vegetables are being grown in chilly season between October to April inside the hot house warmed up by conventional costly heating system, he observed."Our corporate philosophy is in the belief of the people who are "our greatest assets,"he said underscoring the importance of Results Oriented With Customer Satisfaction and Organizational Agility.CEO Lee is a Malaysian and was appointed to the Board of GTB and made the Chief Operating Officer of GTB since 1997. He was promoted to be the Chief Executive Officer of GTB on 3 January 2008. He graduated with a Bachelor of Applied Science(Honours) majoring in Computer/Electronic Technology from University Sains Malaysia in 1982. He also obtained a Master in Business Administration from East Asia University in 1991. His past working experience includes a 10-year operations/management position with Intel Technology Sdn Bhd, currently the world largest semiconductor manufacturer. He also has more than 5 years working experience as a Group General Manager with Shinca Sdn Bhd, an Original Equipment Manufacturer/subcontract manufacturer for a wide range of electronics and computer products from 1991 to 1997.Since joining GTB, he has successfully supported the group operation expansion from RM60million to more than RM300million/year in revenue.