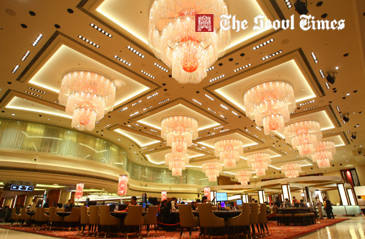 StarWorld Hotel and Casino in Macau
Macau — Chinese New Year is coinciding with Valentine's Day this year, injecting double the fun into the special festive seasons. To toast this time of double happiness, StarWorld is offering up a tempting series of promotions that include Valentine's hotel packages and delicious New Year's menus at our restaurants. In addition, StarWorld will be holding a lucky draw where guests can win up to tripled cash prize. Furthermore, limited edition Golden Chinese Zodiac figurines will be on offer to StarWorld members. The five-star hotel is the perfect choice for courting couples looking for a romantic weekend away this Valentine's Day. StarWorld's exclusive Valentine's room package includes an exquisite set dinner for two at the authentic Japanese restaurant, Inagiku. Temptations will also be offering couples decadent dishes such as roasted Hokkaido scallops and Alaskan crab followed by a delicious dessert of molten chocolate cake. StarWorld's restaurants and bars guarantee an abundance of festive fun during the holiday season. Sensations restaurant will present a special New Year menu with a mixture of mouthwatering dishes whilst Whisky Bar will be hosting a 'Men's Night Out' every Tuesday throughout February. There is something for everyone at StarWorld Hotel and Casino, making it the ultimate choice for both Chinese New Year and Valentine's Day.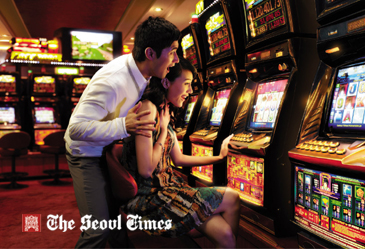 StarWorld Hotel and Casino in Macau
Numerous Cash Prizes at the New Year Lucky Draw
Starting from 9 January to 7 February, guests can win numerous cash prizes in the New Year lucky draw. Participants can collect their tickets by playing at their favourite gaming tables or slot machines. Nine lucky winners will be drawn every Saturday and Sunday during the promotional period to win up to tripled cash prize. Guests can also benefit from exclusive offers when they sign up as a StarWorld Privilege member, receiving free play vouchers, ferry tickets or hotel accommodation. Be a winner at StarWorld this New Year.Golden Zodiac Figurine to Celebrate the Year of the 2010
Up until 21 February 2010, StarWorld is offering guests an exquisite limited edition Golden Chinese Zodiac figurine with an accumulation of 38,000 bonus points during the promotional period. Golden Chinese Zodiac figurines signify will bring you luck and fortune. Collect an exclusive lucky Year of the Tiger figurine at StarWorld while stocks last.
Celebrate Valentine's Day with StarWorld's Special Hotel Package
Embrace the romance of Valentine's Day with StarWorld's specially created hotel package, priced at HKD/MOP7,888. This includes one night in a StarWorld Suite, a welcome fruit basket, in-suite breakfast and a special set dinner at StarWorld's Japanese restaurant, Inagiku. Experience the enchanting view of the sparkling night lights of Macau whilst sipping a glass of Champagne with your beloved. A bunch of elegant red roses can also be prepared by StarWorld and added to your package. The above room rate is subject to a 10% service charge and 5% government tax.
Special Offers at Inagiku this Valentine's Day and New Year
StarWorld's prestigious Japanese restaurant, Inagiku, is renowned for its premium dishes prepared by talented chefs. Share the delights with a loved one and indulge in Inagiku's special set dinner for two priced at $1200, which includes fresh sashimi, abalone soup and an assortment of mouth-watering tempura. Throughout Chinese New Year, Inagiku will also be offering a wide range of warming Japanese hot pot dishes to celebrate the festive season. In addition, Inagiku is offering diners special dinner vouchers valued at $100 and $50 when they spend $500 and $250 respectively. A range of delicious lunch sets will also be with prices starting at $68. Make the holiday season extra special with Inagiku's exclusive offers and promotions. Inagiku Opening Hours: 12pm-3pm; 6pm-11pm
Enjoy a New Year Feast at Laurel Restaurant
The lavishly decorated Laurel restaurant is the perfect place to celebrate the New Year with friends, relatives or business associates. In a toast to new beginnings, Laurel will be offering traditional New Year's favourites throughout the month of February. The mouth-watering dishes on offer include steamed grouper and shark's fin soup, with prices starting from MOP3288. Laurel Restaurant Opening Hours: 11am-11pm (Mon-Fri); 8am-11pm(Sat-Sun & Public Holidays)
Discover Delicious Jiangnan Dishes at Jade Garden
Jade Garden makes it easy for you to plan your company's annual spring dinner. A special menu has been designed to tempt diners with the delights of Jiangnan cuisine throughout the month of February. Guests can enjoy a New Year Package for 4-6 people at only MOP$1,388 which includes Vietnamese beef, roasted shark's fin and more. To kick start the Year of Tiger, guests can also enjoy a bottle of 8-year wine with friends and relatives whilst sampling the fine cuisine at Jade Garden. The restaurant will also be offering a unique, specially designed menu for 8-10 people. Jade Garden Opening Hours: 11am-3pm, 5pm-11pm (Mon-Fri); 9.30am-4pm, 5pm-11pm (Sat-Sun & Public Holidays)
Celebrate with Loved Ones at Temptations Restaurant
Temptations will be offering a special buffet for couples on Valentine's Day. Couples are invited to enjoy roasted Hokkaido scallops and Alaskan crab in the evening followed by a delicious dessert of molten chocolate cake, free of charge. These indulgent treats are sure to set the mood for the perfect Valentine's celebration. To ring in the Chinese New Year, each table will be offered a special festive delicacy during the period of 15 to 20 February as a token of good luck for the coming year. Guests are also invited to choose from a wide array of Chinese New Year favourites on the live cooking counters, including traditional Chinese cakes, crab porridge and live oysters. During the dinner periods of 13-16 February and the lunch periods of 14-16 February, guests will also be able to catch the God of Fortune Parade, raining new beginnings and happy fortune on everyone this festive season. Temptations Opening Hours: 7am-10pm
Whisky Bar Celebrates the New Year with Special Countdown Party
There is no better way to spend the holiday season than with friends at the Whisky Bar. Following the success of the 'Girls' Night Out'. Whisky Bar has decided to introduce a 'Men's Night Out' every Tuesday night. Gentlemen can relax over a few drinks with friends and enjoy a special discount of 15% on selected drinks. A themed 'Girls Night Out' will take place every Thursday night throughout February with the opportunity for lucky ladies to win prizes provided by Remy Martin. A 'Passion Red' party will also be held on 11 February with exciting dance routines, classic Broadway performances and fashion shows to add to the festive fun. Whisky Bar Opening Hour: 5pm – 2am (Sun – Thu), 5pm – 3am (Fri – Sat)
Enjoy Traditional Dishes at Sensations this Holiday Season
Sensations restaurant is offering nine special dishes and a celebratory drink to wish guests good luck in 2010, starting from $22 only. Traditional New Year cuisine will include dried oysters, lotus root, black moss and pork tongue soup. In addition, there will be stir fried scallops with egg white and broccoli to symbolise prosperity, stewed pig's knuckle with lettuce to ring in good luck and fortune as well as preserved mandarin with honey in green tea to invite good health. Sensations will be offering traditional "poon choi" with abalone, dried scallops, dried sea cucumber and prawns at only MOP988 for four diners. Sensations Opening Hours: 24 hours All food & beverage prices are subject to 10% service charge. StarWorld Hotel and Casino
Address: Avenida da Amizade, Macau
Telephone: Macau (853) 2838-3838 Hong Kong Toll Fee: 800 968 998
Website: www.starworldmacau.com
About StarWorld Hotel and Casino (StarWorld)
StarWorld is located in the heart of Macau's dynamic gaming and entertainment district – the Avenida de Amizade. The first 5-star hotel and casino in the Galaxy Entertainment Group, 39-storey StarWorld embodies the distinct Asian characteristics of intelligence, experience and innovation, combining world-class accommodation, entertainment, leisure and dining facilities in 'one world'. Asian flair is incorporated in all the Star-grade amenities as well as in the ultra-high levels of personal service, appealing to both Asian and international tourists.Striking architecture and luxurious guest-room decor exemplify the outstanding level of quality provided by StarWorld Hotel and Casino. This attention to detail has gained StarWorld recognition through numerous prestigious awards including the 5-Star Diamond award from the American Academy of Hospitality Sciences and the Top 100 Hotels of China by the China Hotel Industry Summit. With award-winning services and accommodation, StarWorld is designed as the ultimate 'Place for Winners'. As one of Macau's premium resorts, StarWorld Hotel and Casino provides everything you could desire from an entertainment and leisure destination.
Inquiries
Email: evelyn.lau@galaxyentertainment.com winnie.mok@sprg.com.hk