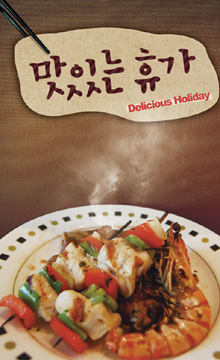 'Delicious Holiday' Lunar New Year Package with Full Lunch Buffet
The lunar New Year holiday in 2010 is February 14, overlapped with the Valentine's Day. Only 3 holidays are allowed for this year and it is going to take away the fun anniversary of Valentine's Day. Novotel Ambassador Gangnam, however, makes a special suggestion of Lunar New Year package 'Delicious Holiday' as compensation of overlapped holidays. The package is available only from February 11 to 15. The Lunar New Year package includes a regular lunch buffet, not a brief breakfast, featuring all delicious dishes from over 100 countries. Also the package, 165,000 won (VAT excluded), includes one night at Standard Room, 2-person lunch at the buffet restaurant 'Festival', free use of fitness club and swimming pool while a 10% discount on restaurant and bar is offered. The package can be added with 'Valentine Pack' for additional 30,000 won to have pinky bear organic bubble bath bar and 30-balloon decoration in room. The package is an ideal choice for guests who like to spend holidays with family in town during the Lunar New Year holidays, couples to celebrate the Valentine's Day or any single people who need comfortable holiday break.
Guests with online reservation from Feb 1 to 10 can win 2 free movie tickets to a Hollywood animation movie 'Cloudy Meat Balls' which will be released in Seoul from Feb. 11. 2010. (The lucky ticket will be limited to 1 guest (2 tickets) per day).
Information & Reservation : Guestroom Reservation 02-531-6521
Online : www.ambatel.com/gangnam
Subject to early closing.