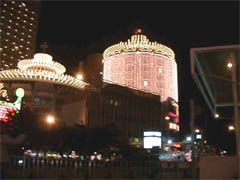 Lisboa Casino in Macao
MACAO — Some places wind up with two distinctly different images among tourists.
Macao, a Portuguese colony for more than four centuries before its return to China in December 1999, is such a place.It retains a considerable mystique as the oldest permanent European settlement in East Asia, a city at the mouth of the Pearl River with a reputation for excellent Portuguese cuisine and a graceful colonial quarter.Yet in nearby Hong Kong and southern China, the places that supply most of Macao's tourists, the city has long had a more menacing image. It has been known as a place where heavily armed members of triads, Chinese gangs, battle for influence in the city's legal gambling industry. But this image is giving way to another as Macao has tried to clean itself up in an effort to become the Las Vegas of East Asia.With the departure of the city's often ineffective and sometimes corrupt Portuguese administrators, the local police have cracked down. They have worked closely with the mainland Chinese police and with law enforcement agencies in Hong Kong, on the other side of the Pearl River delta. As a result, there has been a steep drop in violent crime that has made the city much more attractive for tourists, whether they gamble or not.
| | |
| --- | --- |
| | Monte fort, high on hill in the center of Macao, is the historical site. In 1622 a large force of Dutch invaded the poorly defended Portuguese possession and threatened to overrun it . A lucky shot from a cannon on these walls hit the Dutch gunpowder boat in the bay, decimating the attackers. |
"We now have Macao people governing Macao," said Lei Siu Peng, the acting police commissioner here. "We are more familiar with all the situations in Macao, and the triad societies and all their activities." Macao was East Asia's fastest-growing tourist destination last year, as arrivals rose 3.1 percent even as they tumbled across much of the region because of worries about terrorism and severe acute respiratory syndrome, or SARS.The first American-operated casino, the Sands, opened here on May 18. Controlled by Sheldon G. Adelson, a wealthy Las Vegas investor, it is genuinely worthy of Las Vegas — indeed, it even looks better than some casinos there, because of its use of skylights to admit natural light into the gaming area.The Sands features 65-foot ceilings over the baccarat and blackjack tables and an indoor tea terrace serving 200 varieties of free tea. Later this year, 52 suites, will be available, by invitation only, for high rollers. With a reflective yellow exterior, the broad, 262-foot-tall building looks like a giant golden box sitting very close to the ferry terminal, which it dwarfs.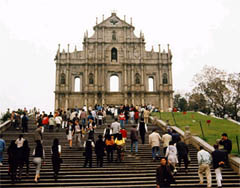 St. Paul's Cathedral ruins in Macao
Until the opening of the Sands, all of the city's dozen casinos were controlled by one man, Stanley Ho, one of Hong Kong's wealthiest residents. The Galaxy, a second casino independent of Mr. Ho's operations, opened a couple of blocks away on July 4. The Galaxy, which is run by a different Hong Kong family, is much smaller than the Sands. Transportation to the city, 40 miles from Hong Kong, has kept pace with Macao's growing popularity. There are now 80 high-speed hydrofoil ferry trips a day from Hong Kong, with lots of seats available even for the extra travelers to the Sands, and a similar number of daily ferries from mainland Chinese cities in the Pearl River delta, notably Shenzhen, next to Hong Kong. But Macao's taxi fleet has not kept up with the rapid growth in tourism. On weekends, when the casino traffic from nearby cities rises sharply, visitors will find long lines at casino taxi stands and few if any taxis coming to tourist sites. Many taxis do line up at the ferry terminal to meet arrivals from Hong Kong and other nearby cities, while the major hotels run regularly scheduled shuttle buses to and from the ferries. Macao has come a long way from its nadir in the late 1990's, when several dozen members of triads were killed in a series of gun battles for influence in the city's legal casinos. The deputy director of the city's gambling regulatory agency survived being shot twice; the third-ranking official was later shot once in the neck in broad daylight and killed.
| | |
| --- | --- |
| | Macao, a Portuguese colony for 400 years, has mellowed into a relaxed amalgam of sunny southern Europe and heated south-east China. This picture typifies the comfortable truce of Asian and European sensibilities that give Macao it's character. |
Only one high-profile killing has occurred in the last four years, on April 18, 2003, when a wealthy Thai businessman was tied up, gagged with a bedsheet and robbed of nearly $1 million in his hotel room at a casino. The man was asphyxiated by the gag before he was discovered; his accused murderer was later detained in mainland China and mysteriously died in prison before his trial, succumbing to what a court spokesman described only as "self-inflicted asphyxiation."Nonetheless, city officials feel the gambling wars have diminished considerably. "We cannot say we don't have triads in Macao," said Manuel Joaquim das Neves, the top gambling regulator here now. "Even in Las Vegas, they can't say, 'We are free of mafia.' I think the triads are very well controlled."
The above article is from The New York Times.