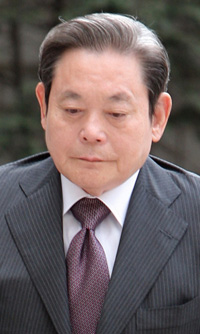 S. Korean business tycoon
Lee Kun-Hee
The number of tycoons from the Asia-Pacific region with a ten-figure net worth has risen to 234 from 130 last year. This accounts for 23 percent of the 1,011 billionaires on the global list against 16% of the 793 billionaires the year before.
The combined wealth of Asian billionaires has also more than doubled to US$729 billion compared with $357 billion a year ago.This rate of increase far outpaces that of European tycoons who saw their collective fortune rise by 50% while their US counterparts enjoyed only an 18% increase.
Of the 234 Asian tycoons on the list, 62 are first-time billionaires out of a total of 97 new billionaires in the world.
The richest man in Asia-Pacific and fourth in the world rankings is Mukesh Ambani from India, head of Reliance Industries.
The richest man in the world is Mexican telecom titan Carlos Slim Helu and family.
The 11 billionaires from South Korea are:
World Ranking & Name & Wealth
100 Lee Kun-Hee $7.2
249 Chung Mong-Koo $3.6
536 Jay Y. Lee $1.9
616 Shin Chang-Jae $1.6
616 Chung Mong-Joon $1.6
655 Shin Dong-Bin $1.5
655 Shin Dong-Joo $1.5
721 Lee Myung-Hee $1.4
773 Chung Eui-Sun $1.3
880 Chey Tae-Won $1.1
880 Koo Bon-Moo $1.1Also, Shin Chang-Jae and Chung Eui-Sun are newcomers on the list.