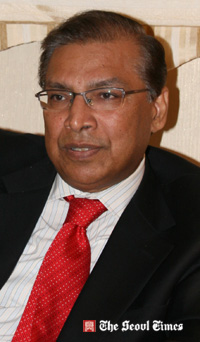 Pakistani Amb. Murad Ali
Pakistani Ambassador to Seoul Murad Ali and his wife, Mrs. Nighat Murad, will host a reception at his residence in Seoul on July 20, 2010 on the occasion of his leaving his post for his new post in Poland.Over 100 top foreign envoys particularly from Islamic countries and local businesspeople will be invited to the farewell dinner.The Pakistani envoy will leave Seoul on July 28, 2010 to serve in Warsaw, Poland as an ambassador, according to the Pakistani Embassy source.He has been serving as a Pakistani ambassador since he arrived in Seoul August of 2007.
For details or inquries contact the Pakistani Embassy in Seoul at 796-8252.