Foreign Minister Ban To Visit Algeria Early 2005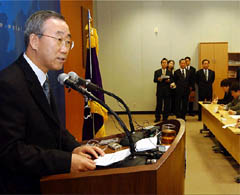 Foreign Minister Ban Ki-moon speaks to reporters at the ministry building.

Algerian Amb. Ahmed Boutache hosted a dinner in honor of visiting Algerian Vice Minister of Foreign Affairs Hocine Meghlaoui and his delegation at his residence in Seoul on Sept. 3, 2004.Vice Minister Meghlaoui attended the third round of bilateral Korea-Algeria consultation meeting in Seoul on Sept. 3, 2004 to discuss a wide range of issues pending between two countries with his Korean counterpart Choi Young-jin.Expressing his satisfaction over results of the bilateral talks, Vice Minister Meghlaoui said that Korean Minister of Foreign Affair Ban Ki-moon is scheduled to visit Algeria in early next year to further promote bilateral relations in the areas of economy, investment and regional cooperation with African countries.Since two countries established official relations in 1990, ties between South Korea and Algeria have strengthened in all areas, particularly in construction, energy and IT sectors. In December 2003, Algerian President Abd Al-Aziz Bouteflika made a state visit to Seoul at the invitation of Korean President Roh Moo-hyun — the first ever visit to Korea by the head of state of Algeria.
Amb. Boutache To Return Home on Sept. 25
Algerian Ambassador to Seoul Ahmed Boutache will leave Souoth Korea on Sept. 25, 2004 after serving eight years of tour of duty to take over a new post at Ageria's Ministry of Foreign Affairs.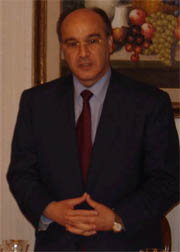 Amb. Ahmed Boutache
It was in 1992 that Amb. Boutache came to Seoul for the first time in his capacity as a senior member of working-level group to make preparatory works for opening of Algerian Embassy in Seoul following Korea and Algeria agreed on establishing official relations. After completing preparatory works which took about one year and a half, he returned home. In 1996, he was appointed as the second Algerian ambassador to Seoul and has since worked here as one of the most active foreign diplomats in South Korea.More recently, he was actively serving as deputy dean of Diplomatic Corps in Korea as well as dean of Diplomatic Corps from African countries."We are going to miss an exceptionally talented and experienced professional diplomat from Algeria. He has always been our pride with his dynamism and warm personality," said Lee Jeong-woo, president of Korea-Algeria Friendship Association (KAFA)."We are going to miss you very much and on behalf of KAFA we all wish you the very best of luck in your future," Lee added. In the meantime, Korea's largest vernacular daily Chosun Ilbo carried a story about Amb. Boutache's outstanding diplomatic performance during his eight years of diplomatic tour of duty here on its Sept. 6 issue.Korean Minister of Foreign Affairs Ban Ki-moon was reported to have invited Amb. Boutache to a private luncheon recently to express his appreciation for a great job done by Amb. Boutache in promoting bilateral relations between Korea and Algeria as well as relations between Korea and African countries in his capacity as dean of diplomatic corps of African ambassadors in Korea.
UAE Envoy Returns Home on Sept. 7
Amb. Abdulla Al Shurafa Al-Hammady of UAE in Seoul returned home on Sept.7, 2004 after serving six years of tour of duty in South Korea. He assumed Seoul post on July 3, 1998.