Embassy Events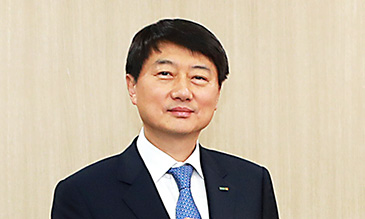 ICCK Chairman Vasudev Tumbe Hosts "ICCK Diwali Ball 2018" in SeoulDiwali, Indian Festival of Lights, Brings Prosperity

Chairman Vasudev Tumbe of the Indian Chamber of Commerce in Korea (ICCK) hosted India's one of the most important cultural events "ICCK Diwali Ball 2018" in Seoul in the evening of Nov. 9 (Friday), 2018.

The delightful and colorful "black-tie" dinner event drew hundreds of both local Korean and foreign guests including Indian nationals.

Diwali, or the Indian Festival of Lights, is a joyous festival celebrating the triumph of good over evil for the Hindi people in the world. The Hindi folks welcome peace and prosperity by illuminating their homes with traditional Diya lamps.

The autumnal Hindu festival of Diwali is one of the India's biggest festivals. Diwali means rows of lighted lamps. During this festival, people light up their houses and shops with a Diya, a small cup-shaped oil lamp, and the Lord Ganesha worshipped for good welfare and prosperity.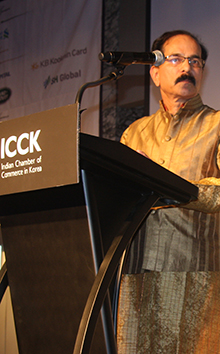 ICCK Chairman Vasudev Tumbe

This year "ICCK Diwali Ball 2018" was held at Harmony Ballroom in the basement of the Intercontinental Seoul Coex.

From Seoul's diplomatic circle came a number of foreign diplomats including Indian Ambassador to South Korea Sripriya Ranganathan, Australian Ambassador to South Korea James Choi, and New Zealand Ambassador to South Korea Phillip Turner.

Among other high-profile participants were B.A Kishore Kumar, country manager of Air India in Korea; Gen. Manager Luke Kang of Royal Enfield Korea; and Mr. Kevin Skeoch, head of school of Dwight School Seoul; Madam Grace Zimmerman, president of Parents Association of Dwight School Seoul; Madam Shim Jae-Sook of the Labor Ministry; and Dr. Lee Kyu-Yeop, CEO & president of KDS Asset Management Co.

"As usual, an Indian dance troupe from Bollywood flew in Seoul from India to entertain us," ICCK Chairman Vasudev Tumbe said. "It was a perfect moment to feel the Spirit of India"

He added that all the participants were able to enjoy delicious Indian cuisine, lively entertainment, to win attractive raffle prizes, and dance through the night.

"Also it was a great networking opportunity since we have 'WHO'S-WHO' guests from the government, diplomatic and corporate world," he said. "Everyone was able to enjoy this memorable and fun evening"


Indian Ambassador to S. Korea Sripriya Ranganathan (2nd from left) poses with Australian Ambassador James Choi (left), New Zealand Ambassador Phillip Turner (right), and with other guests.




A series of hot and colorful Indian dances were staged by a number of professional dancers brought directly from India. All the audiences were captivated by the fantastic and energetic dances.

Abundant and expensive gifts were distributed to the lucky participants through the lucky draws and auctions during the event.

For details or inquiries please contact ICCK by calling 02-776-1583
or by Emailing events@indochamkorea.org
ST Photo Gallery
Photo News
Embassy Events
Econo People 2005
Fashion Images
New Movies
Travel Images
Nayan Sthankiya's Photo Features New
Abuses of Iraqi Prisoners of War
Academy Awards Photos 2004
Adolf Hitler
Aishwarya Rai-Indian actress
Buddha`s Birthday 2004
Cannes 2004 — 57th Cannes Film Festival
Choi Tae-Ji Photo Gallery
Comfort Woman Picture Gallery
Crown Prince Felipe of Spain
Dokdo Photo Gallery
Erotic Paintings of Hyewon and Danwon
Franz`s Art Exhibition
Gando Photo Gallery
Geisha in Japan
Gwangju Massacre
Jeju Island
Kim Jong-Il and Kim Il-Sung
Koguryo Murals
Korean War (1950-53)
Madonna
Miss Universe 2004
Miss World Contest 2003
Mt. Kumkang or Mt. Diamond New
Natural Beauty of Korea
Rape of Nanjing (Nanjing Massacre)
Rio Carnival 2004
Ronald Reagan`s Life in Pictures
ST Family
Sonia Gandhi and Gandhi Clan
Taj Mahal Photo Gallery
Ukrainian Embassy
World War Two
Photo Gallery of World Newspapers/Media
Times of India
Hindustan Times
SantaBanta.com
Straights Times (Singapore)
Chicago Sun-Times
Moscow Times