Embassy Events

Dr. Helen Chu Sacrifices Self for OthersHer Late Father Called "Dr. Schweitzer of Korea"

On June 15, 2019 a 100-plus mostly senior personalities gathered at a medical examination clinic at Oakwood Hotel in the upscale Samsung-dong of Seoul's Gangnam area to enjoy a special concert arranged by a famous medical doctor.

The doctor's name was Dr. Helen Chu and she is the 71-year-old physician whose both parents were also highly respected medical doctors.

The audience were captivated by her piano playing and singing. Other musicians also performed at the small conference room of the clinic in a monthly concert hosted by Dr. Chu.

Dr. Chu graduated from Korea University's Medical School in 1975, becoming the youngest female director of a health clinic in South Korea.

In the year Dr. Chu volunteered to work at the government-run Health Clinic in the remote provincial area of Cheongwon County in North Chungcheong Province.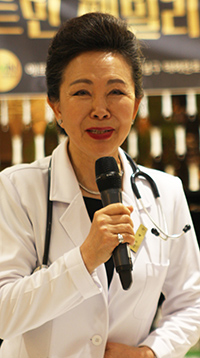 Dr. Helen Chu in Seoul

It was a rare decision for the young, beautiful, and extremely talented female medical doctor to go all the way to serve at the rural area to take care of the poor farmers back in 1970s.

She went to Japan for her PhD program as a medicine woman. Dr. Chu earned her doctorate from the school of Medicine of Showa University in Tokyo.

From then on Dr. Chu served in Seoul areas.

ln August of 1980 She became director of Gangdong Health Clinic in eastern part of Seoul. She was the first female director of the nation's health clinic.

A little earlier in 1978 Dr. Chu took charge of Uijongbu Health Clinic as its director in north of Seoul. It was by this time that she paid attention to the issues of prostitutes. She started treating working girls with AIDS symptoms.

Dr. Chu kept more attention to the AIDS patients even after she moved to Yongsan area of Seoul. She took charge of Yongsan Health Clinic.

She educated the prostitutes about the dangers of the sexual disease while the ladies were working near the US Army garrison in Yongsan area. She earned nickname "Godmother of the Prostitutes."

Dr. Chu once was called "Hillary of Gyeonggi Province" after marring then Gov. Lim Chang-Yeol in late 1990. Their marriage was arranged by then President Kim Dae-Jung. She kept a close ties with Kim calling him "older brother."

Dr. Chu's English name is "Helen Chu." Dr. Chu says that the first and founding president of South Korea Dr. Syngman Rhee made her that English name.

Dr. Chu's late father, Dr. Chu In-Ho, was a famous medical doctor himself, working for Dr. Rhee's government. He father crossed the 38th Parallel from Hamheung City in North Korea's Hamgyeong Province shortly before the Korean War (1950-53).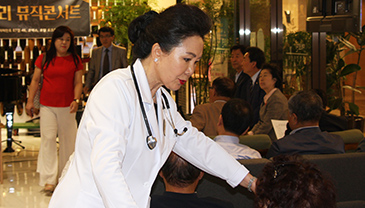 Dr. Helen Chu takes care of her customers in Seoul.



Dr. Chu graduated from Gyeongseong Medical School in 1919, predecessor of Seoul National University's Medical School in 1919 before he settled in Seoul.

Dr. Chu argues that her late father was the one who introduced the Korean word of "public health" to South Korea. Her father also became the first person who set up Seniors College in the nation. Her mother was also a medical doctor.

Her father also spent as many as 17 years in Africa.
He was working there as the executive advisor of the World Health Organization (WHO). He tackled all kinds of epidemic diseases. His dedication to the Black Continent earned him his nickname "Dr. Schweitzer of Korea."

Now at 71 Dr. Chu is still active with her own profession as a medical doctor. She is also busy as a pianist and singer. She regularly hosts a monthly concert of her won, inviting a hundred-plus sometimes 200-plus of her friends and acquaintances.

Dr. Chu is trying her utmost to try to please her senior friends and other seniors. She serves as the medical director of the Korea Senior Citizens Association.

She keeps telling her health tip to the senior citizens "Keep moving your body until you are happy!"

She says she feels most happy when she does somethings for others. Dr. Chu's personal motto is "If I rest, I rust!"
ST Photo Gallery
Photo News
Embassy Events
Econo People 2005
Fashion Images
New Movies
Travel Images
Nayan Sthankiya's Photo Features New
Abuses of Iraqi Prisoners of War
Academy Awards Photos 2004
Adolf Hitler
Aishwarya Rai-Indian actress
Buddha`s Birthday 2004
Cannes 2004 — 57th Cannes Film Festival
Choi Tae-Ji Photo Gallery
Comfort Woman Picture Gallery
Crown Prince Felipe of Spain
Dokdo Photo Gallery
Erotic Paintings of Hyewon and Danwon
Franz`s Art Exhibition
Gando Photo Gallery
Geisha in Japan
Gwangju Massacre
Jeju Island
Kim Jong-Il and Kim Il-Sung
Koguryo Murals
Korean War (1950-53)
Madonna
Miss Universe 2004
Miss World Contest 2003
Mt. Kumkang or Mt. Diamond New
Natural Beauty of Korea
Rape of Nanjing (Nanjing Massacre)
Rio Carnival 2004
Ronald Reagan`s Life in Pictures
ST Family
Sonia Gandhi and Gandhi Clan
Taj Mahal Photo Gallery
Ukrainian Embassy
World War Two
Photo Gallery of World Newspapers/Media
Times of India
Hindustan Times
SantaBanta.com
Straights Times (Singapore)
Chicago Sun-Times
Moscow Times