Embassy Events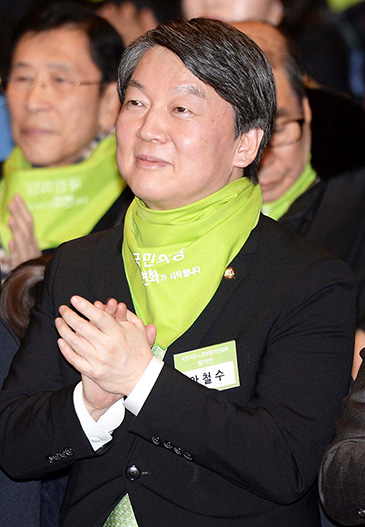 Ahn's Soaring Popularity UnstoppableAhn Beats Moon, Others in Nearly All Recent Polls

Ahn Cheol-Soo of People's Party is beating Moon Jae-In of The Minjoo Party of Korea in various opinion polls conducted on the major candidates for the coming presidential election, according to South Korea's news media.

Ahn tied with Moon, earning as much as 37.7 percent of the polls conducted among five major candidates including conservative candidates, according to the liberal Hankyoreh daily.

Ahn has been winning over Moon on nearly all the opinion polls recently conducted on the two major candidates of Ahn and Moon.

Until Hankyoreh daily's polls Ahn was slightly behind Moon in opinion polls conducted on the six presidential candidates including Gov. Hong Jun-Pyo of South Gyeongsang Province, and Yoo Seong-Min, reform-minded conservative candidate.

What is surprising is that Ahn won over Moon in the recent polls recently conducted by KBS and Yonhap News on the five major presidential candidates. Ahn garnered 36.8 percent while Moon stopped short of gaining 32.7 percent in the polls.

In addition, South Korea's most influential daily Chosun Ilbo recently found Ahn winning over Moon in the polls conducted between the major candidates.

Until two months ago Ahn was far behind Moon in various opinion polls for the presidential candidates.

Ahn's dramatic rise is ascribable to Ahn's vision for the nation. People think they can rely on Ahn more than Moon as the national leader, particularly for national security and economic development.

Experts point out that more and more conservative voters will choose Ahn rather than Moon as conservative candidates are shunned by the people over abuse case of presidential power locally known as "Choi Soon-Sil Gate."

Extremely disappointed by mis-rule of ex-President Park Geun-Hye and her ruling Saenuri party, conservative voters would favor middle-of-the roader Ahn instead of Moon seen as pro-North Korean in the eyes of the conservatives, according to political analysts.

With less than one month before the election day, Ahn's rising popularity seems unstoppable for now as more undecided voters are more likely to choose Ahn rather than Moon, they predict.

Who Is Ahn Cheol-Soo?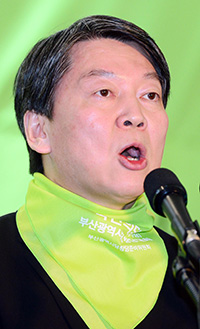 Ahn Cheol-Soo



Ahn was born on Feb. 26, 1962. He is a member of South Korea's unicameral National Assembly.

He was also a physician, a tycoon of the software company, and an educator.

He is currently serving as founding leader of nation's second opposition People's Party. Ahn ran unsuccessfully as a candidate for the past presidential election in 2012.

However he withdrew his candidacy, yielding to Moon Jae-In. He supported Moon Jae-In, the candidate of then Democratic United Party.

He gleaned the praises and reputation from the general public for yielding to Moon, a stronger candidate in the election.

Five years later now, Ahn is rising again as the most popular candidate for the presidential election slated for May 9, 2017.

This time Ahn is closely vying for popularity with Moon again. A number of the recent polls indicate that Ahn is beating Moon.

Ahn represents the second opposition People's Party he formed after he bolted from The Minjoo Party currently represented by Moon.

Before his political career Ahn established the famous AhnLab, an antivirus software company, in 1995.

Ahn was chairman of the company's board until September 2012. Still he is the company's largest stakeholder.

Ahn also built a strong career in the education before he plunged himself to the politics. He served as dean of the Graduate School of Convergence Science and Technology at Seoul National University until mid-2012.
ST Photo Gallery
Photo News
Embassy Events
Econo People 2005
Fashion Images
New Movies
Travel Images
Nayan Sthankiya's Photo Features New
Abuses of Iraqi Prisoners of War
Academy Awards Photos 2004
Adolf Hitler
Aishwarya Rai-Indian actress
Buddha`s Birthday 2004
Cannes 2004 — 57th Cannes Film Festival
Choi Tae-Ji Photo Gallery
Comfort Woman Picture Gallery
Crown Prince Felipe of Spain
Dokdo Photo Gallery
Erotic Paintings of Hyewon and Danwon
Franz`s Art Exhibition
Gando Photo Gallery
Geisha in Japan
Gwangju Massacre
Jeju Island
Kim Jong-Il and Kim Il-Sung
Koguryo Murals
Korean War (1950-53)
Madonna
Miss Universe 2004
Miss World Contest 2003
Mt. Kumkang or Mt. Diamond New
Natural Beauty of Korea
Rape of Nanjing (Nanjing Massacre)
Rio Carnival 2004
Ronald Reagan`s Life in Pictures
ST Family
Sonia Gandhi and Gandhi Clan
Taj Mahal Photo Gallery
Ukrainian Embassy
World War Two
Photo Gallery of World Newspapers/Media
Times of India
Hindustan Times
SantaBanta.com
Straights Times (Singapore)
Chicago Sun-Times
Moscow Times