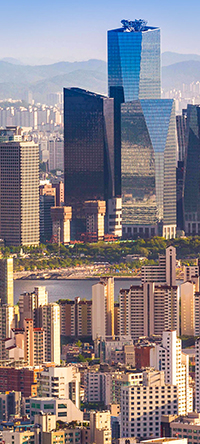 Seoul in 2022
Seoul is the second best city to travel to for business trips A new study by UK card machine provider, Dojo, has revealed the best cities around the world that accommodate for business travel and Seoul ranks in second!Travelling for business can be a great perk, if you get to go to the right places. In 2020, business travel decreased by 61%, but still added £382 billion to the economy. Now the world is opening up again, that figure is only set to grow, so Dojo looked at which international cities are the best for business travel.Scoring the 50 most populated cities around the world, on the following eight key metrics, Dojo can reveal which city came out on top for business tourism:•The cost of a three-course meal•Average download speeds•Average hotel costs•Average hotel ratings•Closest airports•Average taxi fares•Reported crime rates•Number of WeWork spacesThe following is the full story.
Seoul Ranked as the Second Best City in the World for Business Travel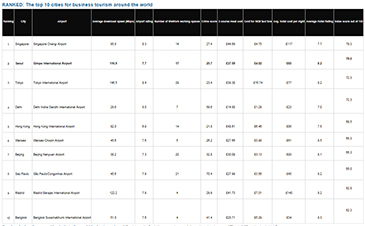 Seoul Is Second Best City for Business Travel.
Seoul, located in South Korea, came in second place with a whopping score of 79 out of 100, ranking just behind Singapore. This city offers rapid internet speeds of 116.86Mbps, meaning you will have no trouble getting work done in this city! Seoul is home to 17 WeWork spaces making working abroad easier than ever. The average airport rating is 7.66 and hotel rating at a high 8.17, so if you want a pleasant stay for your business trip, Seoul is the place to be. Singapore is the best city in the world for business tourism Singapore takes the top spot with an overall index score of 79.3 out of 100 - making Singapore the leading city in the world for business travel! Singapore has a high average internet speed of 85.4Mbps and 14 WeWork spaces which is great for your business trip. Singapore Changi Airport also has an excellent airport rating of 8.17 out of 10 and an average hotel rating of 7.71 - ensuring you have a great stay. A three-course will set you back £45 in Singapore, so you can enjoy great food on your business travels without breaking your budget. Tokyo comes in third overall with the highest internet speedTokyo rounds off the top three with an impressive index score of 72.3 out of 100 - this city is a haven for business travellers! Tokyo has the fastest internet speed of all the cities analysed, offering residents a connection of 146.53Mbps. The average hotel rating in this city is 8.21, and has a very low crime score of 23.37/100. A small set-back is the cost of a taxi with an average 5km journey costing £17, which might dissuade you from travelling to and from business meetings. Delhi and Hong Kong round off the top five best cities in the world for business tourism Delhi ranks in fourth with an overall index score of 72.3 out of 100. The price of your dinner in Delhi is one of the cheapest costing only £15 and a taxi journey is also affordable at only £1.29. However, the internet speed is just 28.59Mbps which might mean your work takes a little longer than usual.Hong Kong followed with an impressive 68.5 points out of a possible 100 making this city the fifth best in the world. Internet speeds of 81.97Mbps are slightly above average, meaning you can guarantee Hong Kong will be a great destination for business travels.
About Dojo
Dojo is a UK-based card payment provider. They specialise in helping independent small and medium businesses take secure, reliable and fast card payments with cutting-edge contactless card machines with next-working day transfers.
Methodology
For the indexes we created the data was used to determine which cities in the world and the UK were the best for business tourism: •The average costs of meals in restaurants, taxi journeys and reported crime levels (Numbeo)•The average cost and rating for hotels within each city (booking.com) •Each cities closest airports (AirHelp)
For details or inquiries: Leah Elise leah.elise@riseatseven.com