Asia-Pacific
The 24/7 News Cycle is Catching-Up with Indonesia
By John M. Gorrindo
Indonesian Correspondent

Al Jazeera (AJ) has quickly joined the ranks of the most influential television news networks in the world. Detractors in the West who feared and even loathed the Qatar-based broadcaster at its launching in 1996 should sit down and take another nard, long look. The broad brush tarring that AJ news was nothing but a shill for pro-Islamic, anti-western interests should be reconsidered by the naysayers. Today AJ could fairly be described as the most influential spokesman on behalf of the educated, outward looking, politically moderate Islamic world. But however AJ's editorial policy might have been defined in 1996, and maybe more importantly after 9-11 and the beginning of the Iraq war, it now finds itself as more of a global human rights promoter than anything else. And its reportorial reach goes far beyond the greater Muslim world of the Middle East, Northern Africa, and Central Asia. Though some world regions aren't highlighted by AJ as would be ideal, its global coverage is far more in-depth and ambitious than CNN's. AJ also produces a plethora of lengthy documentaries that transport the viewer into hot spots all around the globe. They put a human face on every problem they investigate, and in so doing show up the BBC's long standing ranking as the world's best at in-depth, international reportage. AJ's great sympathy for the Palestinian's plight results in what could be considered a relative lop-sided coverage in favor of the Israeli-Palestinian conflict, but AJ's commitment to producing many quality pieces on Africa, India, China, and many parts of Asia is nothing short of impressive. Ethics in journalism may not be feasibly sacred to AJ, but the informed viewer can't help but sense its vital presence. As the West has been quick to accuse, it is not true Al Jazeera has uniformly spared the Islamic world all due scrutiny and in course excuse its short comings. There are big exceptions, of course. True, some dark hand seems to preclude AJ from delving critically into the Saudi regime for instance. The almost complete absence of news from Saudi produces a stunning silence when one stops and considers that kingdom's power and influence. But the same is certainly not true of AJ's coverage as afforded Iraq, Iran, Afghanistan or Pakistan. The truth is that Al Jazeera is beginning to expose faults in the Muslim world where it feels the moral obligation and is more permitted to do so than not. Most often that criticism comes in the name of violations of equality and basic human rights.To bring this all back home: What about AJ's coverage of the Muslim world's largest democracy and populous country, Indonesia? To preface, Indonesia has been the darling of Western economists and politicians who laud its unpredicted rise in terms of its meteoric economic growth and the sudden rise of democratic institutions. Indonesia has been rightfully credited, too, for having the freest press amongst the ASEAN charter nations, though that's no great company in keeping. Still, the Indonesian press has been able to show off the country's warts and all. No doubt this has emboldened AJ to exercise free reporting of its own. As for Indonesia, hold not doubts. The government has used a free domestic press as a forceful vehicle in self promotion. It has done its best to co-opt the national press core in an effort to get the message out about the "Indonesian miracle." But the international 24/7 news cycle has now invaded Indonesia. However limited the cycle's reach is into the households of the domestic population as a whole, the BBC, CNN, and Al Jazeera are all available for viewing in Indonesia. Business and government elites, the influential world of Indonesian celebrities, and Indonesia's large population of university students have access- if not by television, then certainly by means of the internet. Foreign press coverage has penetrated the country and perhaps more importantly broadcasts images to the whole world. This is a reality less than a decade old. A free press domestically means a free press internationally. Without instituting draconian measures of censorship across the board, the flow of information is uncontrollable. Even Iran and China's strict controls can't staunch the bleeding. The 24/7 news cycle has come home to roost in Indonesia and is becoming a thorn in its vulnerable side. As for the negative influences of the internet in particular, the government has attempted to filter out pornography and gambling sites but has not shown the technical ability to clamp down as promised. In short, Indonesia has a growing press problem in a time of unprecedented news access. More broadly, the country has its hands tied when it commons to managing its image in the information age. This includes the use of cell phones, black berries, and especially the internet in the form of social networking. The problem is both local and global. Though the government has been more successful than not over the last decade in promoting itself as committed to democratic principles the prying press has caught up to the duplicities and chinks in both the armor of Indonesia's civil and religious societies. Indonesia has been a victim of its own success in this regard. The government as based in Jakarta is quick to take credit for its accomplishments in the area of democratization and promoting free trade policies, but the glaring hypocrisies extant- especially in terms of the protection of Indonesian human rights- are much more harmful to its victims and publically evident to the world at large as can be kept hidden from the world's vigilant press corp. The government could look to muzzle the press regional to Java as they do in West Papua, but at current calculations back tracking on press freedoms in the nation's capital would exact a great cost. And at what costs are we speaking? For starters, in the pocket book! Censoring the press would have negative economic consequences as foreign investment confidence would tumble. This would likely signal the country's fight against corruption a failure as well. Foreign Investors don't like dealing with corruption if it's not on their terms!But above all, Indonesia is very sensitive about its reputation as democratic reformer. Its growing stature in the world is based not only on its economic viability but also its ability to successfully put its totalitarian past behind it. Indonesia has also asked freely for foreign aid to help it along its pathway to becoming a full-fledged free society and responsible member of the international community. But it's well known that the country has never had a good human rights record, and Indonesia is always under the gun, having to show continued improvement in order to maintain the confidence of the greater powers of the free market democracies of the world. Things on that score are stalled as the ongoing problems West Papua are growing worse and the acclaimed peace accords in Aceh are under renewed fire. As per Papua: As reported by AFP, it was announced today by the U.S. State Department that "The United States has called for Indonesia to move forward on autonomy in its Papua region and insisted it would not overlook human rights as it seeks broader relations with Jakarta." This is a significant development. The international pressure is growing.Many other domestic incidents threaten Indonesia's clear sailing as a fledgling G-20 country with democratic credentials. Take religious freedoms and the government's lax treatment of the Islamic Defender's Front (FPI- Front Pembelas Islam) over the past few years. With impunity FPI has violently attacked the Mosque's of the pariah Muslim sect Ahmadiyya, beaten their members and supporters without reprimand, assaulted civil monuments they deem anti-Islamic, and successfully led a shut-down of a landmark gay, bisexual, transgender conference in East Java. The FPI has been emboldened at every turn as they have been able to freely attack anyone they want at will. President Susilo Bambang Yudhoyono's (SBY) hesitation to confront FPI's thuggery has been attributed to fear of an Islamic backlash against him and his Democratic Party (PD- Partai Democrat). Upholding freedom of assembly and religion comes as a distant second in importance as compared to the prospects of upsetting a fragile government which includes Islamic parties as key players in an unstable coalition. In short, the fear of a populist democratic uprising of Islamic parties has only gotten in the way of insuring human rights. The family dynasties that rule Indonesia's economic elite have capitalized on this weakness as well. The political fall of Indonesia's superstar corruption-fighting finance minister Sri Mulyani is a great case in point.Al Jazeera mobilized coverage very quickly after the FPI's latest demonstration of violence after FPI leaders organized an attack against Indonesian members of a besieged Christian congregation in the town of Bekasi, a haven of Muslim extremism just west of downtown Jakarta. The physical attack was directed most viciously at two of the congregation's church elders, putting them both in the hospital. The attack was in response to the congregation's plan for building a church in a predominantly Muslim neighborhood of Bekasi. The FPI claimed that the Christian's motive was to proselytize, converting Muslims into Christians. The government failing here is that there were many other incidents leading up to the attacks, and the authorities did nothing to prevent the growing threat of violence. In fact, the police threatened the Christians with arrest if they carried out plans to pray at their undeveloped church site. The Christians were berated as law breakers and inciters of violence. The incidents in Bekasi highlight specific weaknesses internal to Indonesia's young democracy. The AJ report didn't flinch in exposing the lack of political will and misapplied rule of law that plagues Indonesia's march toward an egalitarian society. The famous quip that "all politics is local" too often reigns supreme in Indonesia. Bekasi is a clear example of the "neighborhood tyranny" that one sees in many parts of Indonesia. AJ didn't hold back its punches on that point. As AJ reported, it is true some suspects in the stabbing and beating have been rounded up for questioning- including FPI leaders. Finally SBY demanded a response this time around. The public relations damage to Indonesia was swift and condemning. Whether or not the charges will stick remains to be seen. The country's long struggle to unify under the banner of one rule of law is still at logger heads with religious and ethnic fault lines as experienced in far too many regions and towns. Too many local authorities still rule over their jurisdictions much like the Rajadoms that reaped the spoils of the Indonesian people's toil for centuries, whether under colonial rule or otherwise. Bekasi is evidence that there exists no equally applied rule of law in the nation when it comes to free religious practices. Local authorities trump the Indonesia's constitution, ignoring not only its guarantees of religious equality but its very relevance in Indonesian civil affairs. The press as based in predominantly Christian countries should have their feet put to the fire as well. They have been quick to exploit the latest escapades of the FPI because the subjects of attack were Christians and the Christian churches of Indonesia. Ahmadiyya has not been given the time of day in comparison, and their suffering has been given much less coverage. The plight of West Papua's indigenous population has been a victim of under-coverage, too, but some of that has to do with the banning of foreign reporters allowed on that vast island. Both Indonesia's president and minister of foreign affairs have made strong public statements in condemnation of a small-time American pastor in Florida who threatened to burn a stack of Al Qurans on the anniversary of 9-11. The story surrounding Pastor Terry Jones, the rogue leader of a thirty member congregation went viral on the 24/7, internet driven news cycle, becoming the topic du jour for not just a day, but for weeks. Indonesia has been lucky enough to escape scrutiny as per its neglect of the heavily prosecuted Ahmadiyya sect, but now that two Christian pastors have been attacked under the government's nose just outside of Jakarta, they can't contain the story as it has hit the Christian world with similar impact Pastor Jones' story hit the Muslim world. The damage has reached all the way to the president's palace. Indonesia can't escape the obvious duplicity concerning religious freedoms being violated at home while criticizing those overseas. Moreover, pressure from both the White House and America's inter-faith community helped quash Pastor Jones' plans, where as in Indonesia, barely a finger has been lifted to turn the violent tide of Islamic extremists who not only deny other faiths and sects their religious rights but make a mockery of Indonesia's vaunted religious tolerance. The hypocrisy smells like rotten fish. Indonesia has a continuing crisis with terrorism, too, and it is causing new rounds of bloodshed and chaos. The terrorism used to be more directed at foreign embassies and decadent Western influences such as Balinese night clubs who promote sex, drugs, and rock 'n' roll. But since the killing of Norodin Top last year, Indonesian terrorists have restrategized. They now target the Indonesian government itself, including recent deadly attacks against the national police force as well as thwarted plans of assassination against the president himself. A new uprising in the long struggle for an independent Aceh is being incorporated and expanded into the fight for an Islamic state in Indonesia. It is terrorism's new clarion call and ultimate raison d'etre. An alarming flow of illegal arms into Indonesia is ending up in the hands of extremists who are willing to rob banks at gun point in order to fund their activities. The government pursues these particular perpetrators of violence, but as discussed above, their fear of alienating the Muslim community for political reasons no doubt encourages the more dangerous struggle that in essence is a call to revolution and coup d'etat. Non-support of human rights jeopardizes the country's internal security. These worsening dynamics are being reported worldwide as well. Indonesian indifference is also on display on the regional and international fronts. Leaders from the ASEAN charter of South East nations are holding an important joint meeting with President Obama in New York scheduled for Friday, September 24th. But Obama has cancelled two trips to Indonesia in the past year due to domestic crises in health care legislation and the Gulf oil spill. The President of Indonesia has refused to attend this important ASEAN conference, and some in the press report it as possible tit-for-tat. SBY has sent his Vice President Boediono and Foreign Minister, Marty Natalegawa as proxies. Given the important agenda which includes the serious territorial dispute between China and Japan over islands in the South China Sea, critics are hard pressed to understand why the Indonesian president wouldn't want take up the mantle of leadership and put his personal stamp on the proceedings that are organized in hopes of maintaining regional stability in greater Southern Asia. Indonesia is ASEAN's largest country and biggest economy, and SBY's absence will be felt. China has objected to the conference, and SBY's plan to skip the meeting can be interpreted as kowtowing to China as the region's most powerful influence. If so, this doesn't foster good relations on balance with the United States. Perceptions quickly become reality. Supporters claim that SBY feels free to come and go as he pleases, confirming his country's sovereignty. SBY claims he has pressing issues at home that need his full attention.There is also a General Assembly meeting of the UN being held concurrent to the ASEAN talks. Most of the World's major leaders are in attendance. There are good arguments either way concerning SBY's controversial decision, but the press has not been favorable. The press fix is in- SBY has been a no show for both the US-ASEAN talks and the U.N. General Assembly congress. As Iran's Ahmadinejad did to full advantage, SBY could have held a press conference with reporters from around the world and addressed the world if he so chose. It appears to be a missed opportunity for the president and Indonesia in the young republic's quest to advance its international influence. In all fairness to president SBY, his decision may well be based on necessity and not a political oversight. But again, the perception might be that he is mired in domestic crisis given all the latest rounds of terrorism that has resulted, for example, in an attack on a police station that left three policeman shot dead- a brazen and most unusual attack against the country's security apparatus. We are left with the following question: Can Indonesia weather the growing negative press coverage that is critiquing its government on so many fronts without suffering blows to its international reputation after so many hard fought gains? Having Al Jazeera nipping at your heels doesn't bode well.

Related Articles
A Worthy Role Model for the Arab World?
Travel Notes from Komodo Archipelago
My Prayers Are with the Good People of Both ...
Sex, Lies, and Videotape -- a Presage to ...
Indonesia's New Wayang Epic: A Parable of ...
Indonesia's Economic Priorities Give Short ...
Obama's Indonesian Summit -- What Is at Stake?
Bank Century Scandal Tests Indonesia's ...
Virtual People"s Power Flexes Its Muscle in ...
Smoke and Mirrors Surrounding West Papua's ...
In Memoriam- President Gus Dur, 1940-2009
Maluku Music of Today & Yesterday
Playing into Colonial Hands
Perilous Path to Special Autonomy
Papuan Fault Lines: Part II: Nationalist Dreams
Fault Lines in Papua: Part I
On a Wing and a Prayer in Indonesia
Black Friday in Jakarta
Indonesia's Fear Factor Abroad
Human Behavior, by Extension History, Is ...
The Great Monoculture
Indonesia: The Whole World Is Watching
USA -- Violence Statistics & Statistical ...
Proposed Solution to America's Long Lost War ...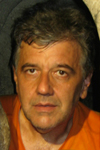 Mr. John M. Gorrindo, who serves as an Indonesian correspondent for The Seoul Times, is a native-born Californian. As holder of a MA degree in music composition from the University of California, he made Manado, North Sulawesi, Indonesia his home after serving as a volunteer English teacher there. He also a writes fictions and composes music. Some of his writings and music can be found at Fringing reefs and Vertical Walls: http://johngorrindo.blogspot.com