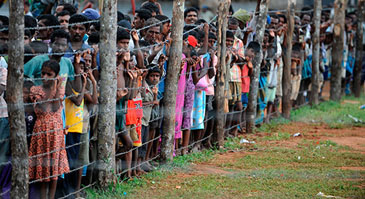 Tamil civilians held in internment camps in Sri Lanka
With the 18th amendment in his pocket and control of the Election Commission assured, President Mahinda Rajapaksa will remain president of Sri Lanka for life. With the Sri Lankan parliament's passing of the 18th amendment empowering this man with utter and complete command of the small island nation, Sri Lanka's tyranny and domination is unstoppable. Sri Lanka's future is sealed. "Rajapaksa Looks to His New Era," published on Sept. 11, 2010 by Sudha Ramachandran on Asia Times Online, exemplifies that:"By its very definition, an executive presidency is anti-democratic. In Sri Lanka, it has been more so, as checks and balances have been steadily whittled away, enabling successive presidents to function in an authoritarian manner. This has prompted calls for abolition of the executive presidency."In September 2006, an opinion on The Hindu reported that Mumbai based think-tank, Strategic Foresight Group (SFG), has confirmed what many long feared: Sri Lanka has emerged as one of the most militarized society in South Asia.The study, "Cost of conflict in Sri Lanka," says the island nation has 8,000 military personnel per one million population. Even Pakistan, of which it is said that while every country has an army the Pakistan army has a country, has only half that number, 4,000 military personnel per one million capita. The figures for other South Asian countries are: Nepal 2,700; India 1,300; and Bangladesh 1,000. Sri Lanka also had the greatest military expenditure of gross domestic product (GDP)."Even among the conflict-afflicted countries there could be very few that have witnessed the level of militarization seen in Sri Lanka. The study has established a direct linkage between the ongoing ethnic conflict and the steep rise in defense spending."
Foreign Minister G. L. Peiris visits the U.S. in May 2010
Foreign Minister G. L. Peiris allegedly met with UN Secretary General Ban Ki-moon while visiting New York on May 23-24, 2010. This meeting evidently also comprised a range of senior UN officials, including Chef de Cabinet Vijay Nambiar and Under Secretary General for Political Affairs Lynn Pascoe. The meeting's priority of discussion mandated the Sri Lankan Government's appointment of a reconciliation commission, dubbed by Pres. Rajapaksa, "Commission on Lessons Learned and Reconciliation (CLLR)", to confront the accountability of war crimes specifically during the final phase of Sri Lanka's civil war. Since Mr. Peiris determinedly sidestepped the unequivocal importance of the UN's involvement in the panel of 'independent' investigators participating in this "reconciliation commission", the outcome of his meeting with the UN Secretary General and other UN officials remains to be seen. As a matter of fact, to this day, it's not clear what exactly was achieved, if anything. The UN Advisory War Crimes Panel was handpicked by Secretary-General Ban Ki-moon on June 22, 2010, and was adamantly refused entry into Sri Lanka by its government. Since their one meeting on July 19, 2010 in New York City, the UN War Crimes Panel seems to be in limbo. On Friday, May 28, 2010, Mr. Peiris met with U.S. Secretary Hillary Clinton, who firmly held to her precise statement of an "independent, impartial and competent panel" to tackle the investigation of Sri Lankan war crimes, as was published (by BBC News on Saturday, May 29, 2010). She clearly stated that the Foreign Minister assured her that "that's exactly the kind of people that are being appointed to this commission." Mrs. Clinton also reiterated the fact that they discussed her insistence of the "continuing role of the UN, who intends to have an independent oversight role."
Sri Lanka's Impunities and War Crimes
Obviously, today we all know this was a bunch of malarkey as far as the Sri Lankan government is concerned. It was never their intent to carry out an unbiased, transparent war crimes investigation. They are an inhumane government who has no compassion for its people. The fact is they are well aware of their evil guilt, and they will never admit to the atrocious crimes of genocide they committed upon the Tamils during the final phase of the almost 30-year long civil war in May 2009. This government will never be held accountable for the horror and brutally violent murders they carried out against tens of thousands of innocent, unarmed civilians in the NFZ of the Vanni, where the bloodbath of defeat against the LTTE (Liberation Tigers of Tamil Eelam) afforded them their gruesome victory and ended the war. The United Nations will never insist on a war crimes investigation. Ban Ki-moon is a grave disappointment as leader of the United Nations.The Rajapaksa regime publically upholds its "sovereignty" as the foundation to deal with its "own" problems without outside intervention. "Sri Lanka is the only country that defeated terrorism on its own without the presence of foreign military or intervention of other countries", is stated in an article on the SL Ministry of Defence website. However, they did receive enormous financial support and heavy artillery from other nations, without which help they may not be celebrating the fiercely bloody defeat of the LTTE.
Unceasing Suffering of Tamils in Sri Lanka
It's been established that Sri Lanka is not safe for Tamils; as a matter of fact, it hasn't been safe for a great number of years. Abductions and murders have been rampant for a long time, though they may be covert these days, of those bravely criticizing the Sri Lankan regime. For reporters and journalists, it still is one of the most dangerous places in the world.One only has to read UnitingWorld Rev. John Barr's personal account, "Tamils in Sri Lanka seeking asylum: A need no more?", describing his visit to Sri Lanka, including several of the IDP camps, this past June, a year after the war ended, to know that thousands of Tamils are still detained in IDP camps, and NGOs are limited in the aid they are permitted to provide. Many of the Tamils returning to their home villages are being driven off their lands, which they've occupied since 2nd century BC, in order for the government to build military housing, military bases and industrial complexes. Where are these desperate people to go? They are homeless and jobless, receiving little aid from NGOs.
Approximately 15,000 Tamil children who are able to be schooled are receiving their education outside beneath a bunch of trees while armed security forces are planted firmly behind them. Instead of providing schools and healthy environments for the future generations of Sri Lanka, this government obviously has more important projects in mind. However, most Sinhala children are not denied nor neglected in receiving their education in secure and wholesome environments. It is a fact that in the name of "national security", Sri Lanka's citizens, be they Tamils, Sinhala or Muslim, were evicted within their cities and/or villages even during the war. The Rajapaksa regime's witch hunt for alleged LTTE supporters reemphasizes their demand to "secure" the country. Being Tamil in the eyes of this regime is undesirable and unwelcome at best. However, at worst Tamils are labeled as LTTE supporters guilty by association. To this day, no one has had contact with the alleged 11,000 LTTE cadres who have been completely hidden from the world since the end of the war. Only the government assures that they are being rehabilitated to reenter Sri Lankan society, allowing no outside interference. No one is certain if the detained are in fact all LTTE cadres. The regime has refused the ICRC's participation in the rehabilitation process, which is standard international procedure. The ICRC objectively partakes and assists in massive rehabilitation such as these to assure transparency of the process and the wellbeing of the participants. The Tamils demand justice for the war crimes committed by both the LTTE and the SL security forces, i.e. the attempted genocide in a "no fighting zone" of the Vanni, which was deliberate and calculated. Of course, Sri Lanka is always on the defensive about the accusations and passionately denies the allegations of war crimes, as a recent article on the SL Ministry of Defence website strongly asserts, "War crimes allegations based on lies - Attorney-at-law".
It's also becoming clear that the politics of nations are as complex as ever, and Sri Lanka's vow to side with Israel against Palestine in its "war on terror" is far from comforting. Add to that the fact that President Obama has sworn that the U.S. will always back Israel in its hostile endeavors, there's not much room left to the imagination, that those countries, who need the world's support more than ever, will be left out in the cold to continue their suffering and death of the innocent. It is an endless domino effect that will not serve to achieve democracy and freedom for those who seek it and who are subjected to the iron control of totalitarian regimes. The fact is that Sri Lanka has become one of the most militarized nations in the world. Sri Lanka is a nation of oppression and domination. How can anyone question why the Tamils fought for an independent, sovereign state? Yet, the government won't take credit for literally helping create the LTTE (Liberation Tigers of Tamil Eelam), courtesy their blindness and self-serving interests, and causing the war. They won't admit that they covet the lands and valuable resources owned by the Tamils, and that this is the reason they'd rather carry out genocide against the Tamils than agree to a separate state. How can anyone question why the Tamils flee for their lives and seek sanctuary in other countries? For the most part, the international community and, most importantly, the United Nations are turning a blind eye on the past and current crisis of human rights abuses occurring in Sri Lanka, which have obviously become the standard. This regime's complete disregard for the integrity of law and justice is frightening and only too evident, as outlined in a 177-page report, "Post-War Justice In Sri Lanka: Rule Of Law, The Criminal Justice System, And Commissions Of Inquiry", composed and written by Kishali Pinto-Jayawardena, dated January 2010, through the International Commission of Jurists – The Rule of Law for Human Rights organization.
Ms. Heike Winnig is German, born in Bad Kreuznach, Rheinlandpfalz, Deutschland, and has lived in the United States since she was a child. Writing is her opportunity for expression on Human Rights, Freedom of Speech, world societies and cultures. She has written several op-eds, news- and historical articles on Helium, Digital Journal, Suite 101 and Examiner.com.