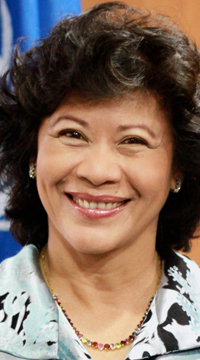 Dr. Noeleen Heyzer is Under-Secretary-General of the United Nations and Executive Secretary of the Economic and Social Commission for Asia and the Pacific
Despite Asia's incredible economic might – now leading the global economic recovery – and continued high rates of economic growth, the region still faces chronic challenges of underdevelopment: hunger, disease and far too many families living in poverty. The economic growth of Asia is impressive. The region's GDP has doubled since 1990. In this period, the jobs created in Asia have lifted 500 million people out of poverty –- an incredible achievement, unmatched in human history. This rapid economic growth has also resulted in the growth of a dynamic, globally-connected and information-savvy middle class. But Asia's growth is uneven: many countries, especially the least developed and small island states, still face challenges in making the development leap. The task is far from complete. Asia is home to about a billion of the world's absolute poor.Hunger is a daily threat to one out of five. 480 million do not have access to water, 900 million live without electricity, and one third of the residents of Asia's crowded cities live in precarious slums and squatter developments. Just to meet the basic needs of present and future generations – to prevent millions from sliding backwards – Asia will have to count on a phenomenal rate of economic growth unknown in the rest of the world.Moreover, to rely so heavily on rapid economic growth has resulted in huge social and ecological costs. Across Asia, hundreds of millions have joined the decades-long migration from countryside to urban areas, and internationally, in search of employment. Income and access disparities have increased in most every country, booming economies have depleted the region's natural resources, and polluted rivers mean that drinking water and basic sanitation are unobtainable for the poorest.It has also left many countries vulnerable to sharp rises in food and fuel prices and downturns in the global economy. Our crowded urban spaces with poor social and physical infrastructure are vulnerable to the increasing risks of climate-related natural disasters.Asia cannot continue to rely on the quantity of economic growth alone. We need to focus on the quality of our economic and social development and on the sustainable use of our natural resources – to ensure our place in the economic, social and ecological balance. Improving the quality of growth, including the ecological quality, requires a transformation of our current economic and social systems. Rather than solely relying on the cheap labor and ecologically costly export-driven economic model of the present, Asia can start a new regional interlocked economy of the future, based on greater eco-efficiency and social equity.The United Nations Millennium Development Goals, started by the world's leaders ten years ago, offers such a transformation at a global level – and a chance for Asia to share the benefits of economic growth with all its citizens. Meeting the challenges set by the Goals – yardstick measurements of each country's efforts to meet basic requirements of food, education and health for their people – are the responsibilities of both national governments and the international community seeking to reduce poverty and advance human development in their respective countries and through a more just global economic order.While progress has been seen over the past ten years, with some countries moving faster than others, the final deadline of 2015 is now looming, and all the world, and Asia especially, have a long way to go.To make good on the promises of the world's leaders will require new solutions and new urgency, for a number of reasons:Bringing women to the economic table. The MDGs push governments toward ensuring girls are in school in equal numbers with boys and that women are part of governance and decision-making. Tapping into women's economic power and market role is essential in producing a smart economic model for Asia that generates the wealth of a regional economy based on its people. Asia's poor are a source of economic power. Asia's one billion people living below the poverty line can become the consumers of tomorrow in a vast Asia regional market and economy. If Asia's leaders can close the development gap, increase income security, promote better connections between their citizens and the trade of goods across the region, aggregate demand would increase. Closing the development gap and meeting the MDGs could create a new middle class – what every country wants.
Investing in social programs, investing in our environment. To transform the Asia economic model, the MDGs offer the way forward. Asia's new workers and new middle class still lead insecure existences – affordable healthcare, schools, pensions and environmental sustainability are not optional, they are of urgent necessity. In 1990, the world's leaders pledged to create a new world largely free of poverty by 2015. Today, Asia's leaders have an unrivaled opportunity to meet that goal by relying on the region's people and resources to create new sustainable and inclusive sources of wealth and development.The final MPG story is yet to be told. All countries still have five years to seek the most promising path. Asia can tilt the balance to success.
Dr. Noeleen Heyzer is Under-Secretary-General of the United Nations and Executive Secretary of the Economic and Social Commission for Asia and the Pacific.