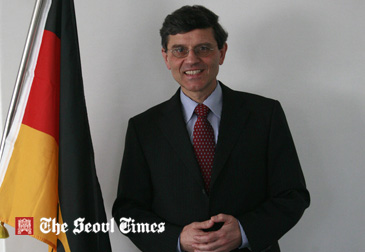 German Ambassador to Seoul Hans-Ulrich Seidt
German Ambassador to Seoul Hans-Ulrich Seidt praised South Korea's rapid economic development from the ashes of the Korean War (1950-53), in a special interview with the local journalists on Sept. 29 (Wednesday) at its embassy in Seoul.The interview was arranged by the Germany Embassy in Seoul to commemorate both the 20th anniversary of the German unification and the 60th anniversary of the outbreak of the Korean War (1950-53).He said through interpretation that it is remarkable that South Korea has achieved the development from the tragedies of colonization by Japan a hundred years or so ago.In particular, South Korea, as one of the world's leading nations, is hosting G-20 summit in Seoul in coming November, Amb. Seidt said."60 years ago, Germany was paying close attention to the Korean Peninsula which was in war," said the German envoy."Back then, Germany was also divided into West and East Germany," said. Mr. Seidt. "It was barely several years after World War II where millions of people lost lives""So, we thought about how we can help Korean people suffering from the Korean War (1950-53)," he said. "We came up with humanitarian methods, because we had no army back then," he went on. "We decided to German medical doctors and nurses to South Korea"That's how the German Red Cross Hospital was established in Busan, South Korea on April 24, 1954."At that time the Korean doctors and nurses were highly cooperative with the German medical team," he said.He said that he would invite the surviving South Korean doctors and nurses to its national day (Day of German Unity) reception to be held on Oct. 7, 2010 at his residence in Seoul's Seonbbuk-dong.The German Red Cross Hospital was in operation for five years, and scores of German doctors and nurses served there.The German envoy also touched upon historical back ground of the medical exchanges between Germany and Korea."We pay respect to the numerous Korean nurses sent to our nation during 1960s and 1970s," he said.During 1963-1977 South Korea sent to West Germany some 6,000 registered nurses and some 4,000 nursing assistants to earn much needed foreign currency, according to the Korean Medical Association.
Dr. Elisabeth Friess
The German envoy pointed out that a German man, Dr. Richard Wunsch, served as court doctor for Emperor Kojong (1852- 1919) over a hundred years ago before Japan colonized Korea.He went on to say that the German doctor's great granddaughter, Dr. Elisabeth Friess will come to Seoul to receive the "Dr. Wunsch Medical Award" named after her great grandfather in November this year.
During the interview the German ambassador also mentioned German experience of its reunification process in a hope that his advice could help the two Koreas for their unification.He said that West Germany overestimated the economy of East Germany."Before the unification, we thought East German economy was world's seventh or eighth," he said. "But, actually East Germany economy was crumbled""Second mistake we committed was that we applied the highly developed West German social security system to East Germany overnight," he went on.He asked Seoul not to repeat the mistakes of German case, emphasizing the gradual process in the unification process of the Korean Peninsula.He advised South Korea to closely assess the real economic situation in the North.He said even if North Korean economy is in tatters it has a great potential, advising Seoul to take a wise advantage of the North Korea's economic potential.
The German envoy said that he visited North Korea early this year.He said that South Korea's successful forest policy could serve as a helping hand to North Korea, adding that he witnessed the serious deforestation in North Korea.He though highly of the South Korean President Lee Myung-Bak's proposal for "unification tax.""It is a very realistic, pragmatic, and constructive proposal," he said. For details or inquiries contact the German Embassy in Seoul at 748-4114 or leave Mr. Phil-Young Doe, press officer, at pr-100@seou.auswaertiges-amt.de